Whole30 Costco Must Haves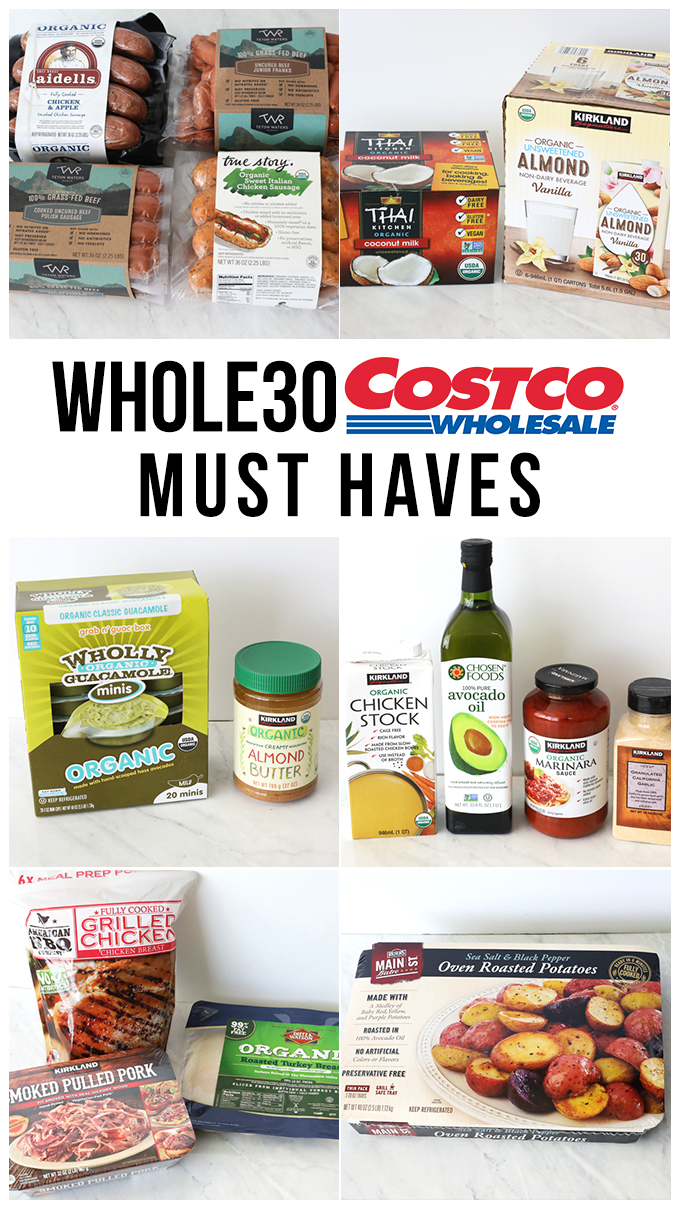 WHOLE30 COSTCO! Everyone's favorites big big big box store.  This list will help you navigate the huge aisles of this magical place and keep on your Whole30
train. There are so many Costo Whole30 items available, I am so excited to share all this information with you! I also have a list for Amazon, Trader Joe's, Thrive Market, Aldi, Target, Sprouts, Walmart and Ralphs/Kroger for you to get all of your shopping done!
Packaged Meats:
American BBQ Fully Cooked Grilled Chicken – These only have chicken, water and salt and are great to have on hand to throw in your lunch for the day or chop up for chicken salad!
Dietz & Watson Organic Roasted Turkey Breast – Give it up for compliant deli meat! You can make a sandwich wrap with collard greens or even make a little sandwich on sweet potato toast.
Kirkland Smoked Pulled Pork – This stuff is great in a pinch when you want pulled pork but don't want to spend time slow cooking a pork butt.  It is yummy to mix with compliant bbq sauce and serve on sweet potato toast or on a salad!
Aidells Chicken & Apple Sausage – my one true love.  I've been using these since my first Whole30 over 2 years ago and they continue to be a staple in our fridge.  With some scrambled eggs and avocado they make the perfect Whole30 breakfast!
TWR Grass-fed beef junior franks and polish sausage – super clean ingredients and so perfect for quick protein!
True Story Organic Sweet Italian Chicken Sausage – These are great for sautéing with veggies for dinner or grilled to get a nice char and served with some bell peppers and onions.
Wild Planet Tuna – Fabulous to have on hand for a tuna salad!
True Story Organic Oven Roasted Sliced Chicken Breast – This is great to chop up into a chicken salad or just to throw on a salad.
Framani Salt and Pepper Smoked Sausage – This is a fully cooked pork sausage that is great for breakfast and would be amazing in this dinner!

Pantry Staples:
Kirkland Organic Chicken Stock – great for soups or making pan sauces!
Chosen Foods Avocado Oil – I have a little oil dispenser I keep on my counter so I love buying this big bottle at Costco to fill it up! I pour this stuff on veggies to roast them, in a skillet to brown chicken and everything in between.
Kirkland Organic Marinara Sauce – I just love marinara!  I keep this stuff stocked for making my Cheesless Chicken Parm, Slow Cooker Turkey Bolognese & Zucchini Noodles and just to pour on veggies or spaghetti squash as a sauce.
Garlic Powder – We honestly just bought this while I was getting stuff for this haul because we ALWAYS have it in the house!  I sprinkle garlic powder on my veggies every night and swear it just makes everything better – so this big Costco version is crucial.
Packaged Side Dish:
Main St. Bistro Sea Salt & Black Pepper Oven Roasted Potatoes – The section filled with sides is packed with mostly longggg ingredient lists. But when I saw these I got so excited! Just potatoes, avocado oil, salt and pepper.  They are already cooked so you just choose to either roast them or microwave to heat up!
Non-Dairy Milks:
Thai Kitchen Coconut Milk – There are a lot of coconut milks out there that are not compliant so go for this 6 pack at Costco and you will be set!  I use it in my Curried Turkey Sloppy Joes in Sweet Potato Bowls, in my curry sauce or even in coffee!
Kirkland Organic Unsweetened Almond Non-Dairy Beverage – Now I will be the first to tell you that I love to make my own nut milk and think it is the way to go for your whole30.  But let's be real, sometimes convenience is nice!  This one has additives but all of them are compliant so it's not a bad default to have in your pantry.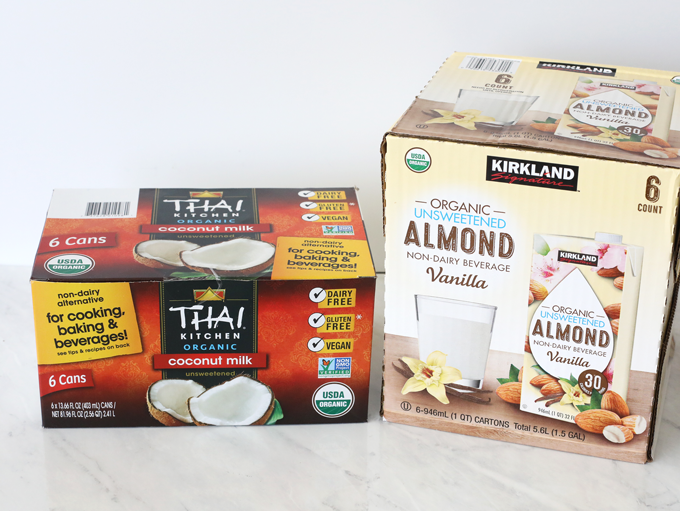 Spreads:
Organic Wholly Guacamole Minis – Easy and quick, healthy fat that is flipping delicious!! I put these on taco bowls, my eggs in the morning and basically any and every meal.
Organic Creamy Almond Butter – I love this big jar at Costco to spread on sweet potato toast, or to dip apples in for my sweet night time treat.
Dried Fruit:
Made in Nature Dried Mangoes – Whole30 Costco -I was hesitant putting these on because they can definitely be a food with no brakes and easy to rely on for a sugar fix. But if you can control it, I love adding a few chopped up to salad or having a couple with a meal. You have to know yourself and if you can handle them in the house though!
Drinks:
Spindrift – I love that they have this 30 pack at costco now!  They also have la croix but not always the flavors I like – this one has so much variety, which is perfect!
I hope you enjoyed these Whole30 Costco tips!   Here are more lists of all of your Whole30 Must Haves!
We are participant in the Amazon Services LLC Associates Program, an affiliate advertising program designed to provide a means for us to earn fees by linking to Amazon.com and affiliated sites.