Cinnamon Crumb Banana Bread
 Whenever I have brown bananas I get really excited that I can make banana bread, sometimes if you wait too long you miss your change. This time I caught them just in time and I thought, yes banana bread.  But how about a Banana Bread with Crumb Topping?  I am one of those people that love brown spots on bananas and really don't like when they are still a little green.  The more brown a banana gets the sweeter it is!  Brown bananas can mean so much more than bread though.  You can unpeel them, freeze them, then throw then in a food processor and make banana ice cream.  Or you can slice them up and throw them in a saucepan with brown sugar and butter… hello bananas foster!  But banana bread with crumb is always delicious and I usually have all of the ingredients on hand.  Oh and adding cinnamon to the crumb topping is kind of a no-brainer.  🙂
*** Looking for a healthier version of a cinnamon Banana Bread?  I also have a Churro Banana Bread Skillet Cake that is grain free and refined sugar free!  Both are DELICIOUS!
First mash those bananas!
 The crumb topping is just flour, powdered sugar, cinnamon & melted butter!
Bake for about 50 minutes. Soon you'll have Banana Bread with Crumb Topping!
 Sprinkle some powdered sugar on top!
If you love this Banana Bread we have a few more delicious recipes for you to try:
Paleo Chocolate Chip Toasted Coconut Banana Bread
Paleo Cinnamon Pecan Butter Banana Bread
Grain Free Double Chocolate Banana Bread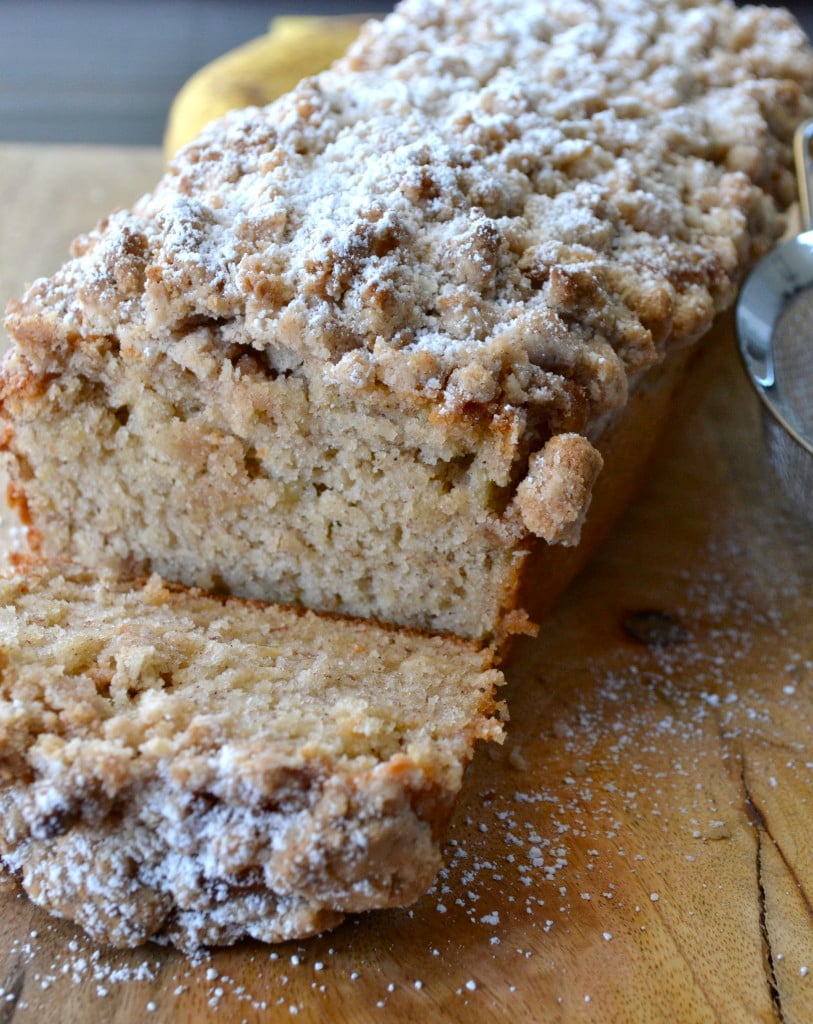 **** Find me on Pinterest??  Thanks for stopping by and checking out this Banana Bread with Crumb Topping!!  Please poke around for more healthy recipes and like me on Facebook or Instagram for updates!
Nutrition for Cinnamon Crumb Banana Bread
This is not a Whole 30 or Paleo approved version of Banana Bread with Crumb Topping.  You could always substitute out the ingredients to healthi-fy the recipe.  However each slice is not THAT many calories if you look at the nutrition facts below, only ~300 calories and has a decent amount of protein. What is also nutritious about this recipe is the amount of Iron, Potassium and Folic Acid!  You have to check this one out if you are looking for a yummy treat!
Print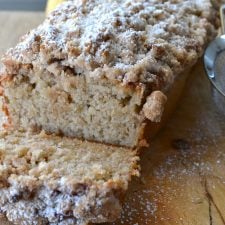 Cinnamon Crumb Banana Bread
---
1 egg
1 cup sugar
1/2 cup unsalted butter, at room temperature
1 teaspoon vanilla
1/2 cup buttermilk
2 overripe bananas, mashed
2 cups all purpose flour
1/2 teaspoon salt
1/2 teaspoon baking soda
1 teaspoon baking powder
1 teaspoon cinnamon
Crumb Topping:
1/2 cup powdered sugar
1/2 cup all purpose flour
4 tablespoons unsalted butter, melted
1/2 teaspoon cinnamon
pinch of salt
---
Instructions
In a large bowl of a mixer, fitted with a paddle attachment, beat together the sugar, egg and vanilla until combined. Add the butter and beat until smooth and the butter is fully incorporated. Beat in the buttermilk and bananas.
In a separate bowl, mix together the flour, salt, baking soda, baking powder and cinnamon. Slowly stir the dry ingredients into the wet until all the flour is incorporated. Spray a loaf pan with non-stick spray and pour in the batter. * Note that not all loaf pans are the same size. You may have extra batter, so just pour in enough so there is still about an inch or 2 of space before the top of the pan.
Make the crumb topping by combining the powdered sugar, flour, cinnamon salt and melted butter. Using your hands, crumble the mixture over the batter in the pan. Bake in a pre-heated 350 degree oven for 45 – 50 minutes or until a toothpick comes out clean.
We are participant in the Amazon Services LLC Associates Program, an affiliate advertising program designed to provide a means for us to earn fees by linking to Amazon.com and affiliated sites.