Pineapple and Roasted Red Pepper Salsa
Summer starts tomorrow!  The longest day of the year full of sun and happiness.  I love summer, and any excuse to celebrate.  I think it is important to take time out of our busy lives to rejoice the little things.  I feel like my family is constantly celebrating things, whether it is a new job, or just a good day of work, we find a way to tell each other we are proud of one another and cheers a glass of wine.  So rest up, because tomorrow is cause for celebration.
More importantly though, it it is cause to make this salsa…
 On Sunday night, tragedy hit.
We were out of salsa.  I know, i know, it is a pretty devastating thing.  Our favorite salsa we get at Costco, is a Mango Peach Salsa.  It is delicious and slightly sweet.  We put it on everything from meat to salads and from chips to greek yogurt.  So I had the novel idea of making my own!  We had a pineapple that we had not cracked into yet, then I stumbled across a jar of roasted peppers at the store.
Cut to > Pineapple & Roasted Red Pepper Salsa.
 Simple. Fresh. Sweet. Delicious.
We were having salmon for dinner so I scooped it on top of that.  You could put it on any kind of fish, or chicken and it would be perfection.  Maybe a couple chips?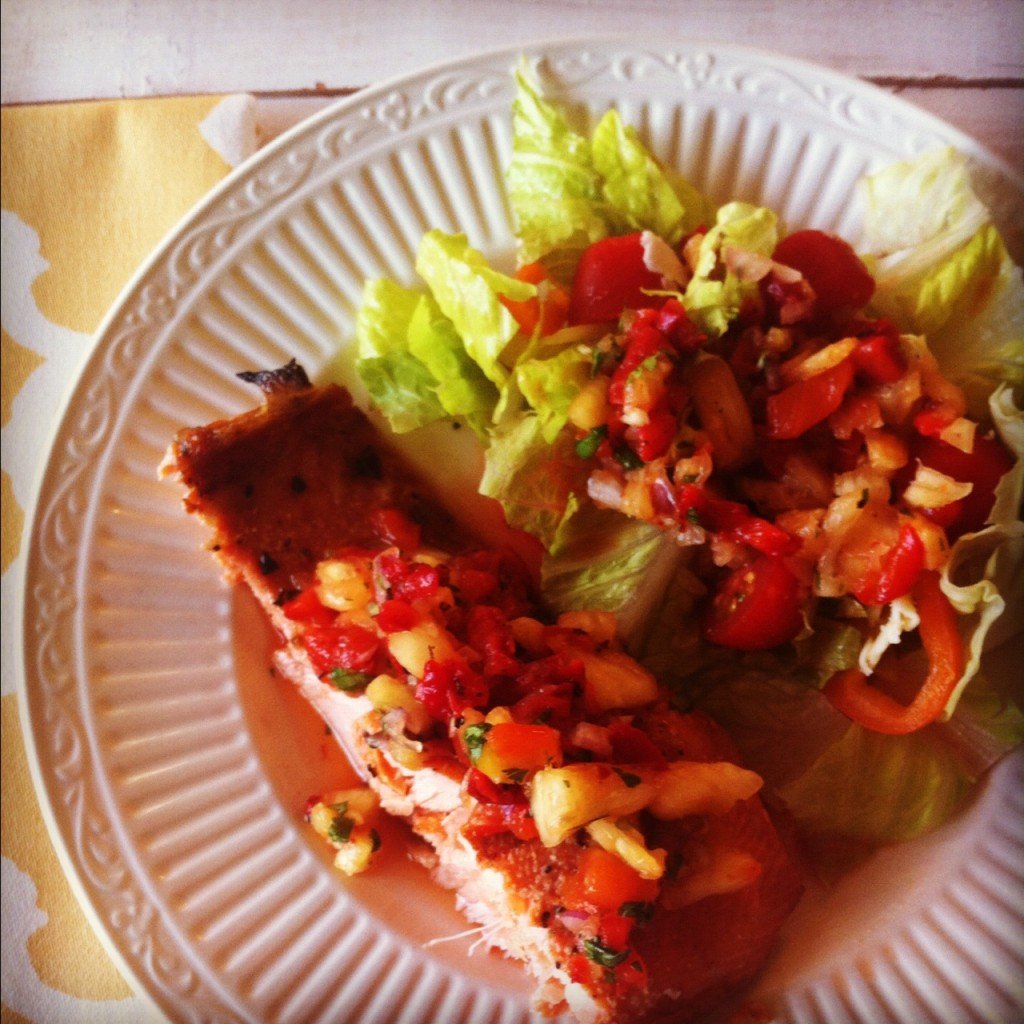 I don't think I will buy salsa again!  Making it at home is a healthy and fresh way to cut calories and save money.  And the longer it sits in the fridge the more those flavors will come together and turn any ordinary meal into a masterpiece!
Print
Pineapple and Roasted Red Pepper Salsa
---
2 cups Pineapple, diced
1 1/2 cups Roasted Peppers, diced
1/4 cup Cilantro, chopped
1/3 cup Red Onion, diced
1 clove of garlic, minced
Juice of 1 lime
Salt & Pepper to taste
---
Instructions
Chop all ingredients and combine. Season to taste. Serve with fish, chicken, chips, or on a salad!
We are participant in the Amazon Services LLC Associates Program, an affiliate advertising program designed to provide a means for us to earn fees by linking to Amazon.com and affiliated sites.