Curried Turkey Sloppy Joes in Sweet Potato Bowls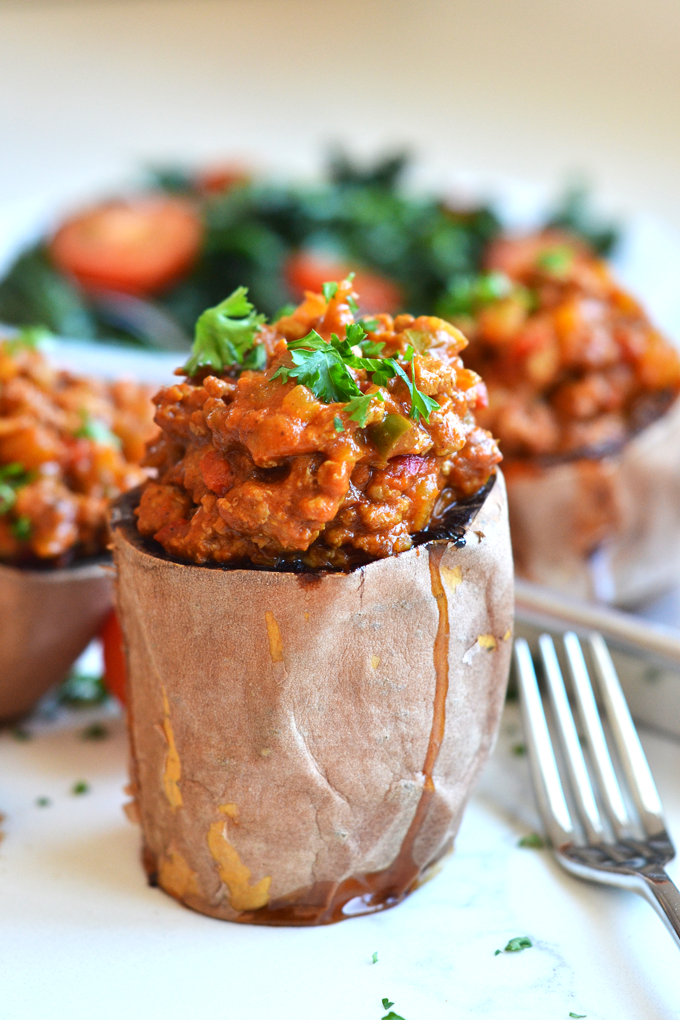 So at this point you probably know that sweet potatoes hold a special place in my heart.  From toast to rounds to buns, they find their way into most of my meals!  So I was looking at one the other day thinking of stuffing it and was going to do it the normal way… but that would be so boring right?  I decided to try slicing it in half the other way and not surprisingly it was delish!!  They caramelized a little and were perfectly soft to scoop out some of the middle. As for the sloppy joes – you might wonder how these ideas come into my head.  Well this one came straight from watching that Food Network show, Cooks vs. Cons! If you don't watch, it is just another competition cooking show where there are 2 real chefs and 2 home cooks that compete and it's always suuuuuper shocking when you see who isn't a trained chef.  <– that was sarcasm. 🙂  It isn't shocking to me when there is a home cook who happens to make super amazing food because hello the internet!! And thanks to food network itself I have learned most of what I know – who needs fancy cooking school anyhow?! Anyways I've gone on a tangent.
These Curried Turkey Sloppy Joes where similar to something a contestant made on that show (SHOCKINGLY she was actually a yoga instructor!!!). I think the show would be better if it was pro chefs vs. actual cons. THAT would be entertainment.  Okay okay i'm done now I promise.  I basically took your standard sloppy joe recipe of onions + bell peppers + tomato sauce + meat and adding LOTS of flavor to it.  I am talking curry powder, garlic, ginger, turmeric, dates & coconut milk. YUM!  This is super simple blend of ingredients comes together in a creamy sauce that surround the freshly browned turkey. Okay, it is time for you to run to the store now right? Make them and tag me on instagram of facebook!!
Look at those bowls!! Pin it!
We use turkey in tons of different recipes, here are a few other for you to try:
Turkey & Sweet Potato Asian Lettuce Wraps
Crispy Garlic Dill Turkey Meatballs
Cranberry Stuffed Turkey Burger
Buffalo Turkey Burger w/ Avocado Ranch Sauce
Print

Curried Turkey Sloppy Joes in Sweet Potato Bowls
---
1 tablespoon avocado oil
1 pound ground turkey
1 yellow onion, chopped
2 bell peppers (1 red, 1 green), chopped
2 pitted medjool dates (soaked in hot water for 20 minutes)
1 14.5 ounce can tomato sauce
2 tablespoons curry powder
¼ cup canned coconut milk
1 teaspoon garlic powder
½ teaspoon ginger
½ teaspoon turmeric
½ teaspoon salt
1 teaspoon apple cider vinegar
Sweet Potato Bowls:
---
Instructions
Place a large skillet over medium high heat. Add in avocado oil, then onions and bell peppers. Cook until they become more translucent and soft, about 10 minutes. Then add ground turkey to the pan. Break up the turkey a lot with a wooden spoon so the pieces are small and let brown. Meanwhile, combine dates, tomato sauce, curry powder, coconut milk, garlic powder, ginger, turmeric and salt to a blender and blend until dates have broken down and the mixture is creamy. Once the turkey is cooked, add the tomato curry mixture to the pan and bring to a simmer. Let simmer for a few minutes then add apple cider vinegar and salt to taste.
To make sweet potato bowls:
Start this before the sloppy joes! Preheat the oven to 400 degrees. Chop the ends off of the sweet potatoes so the base is at least 1 inch around. Then slice it in half widthwise. Place the sweet potatoes on a foil lined baking sheet with the large end down and small end up. Bake for 30 minutes then flip and bake for an additional 25 minutes. Let cool for 10 minutes then scoop a little of the center of the sweet potato out to create a bowl. Add curried turkey sloppy joe mix to the bowl, garnish with a little parsley and enjoy!
We are participant in the Amazon Services LLC Associates Program, an affiliate advertising program designed to provide a means for us to earn fees by linking to Amazon.com and affiliated sites.