Sonoma Chicken Salad
FINALLY sharing this chicken salad with you guys!! A couple of weeks ago I was at trader joe's and saw a sonoma chicken salad of sorts in the pre-made foods section and I was so close to buying it for a quick lunch until I read the ingredient list… how could it be so long?!  I have been much more lax in my pregnant and tired state lately that I have been going to convenience over quality but I still always look at the ingredient lists.  It's been easy to allow vegetable oils and sugars creep in which is fine time to time, but it's when I read a list that is 20 + ingredients long and filled with things I can't pronounce – aka chemicals, that I feel an urge to say NO!!  So I picked up chicken and some red grapes and knew I probably had everything else I needed at home.  I am soooo glad I did this because it was the easiest  and tastiest chicken salad i've had in awhile.  It is also perfect to make a big batch of for the week to eat for lunch! 
A few ideas of how to eat this Sonoma Chicken Salad:
Scoop it into a lettuce wrap.
Scoop it up with celery sticks.
Serve it on a salad with a little bit of your favorite salad dressing or some oil + apple cider vinegar.
Scoop it into bell peppers (large or mini!)
In a coconut wrap – love the ones from Thrive Market
With a fork!
Have you run to the store to get these ingredients yet??
We have loads more Chicken Salad Recipes for you to try:
Mixed Berry Pecan Chicken Salad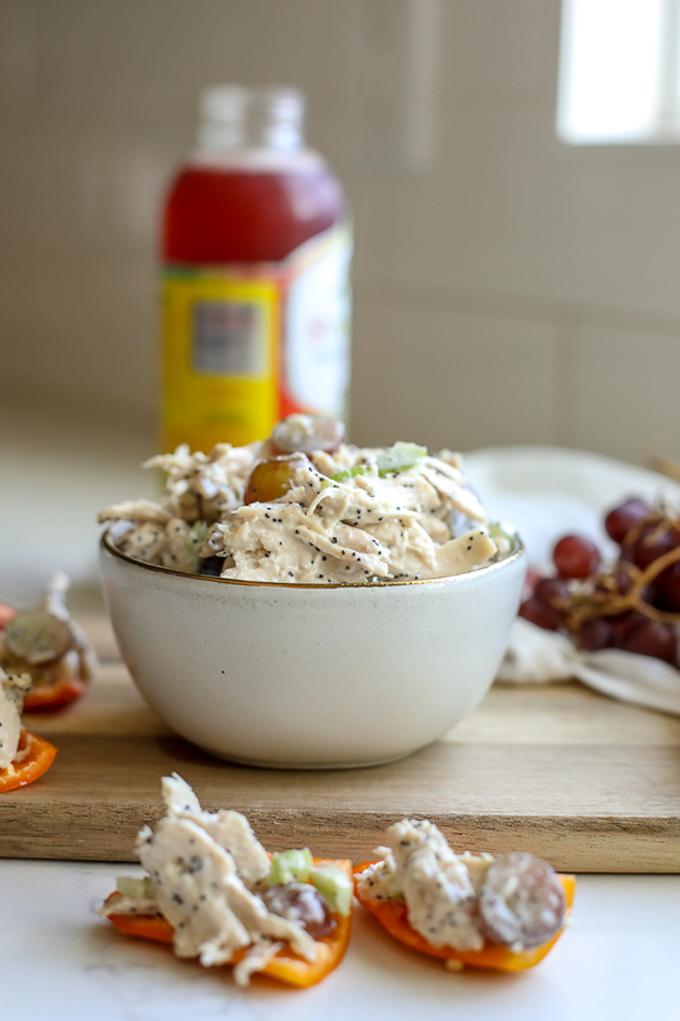 Pin the image below to save this Sonoma Chicken Salad recipe for later!

Nutrition for Sonoma Chicken Salad:
Whats great about this Sonoma Chicken Salad Recipe is that is it very clean and is Paleo compliant.  The mayonnaise used is from an olive oil source(less than 3 g of the total 15 g of fat are from saturated!), you've got some antioxidants from the apple cider vinegar and it is loaded with fruits and veggies!  Pretty balanced allowing you to get something from every recommended food group! Fat, protein, carbohydrate.  Also it is relevantly low in calories coming in at 230 per serving!  Not bad at all especially if you eat it on top of a mixed green salad!
Print
Sonoma Chicken Salad
---
5 cups shredded or chopped cooked chicken
½ cup mayonnaise (i use primal kitchen avocado oil mayo)
2 tablespoons apple cider vinegar
2 tablespoon honey
1 tablespoon poppy seeds
Salt and pepper to taste
1 cup red grapes, chopped in half
1 cup chopped celery
---
Instructions
In a large bowl combine mayonnaise, apple cider vinegar, honey and poppy seeds and whisk to combine until smooth.
Add salt and pepper to taste.
Add chicken to the bowl and toss with dressing.  Add in grapes and celery and toss again to coat.  Season once more with salt and pepper!
We are participant in the Amazon Services LLC Associates Program, an affiliate advertising program designed to provide a means for us to earn fees by linking to Amazon.com and affiliated sites.