Spring Veggie Tuna Salad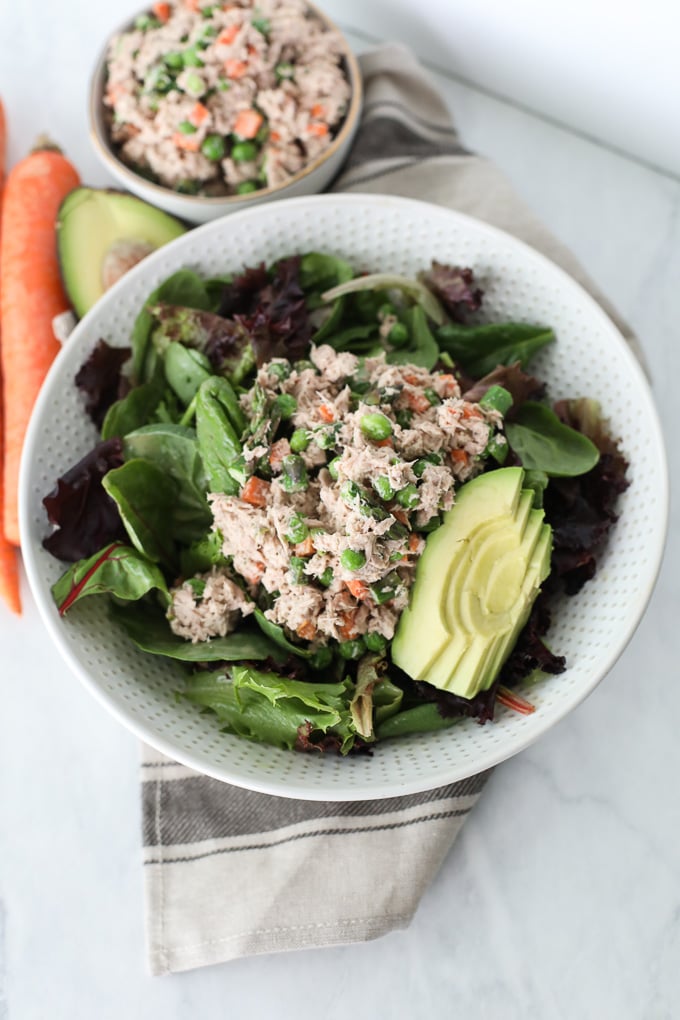 Spring veggies are here and abundant!!  Now tuna salads are on my usual weekly rotation because they are such an easy lunch to throw together – but I like to change up what I add into them pretty much every time.  I loveee the fresh flavors of spring so I knew the two were bound to collide.  Insert – Safe Catch Tuna, asparagus, peas, carrots and dill!  I get questions all the time on intsagram about tuna consumption during pregnancy.  I just thank my lucky stars that Safe Catch is such a clean brand and checks each of their tuna for mercury.  I also know that tuna is packed with DHA which is super important in pregnancy (and we talk all about in the Healthy Happy Mama eBook!).  This tuna salad is great to make a batch of to prep for the week, or you can just whip it up on the spot for lunch.  I microwave the veggies real quick to cook them and add them with just a few other ingredients to make this nutrient packed meal.
In these photos I served the tuna salad on top of greens… making a tuna salad salad – but you can eat tuna soooo many different ways.  I am a fan of eating it on sweet potato toast, an english muffin, or just full on living my pregnant dreams and making a tuna melt.  I don't know what it is about tuna melts but they have my heart and am sure they always will – my ultimate comfort food! And adding veggies right into the tuna salad means all the bread and ghee I surround it with is fine right?? 🙂  So now that you have ordered a new batch of Safe Catch, let's make some spring veggie tuna salad!
Pin the image below to save this Spring Veggie Tuna Salad recipe!
This post was sponsored by Safe Catch but the views are 100% my own!
Print
Spring Veggie Tuna Salad
---
½ cup chopped asparagus
½ cup chopped carrots
¼ cup frozen peas
2 (5oz) cans of Safe Catch tuna
4 tablespoons mayonnaise
1 teaspoon apple cider vinegar
½ teaspoon dried dill
1 teaspoon dried chives
½ teaspoon garlic powder
Salt and pepper
---
Instructions
In a medium microwave safe bowl combine asparagus, carrots and peas.  Add 1 tablespoon of water and microwave for 2 minutes. Drain out the water and let the veggies cool down for a few minutes.
In a small bowl combine mayonnaise, apple cider vinegar, dill, chives, and garlic powder and stir.  Season with salt and pepper to taste.
To the veggies add the tuna and sauce and mix with a fork to combine evenly.  Season again to taste with salt and pepper!
Serve either on a bed of greens, on sweet potato toast or with a fork!
We are participant in the Amazon Services LLC Associates Program, an affiliate advertising program designed to provide a means for us to earn fees by linking to Amazon.com and affiliated sites.