Harvest Chicken Salad
I think it's been too long since I posted a chicken salad recipe!  They are seriously one of my favorite things which is why I already have a Caesar Chicken Salad, Mixed Berry Pecan Chicken Salad, Sonoma Chicken Salad, Cashew Curry Chicken Salad… Okay there are more but you get the idea!!  This one is loaded with herbs, a delish crunch from apples and then toasted pine nuts because.. why not?  I prepped this on the weekend and have been eating it all week – on salads, on sweet potato toast, and straight out of the tupperware of course.  It is crazy how a little bit of prepping on Sunday can set us up for such a successful week of eating yet I rarely do it.  Something about Sunday usually has the couch calling to me!
This chicken salad is extra great if you use the Herb Stuffed Instant Pot Whole Chicken recipe I posted the other day!  It adds a whole other layer of flavor which is amazing, but you can use any rotisserie chicken you want or even just chopped up chicken breasts.
Pin the image below to save this Harvest Chicken Salad for later!
Print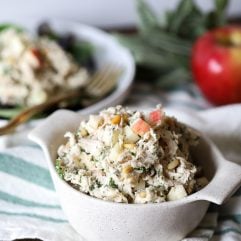 Harvest Chicken Salad
---
4 cups shredded chicken
¼ cup + 1 tablespoon mayonnaise
1 teaspoon dijon mustard
1 tablespoon apple cider vinegar
2 tablespoons chopped, flat-leaf parsley
1 tablespoon dried tarragon
1 tablespoon chopped fresh sage
1/2 cup finely diced honeycrisp apple, unpeeled
¼ cup toasted pinenuts (or pecans work too)
Pinch salt
Pinch black pepper
---
Instructions
Add chicken to a bowl.  In a separate bowl combine mayonnaise, mustard, apple cider vinegar, parsley, tarragon and sage.  Season to taste with salt and pepper.
Pour dressing over chicken and toss to coat.  
Add in chopped apple and pinenuts and toss again.  
Season to taste with salt and pepper!
We are participant in the Amazon Services LLC Associates Program, an affiliate advertising program designed to provide a means for us to earn fees by linking to Amazon.com and affiliated sites.