Spaghetti Squash Chow Mein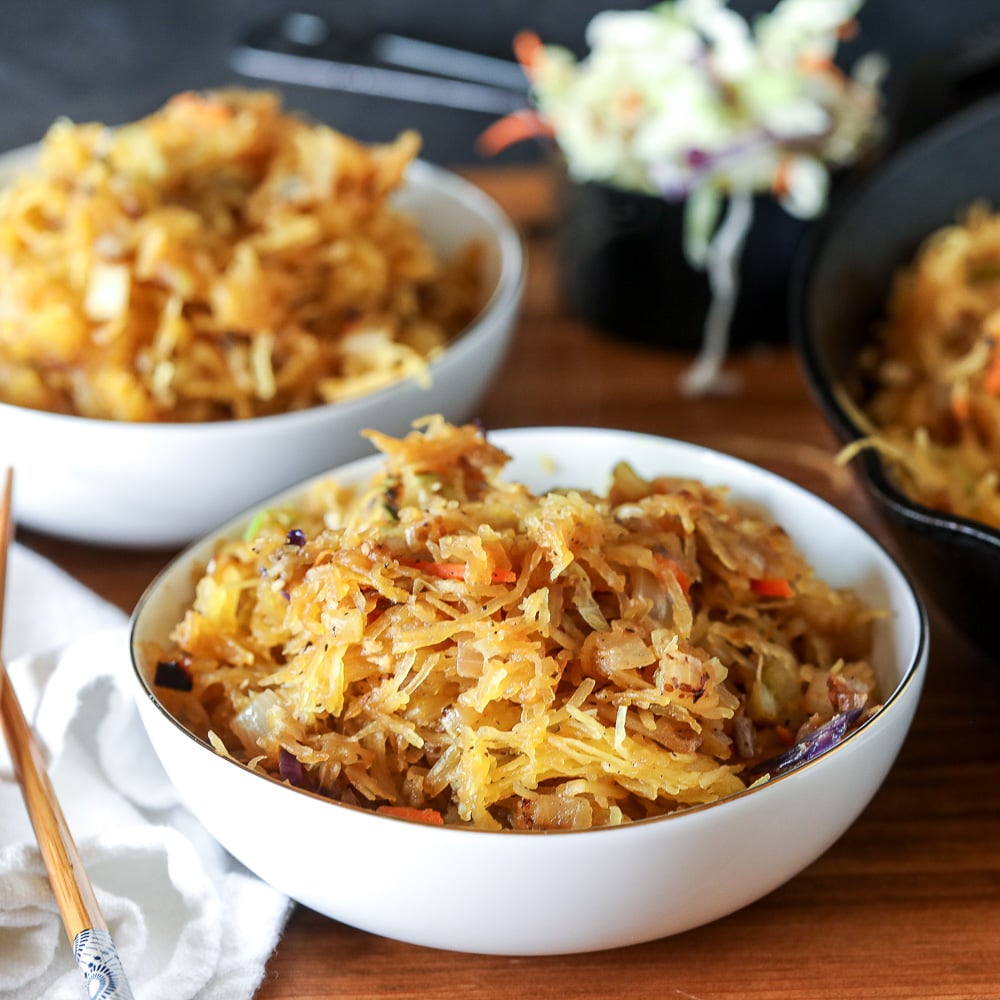 If you know me, you know that I get on kicks of liking different foods way too much.  Then I eat it all the time and eventually get sick of it.  The first time I can remember this happening was with Easy Mac when I was a child.  I wanted that stuff all the time… and soon enough I couldn't look at it anymore.  More recently, last year to be exact, I was obsessed with brussel sprouts.  Like really obsessed.  I would have a huge bowl and call it dinner.  You might think, wow that sounds healthy and good for you!  Well it was for a little while, but now I am not in love with them anymore and I ruined a perfectly healthy side dish!!  Anyways.
I mention this because I am now slightly obsessed with Spaghetti Squash.  I love it so much.  I try not to eat pasta much because I can't eat just one little proper serving.  Carbs are addicting… so instead I just replace noodles with spaghetti squash and can enjoy lots of whatever I make!  I saw this recipe on Pinterest for chow mein and I wanted to make it so bad but I just couldn't do it because I know how bad that would be for my wedding day.  Insert spaghetti squash.  Yes I know it doesn't taste exactly like noodles, but it is a great vehicle for delicious sauces and reminds you enough of the original to keep you very satisfied!  Another favorite swap of mine is this Cauliflower Fried Rice – it is paleo and whole30 approved! But you really need to try this Spaghetti Squash Chow Mein, you are bound to be pleasantly surprised!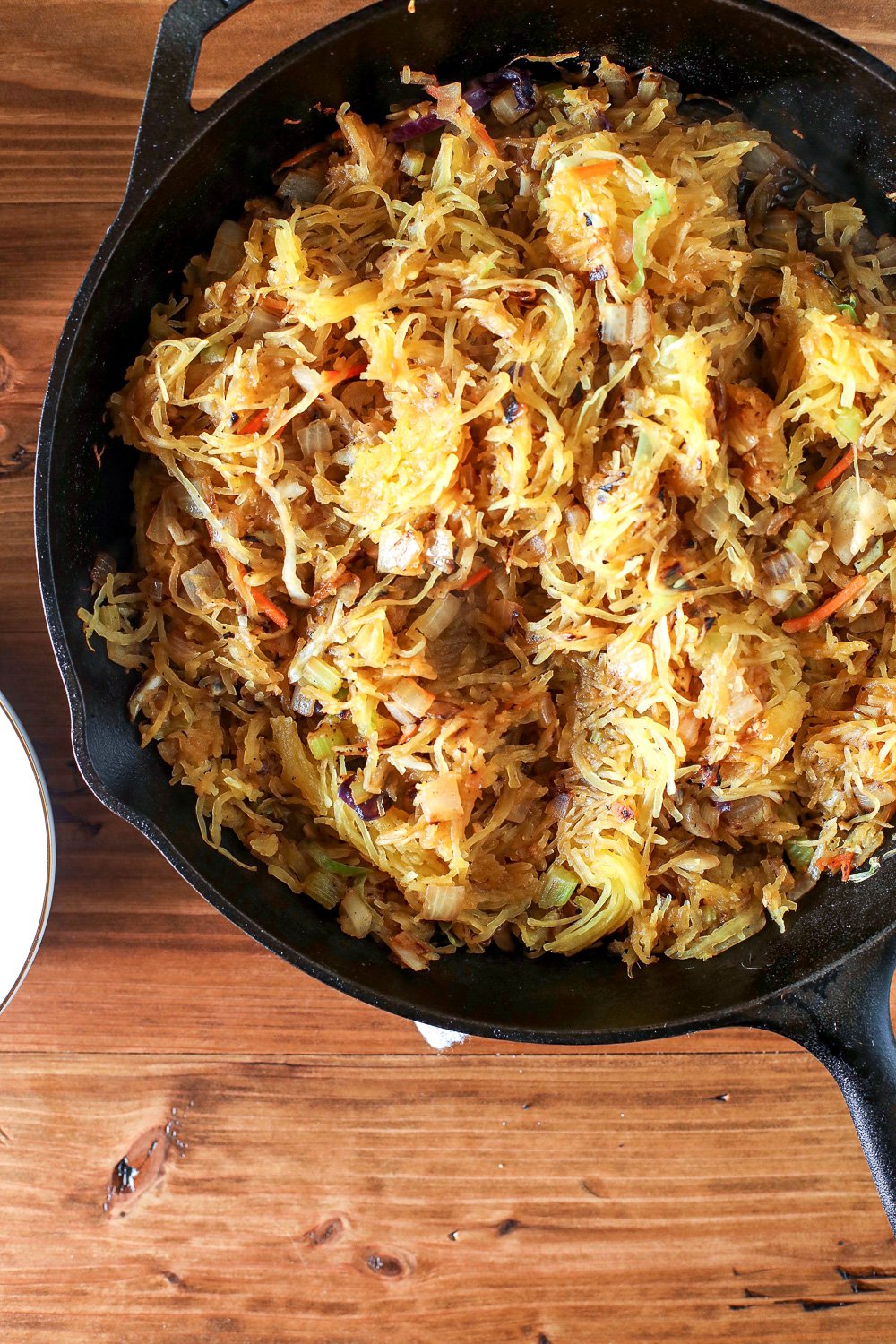 So easy and YUM!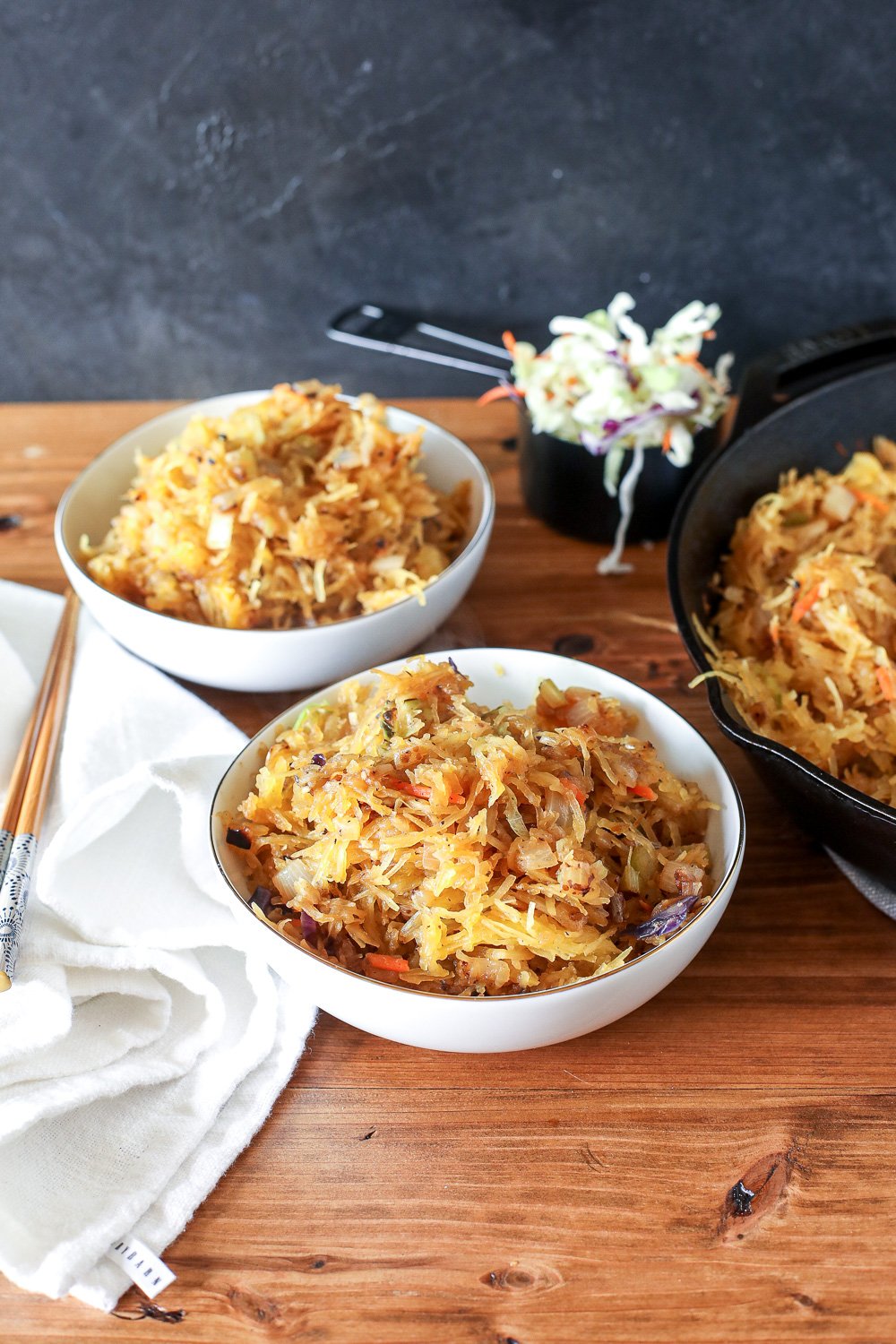 Toss all together until coated and happy!
Pin this Spaghetti Squash Chow Mein recipe to save for it later!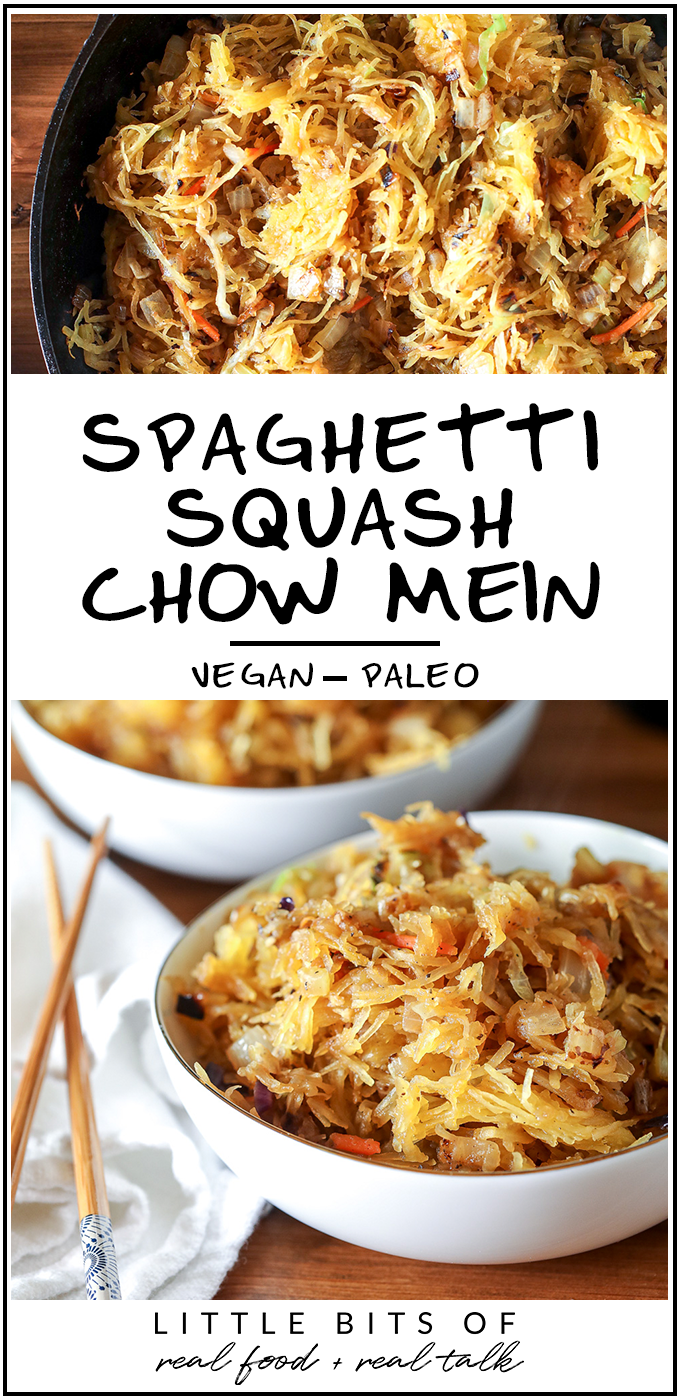 **** Find me on Pinterest??  Thanks for stopping by!!  Please poke around for more healthy recipes and like me on Facebook or Instagram for updates!
Nutrition for Spaghetti Squash Chow Mein
This is such a lower carbohydrate option for typical Chow Mein.  Also the ingredients are limited and clean (both Whole30 & Paleo compliant) so you don't have all that MSG, additives or added sugars that the typical Chow Mein comes with as well.  This recipe has <10 ingredients all said and done and comes in at <150 calories per serving!  Way less than made with regular noodles, so please please please check out this Spaghetti Squash Chow Mein and if you like this you will probably love these other recipes I have with Spaghetti Squash: Click to try them out! Chicken Caesar Spaghetti Squash Bake  Broccoli & Cheese Spaghetti Squash Bake    Spaghetti Squash with Creamy Butternut Sage Sauce
Print
Spaghetti Squash Chow Mein
---
1 large spaghetti squash
1/4 cup coconut aminos (or tamari if not paleo)
3 cloves garlic, minced
1 tablespoon coconut sugar
2 teaspoons freshly grated ginger
1/4 teaspoon white pepper (or black pepper!)
2 tablespoons olive oil
1 onion, diced
3 stalks celery, sliced diagonally
2 cups cole slaw mix (shredded cabbage and carrots)
---
Instructions
Cut a spaghetti squash in half length wise and scoop out seeds. Lay skin side up in a 13 x 9 pyrex and pour 1/2 inch of water in the bottom of the pan. Bake at 400 degrees for 30-40 minutes, until flesh is very tender. Once done, scoop out flesh with a fork so it breaks apart into strings, set aside.
In a small bowl, whisk together coconut aminos, garlic, coconut sugar, ginger and white pepper; set aside.
Heat olive oil in a large skillet over medium high heat. Add onion and celery, and cook, stirring often, until tender, about 3-4 minutes. Stir in cabbage until heated through, about 1 minute.
Stir in spaghetti squash and sauce mixture until well combined, about 2 minutes.
Serve immediately.
We are participant in the Amazon Services LLC Associates Program, an affiliate advertising program designed to provide a means for us to earn fees by linking to Amazon.com and affiliated sites.