Slow Cooker Turkey Bolognese & Zucchini Noodles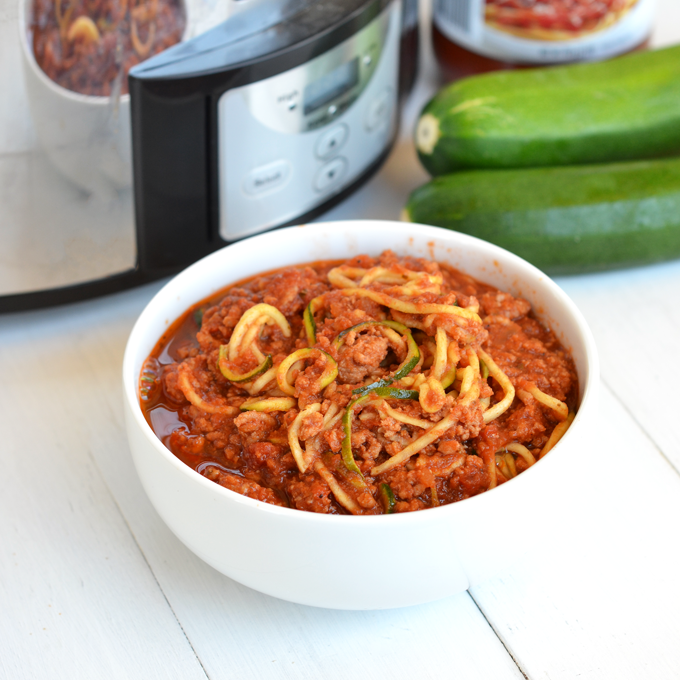 Slow Cooker lovers rejoice!! A couple of weeks ago I asked on Instagram stories what kind of recipes you guys wanted to see on the blog.  When a few people responded asking for slow cooker recipes I got inspired!  The usual slow cooker recipes I see are large roasts or pork butt, or things you would really only make one in awhile or for special occasions.  I have already posted on here about my favorite Slow Cooker Salsa Chicken, but I wanted to make something else that would be healthy, simple and require very few ingredients.  This of course brought me to my love for ground turkey.
If you follow me on instagram you know that I have turkey a lot during the week. Mostly in meatball form but often in turkey bolognese form! So why not try it in a slow cooker?   It is only an added bonus that all tomato sauces taste better when simmered for hours on end!  Oh and pro tip:  get the organic marinara sauce from Costco! It is kirkland brand and has super clean ingredients – just tomatoes and some spices!  Another tip: you can totally spiralize your zucchini noodles ahead of time. When you get home from the store with all of your zucchini, sprialize them all and place them on papers towels in a large ziploc bag.  Then recipes like this or my Zucchini Pad Thai are that much easier to whip together!
Once the sauce cooks, the zoodles go in for the last 30 minutes.
Voila – perfection with little to no effort.
GRAB A FORK WHY DON'T YA!
We all need more slow cooker recipes, here are a few more:
Slow Cooker Salsa Chicken with Sweet Potato Rice
Instant Pot Garlic Rosemary Cauliflower Potato Mash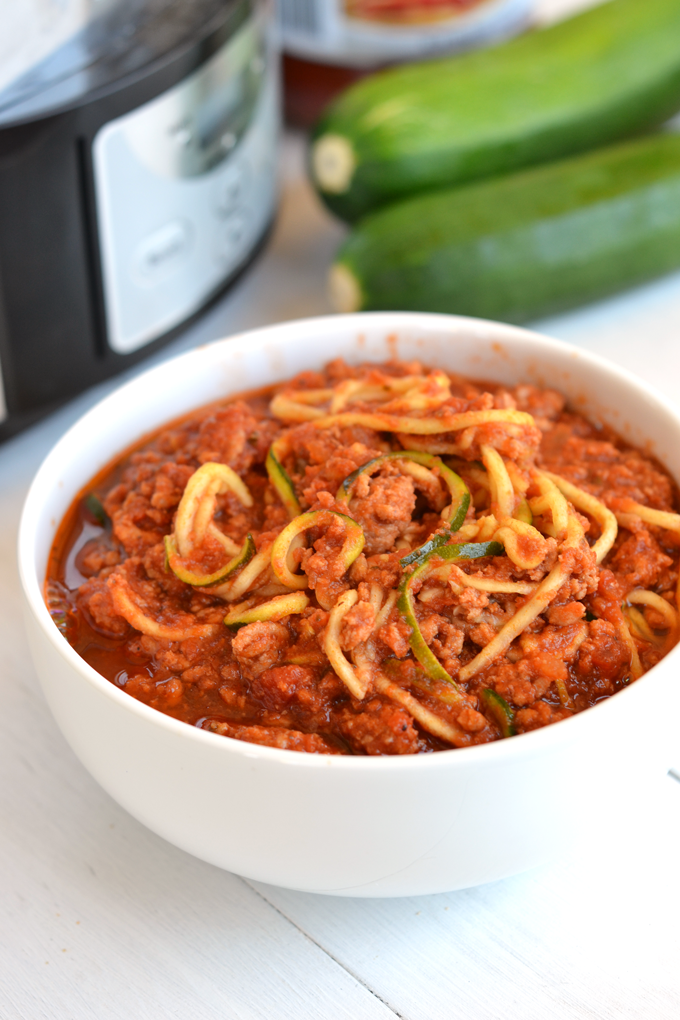 Pin it!!
Print
Slow Cooker Turkey Bolognese & Zucchini Noodles
---
1 pound ground turkey
1 large jar of marinara sauce (3 ½ cups)
1 teaspoon garlic powder
1 teaspoon dried oregano
3 large zucchinis
Salt and pepper to taste
---
Instructions
Add turkey and marinara to a slow cooker and break up turkey into smaller pieces with a wooden spoon or spatula. Stir in garlic powder & oregano and set the slow cooker on low for 3 hours.
Use a spiralizer to cut your zucchini into noodles and pat them dry with paper towels. Once the 3 hours are up, add the zucchini noodles to the slow cooker and toss with the sauce. Leave on low for 30 more minutes. Season with salt and pepper to taste and enjoy!
We are participant in the Amazon Services LLC Associates Program, an affiliate advertising program designed to provide a means for us to earn fees by linking to Amazon.com and affiliated sites.