A Week of Whole30 Approved Lunches + Some Tips!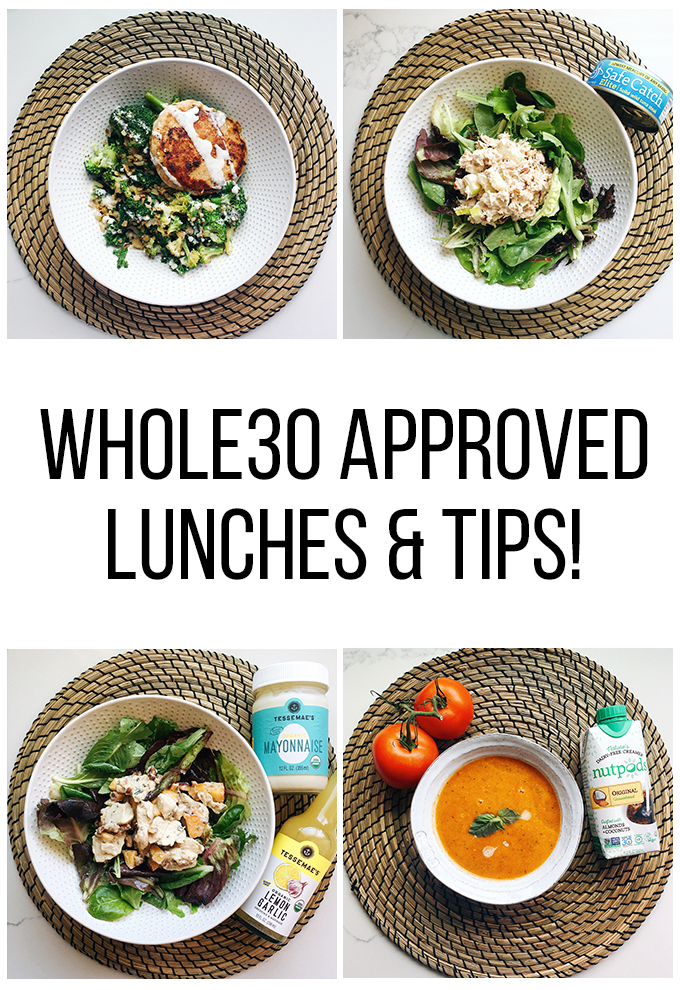 Lunch.  It is one of those things on Whole30 that can be left in the dust sometimes.  You are making killer breakfast hashes or sweet potato toast for breakfast, recreating your favorite Chinese takeout or meatloaf for dinner… but then you get to to the middle of the day and think WHAT NOW?! Well before I show you what a week of Whole30 lunches looks like for me, I want to share with you my 3 tips for Whole30 lunch success.
Leftovers:
Okay so you probably saw this coming and are like yeah yeah obviously Kelsey.  But I think a lot of people don't plan ahead quite enough to purposefully make too much dinner for your leftovers. So next time you make something, make double and right when it is done, pack up your lunch to have in the fridge so you don't over eat your dinner too.   My other thought on leftovers is to get creative with them! As you will see below, I also love to put leftovers on a salad!  I heat up the leftovers then pour them on a bed of greens tossed with my favorite dressing and you have a whole new dish.  Another idea, throw the leftovers on some sweet potato toast.  Seriously anything goes well with sweet potato – PROMISE.
Stir Fry:
Is there anything easier than throwing the contents of your fridge in a pan?  If you work from home or near a kitchen this is extra easy but it you are the majority and bring lunch to work – this is also super quick to make the night before or morning before you leave for work.  This is also where having some chicken sausage or pre cooked meat in your fridge comes in handy.  Open your fridge and maybe you see some broccoli, some zucchini and some pre chopped butternut squash – Place a pan on medium high heat, add a tablespoon  of avocado or olive oil, then add your veggies!  Cover them about cook for like 5-8 minutes tossing a few times until they are cooked.  Add some salt and pepper and a splash of your favorite salad dressing and BOOM DONE.  Then add your protein and be the happiest luncher on earth.
Salads:
Okay don't knock my kind of salads till you try them! The key here is having amazing salad dressings on hand.  My favorites for Whole30 are Tessemaes and Primal Kitchen.  I highly recommend having these on hand and maybe getting multiples of each to keep one at work!  Toss them over greens then throw on some protein, nuts, avocado and a little fruit and you have a packed salad full of flavor.  Maybe even make some of these Garlic Roasted Mixed Nuts and put those on a salad for extra flavor!
Okay now I will show you how I put these tips to use!  Last week I shared all of my Whole30 Approved lunches on Instagram using products I keep in my pantry and fridge.  Here is a peek at what lunches look like in my kitchen:
I made a big batch of my Tarragon Peach Chicken Salad on Sunday to have for the week and I put it on top of greens mixed with Tessemae's Lemon Garlic Dressing!
Back at it again with a salad! I quickly made some of my Harvest Tuna Salad with Safe Catch Tuna.
Today I did a stir fry!  I took some broccoli, kale and cauliflower rice from my fridge and threw it in a pan with avocado oil then once it was cooked I seasoned it with taco seasoning, salt and lime juice! Then I cooked up a Tribalí Chipotle Chicken Patty on top and drizzled it with some Primal Kitchen Mayo mixed with lime juice.
On this particular day I was not feeling well and especially my throat was killing me.  So soup was necessary!  I googled roasted tomato soup and Tyler Florence's recipe came up so I made it work Whole30 style.  All I had to do was replace the butter with ghee and instead of heavy cream I used NutPods!  The original NutPods doesn't have tons of distinct flavor and just adds a perfect creaminess to soup.
By Friday you know you are like me and totally running out of ideas/ food.  Hence microwaving some leftovers (which was this broccoli "cheese" spaghetti squash bake) and some chicken apple sausage and throwing it on greens tossed with Primal Kitchen Ranch Dressing!
So I would love to hear from you – how to do you do Whole30 lunches?  Let me know in the comments below!
And don't forget – if you are looking for a guide to teach you all about how to perfectly roast, grill or sauté 15 types of veggies – get my eBook HERE!!
We are participant in the Amazon Services LLC Associates Program, an affiliate advertising program designed to provide a means for us to earn fees by linking to Amazon.com and affiliated sites.