Cashew Curry Chicken Salad Sweet Potato Toast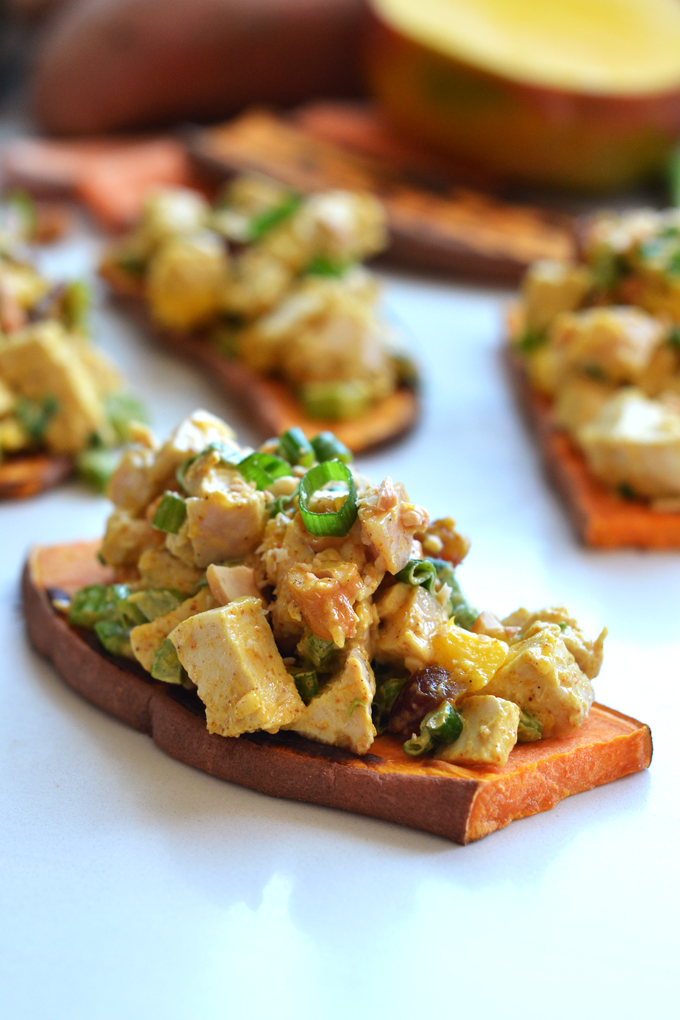 Day 4 Day 4!! We are just plowing through this week and it's about time for some Cashew Curry Chicken Salad Sweet Potato Toast!!  I have made this recipe a few times now and trust me when I say it going to be a new staple.  The curry flavor is light but present and I added lots of fun mix ins like dates and mango to keep every bite thoroughly exciting.  Am I the only one that gets this excited about food?  I have also had my mom, sister and hubby all try it and they all gave the thumbs up!  And trust me when I say those 3 are my toughest critics – aka, willing to tell me when something is not blog worthy! You can thank my sister for the many rounds of Grain Free Double Chocolate Cookies.  I always appreciate honest feedback because it forces me to make the best and tastiest recipes I can for you!
Chicken salads are probably one of the simplest most versatile meals you can make and I love mixing up flavor combinations! I have made Lemon Garlic Chicken Salad, Five Spice Chicken Salad, and SO MANY OTHERS! I love it too because you can start with super plain chicken (just bake some at 400 for 15-18 minutes), or use rotisserie, or leftovers from something else!  Then you can use a clean mayonnaise OR a plain yogurt (dairy free or dairy full!), a little vinegar or citrus to cut through creaminess, then all the add ins you desire!  I think it's always fun to add in a something crunchy like celery, something sweet like fruit and bonus points for a nut – like cashews in this case!  I have made plenty of random ones in my day using whatever we had in the pantry and also love using the same concept with Tuna Salad!
Okay before I go, can I just say how cool it has been to see your #sptweek posts this week?! You guys are incredible and I LOVE seeing all of your creations!

Reminder about the knife I use if you are new here! I use this ZHEN knife and it is AMAZING!!
Curry powder is my best friend in the kitchen!
If you love this recipe we have loads more Curry goodness on the site:
Curry Charred Cauliflower with Honey Spice Yogurt Sauce
Curry Almond Butter Chicken Salad Sandwich
Quick Curry Butternut Squash Noodles
Cashew Coconut Crusted Salmon over Creamy Curry Pasta
Pin this Cashew Curry Chicken Salad Sweet Potato Toast to save for your next lunch!
Print
Cashew Curry Chicken Salad Sweet Potato Toast
---
2 sweet potatoes
2 chicken breasts, cooked and chopped or shredded
¼ cup chopped cashews
¼ cup chopped mango
2 medjool dates, chopped
½ cup chopped celery
2 tablespoons chopped green onions
3 tablespoons mayonnaise
2 teaspoons curry powder
1 teaspoon apple cider vinegar
salt and pepper to taste.
---
Instructions
Sweet Potato Toast:
Slice sweet potatoes lengthwise into 1/4 inch slices. Add to the toaster like you would bread and toast on high. Toast them 2-3 times through until there is a little bit a browning on both sides.
Cashew Curry Chicken Salad:
In a large bowl combine chicken, cashews, mango, dates, celery and green onions.
In a small bowl combine mayonnaise, curry powder and apple cider vinegar, then pour it over the chicken mixture.  Toss to coat and season with some salt and pepper.
Scoop onto sweet potato toast and enjoy!
Notes
You can use shredded rotisserie chicken for this or just bake chicken breasts at 400 degrees for 15 minutes.
We are participant in the Amazon Services LLC Associates Program, an affiliate advertising program designed to provide a means for us to earn fees by linking to Amazon.com and affiliated sites.