Whole30 Harvest Tuna Salad
It's fall people!  Or do you call it Autumn?  I don't know many people that call it Autumn, but according to Wikipedia, Autumn is the main name and fall is an alternate name.  PS- I definitely just looked up the definition of Autumn/ Fall and although you might think Fall comes from "falling leaves" it actually comes from the old English word feallan, which means "to fall from a height".
And now ya know.
ANYWHO!  This season brings around my favorite things – apples, squash, allll of the root vegetables and don't forget – pumpkin pie spice!! I love all of these things but I realize that when I am not making something pumpkinized, I like to start adding apple into everything!  Ever thought of adding tuna and apples together? If you haven't you have been missing out.  My days have been crazy busy lately so quick meals are so clutch!!  Insert –> Safe Catch Tuna!  This stuff is SO GOOD and is Whole30 Compliant.  I keep it stocked in my pantry for anytime I need a quick meal that is packed with protein and just so happens to be low calorie too.  Mix it with the healthy fats of clean mayo, crunch from apples & pecans and flavor from some apple cider vinegar and tarragon to make for a fall feeling tuna salad!
My favorite part about Safe Catch?  The pop top! No need for a can opener over here!  It is so nice to be able pop it open quickly and not worry about cutting yourself.  Speaking from experience here! Safe Catch somehow manages to pack this super high quality tuna in each can after it has been tested for mercury levels. The limit for Safe Catch Wild Albacore Tuna is three times (3x) stricter than the FDA mercury action limit.  That is  AWESOME!  They don't have to do it – they want to. They want to provide a healthier tuna for you and your family – and that is pretty cool in my book.  If you want to grab some to see what the fuss is about, head to their site and use the coupon code "littlebitsof10" for 10% off your order!
So many tasty options to choose from too!  Pick whatever suits your fancy.
Then a quick toss in a bowl and a stir! And you have Whole30 Tuna Salad!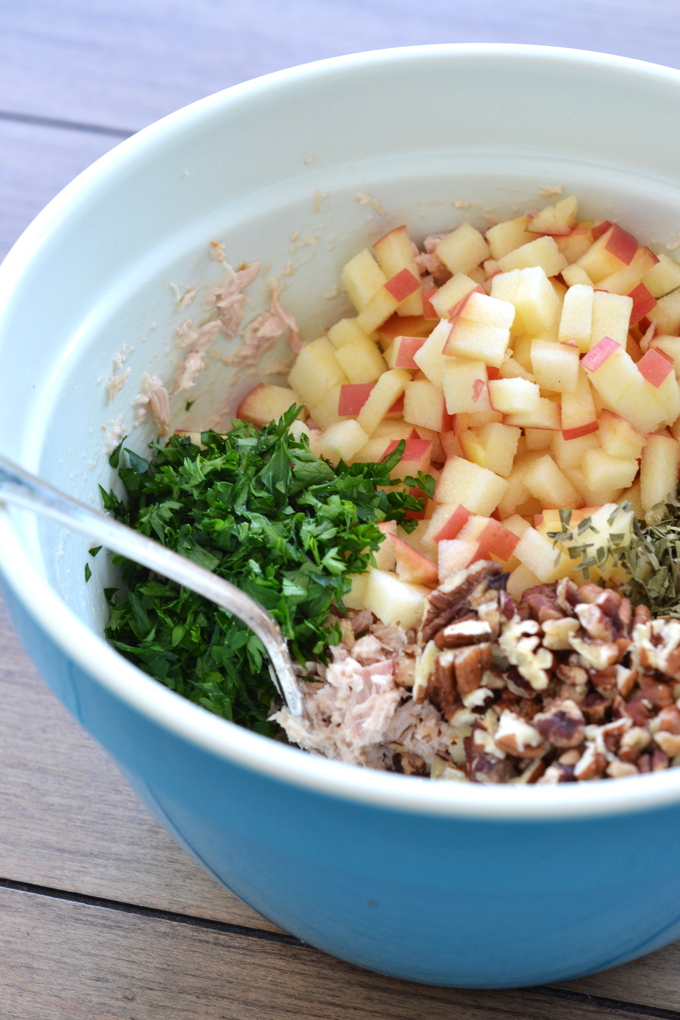 Perfect on its own or on a salad!
Whole30 Tuna Salad. Pin it!
Have more tuna that you need to use, look no further:
Nutrition for Whole30 Tuna Salad:
Tuna is such a great protein option since it is considered a whole protein, it is low in fat and low in calories!  Also studies have shown that consuming fish 2-3 times per week reduces cholesterol and increases your intake in essential fatty acids that are necessary for heart and brain health, let alone help with skin elasticity and healthy moisturized hair!  This Whole30 Tuna Salad is a must have for your healthy balanced diet!
Print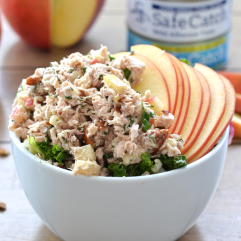 Harvest Tuna Salad
---
2 cans Safe Catch Tuna, drained
3 tablespoons mayonnaise
1 teaspoon dijon mustard
1 tablespoon chopped, flat-leaf parsley
1 tablespoon dried tarragon
¾ cup finely diced honeycrisp apple, unpeeled
¼ cup chopped pecans
1 tablespoon apple cider vinegar
Pinch salt
Pinch black pepper
1 teaspoon honey (omit to make whole30)
---
Instructions
Combine all ingredients together in a large bow and stir until completely combined.
We are participant in the Amazon Services LLC Associates Program, an affiliate advertising program designed to provide a means for us to earn fees by linking to Amazon.com and affiliated sites.