Recipes Using Shelf Stable and Freezer Ingredients
Whatever time you are looking at this post, you might be in a situation where you are stuck at home and need to use shelf stable stuff in your pantry and freezer.  Right now, the coronavirus is spreading and most of us are doing our civic duty to stay the heck home!  If you go to the grocery store right now, the produce and protein sections are pretty bare.  So this post is here to help you figure out what to make with what you might have in your pantry already.  These recipes do use some other fresh ingredients, hoping you might have some on hand and can stretch them using the canned & packaged goods!
Using Tuna Cans:
Spring Veggie Tuna Salad – For this recipe you can use some frozen veggies that you defrost and if you don't have lettuce, it is great on bread for a sandwich!
Tuna Pot Pie – This recipe calls for fresh herbs but you can totally use dried if needed.  It is also great without the crust on top if you just want to keep it super simple!
California Tuna Burgers – You can use whatever fresh ingredients you have on hand for these but making some clean thousand island sauce is needed and luckily made of shelf stable products too!
Using up Pasta:
Creamy Balsamic Bacon Pasta – this is a recent recipe that is so delish and great for shelf stable product use.  You can leave out the bacon and parsley (or use dried)  if you can't find it right now and it will still be fabulous.
One Pot Creamy Pesto Pasta & Veggies – This one needs some fresh ingredients so if you can find them, get them!!
Using Frozen Veggies:
Easy Hash Brown Potato Salad – If you have frozen hash browns in your freezer, you can make potato salad! It is so easy to do and you can use any salad dressing you have on hand to make it different and delicious every time.
Turkey & Sweet Potato Asian Lettuce Wraps – If you have ground turkey (or any ground meat) you can make these delicious wraps and if you don't have lettuce to serve them in, you can serve them over rice or cauliflower rice if you have some in your freezer!
Italian Beef & Cauliflower Rice Soup – I always have ground beef in my freezer because I get it in my butcher box, so if you do too, this is a great recipe!  Cauliflower rice might also be in you freezer and can be used in this.  You can leave out the kale and sweet potatoes if you can't find them at this time!
Treats & Snacks:
Nut Free Oatmeal Energy Bites – These are super easy to make and great to have on hand!  You can also make big batches and freeze them.
Honey Chocolate Chip Granola Bars – A classic recipe that is so delicious!  Easy to get kids involved to help make them too.
Mint Chocolate Chip Cups – These are SO good.  They taste just like little ice cream cups but are dairy free!!  Make them.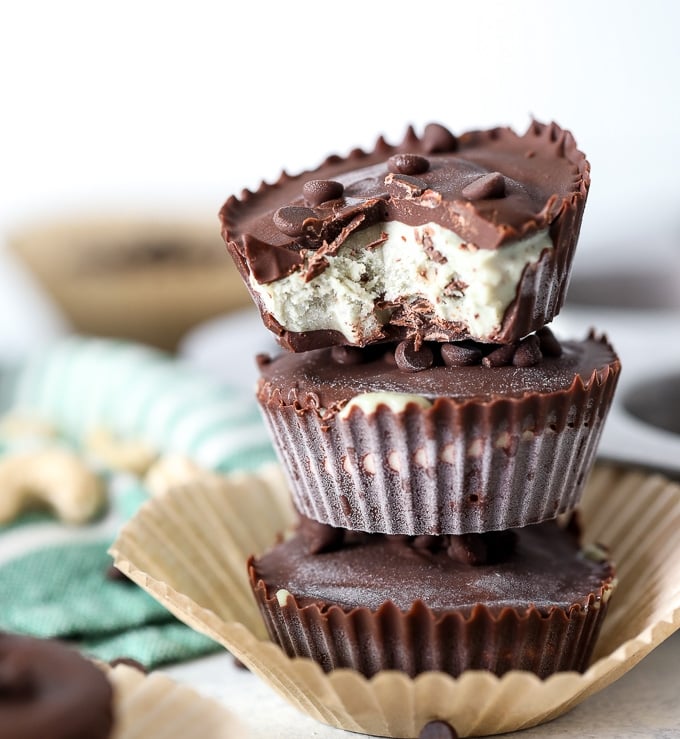 Chocolate Chipped and Dipped Cookies – paleo and tasty.  Everyone needs to make cookies when you're stuck at home!
Grain Free Double Chocolate Muffins – these are a great baked good to make and freeze!  I love popping a muffin out of the freezer and warming up in the microwave.
Pumpkin Oat Breakfast Bread – use up that canned pumpkin you have left from the holidays!
I could put even more on this list but i'll stop there!  Enjoy making some delicious food while staying in and staying safe!
We are participant in the Amazon Services LLC Associates Program, an affiliate advertising program designed to provide a means for us to earn fees by linking to Amazon.com and affiliated sites.