Honey Chocolate Chip Granola Bars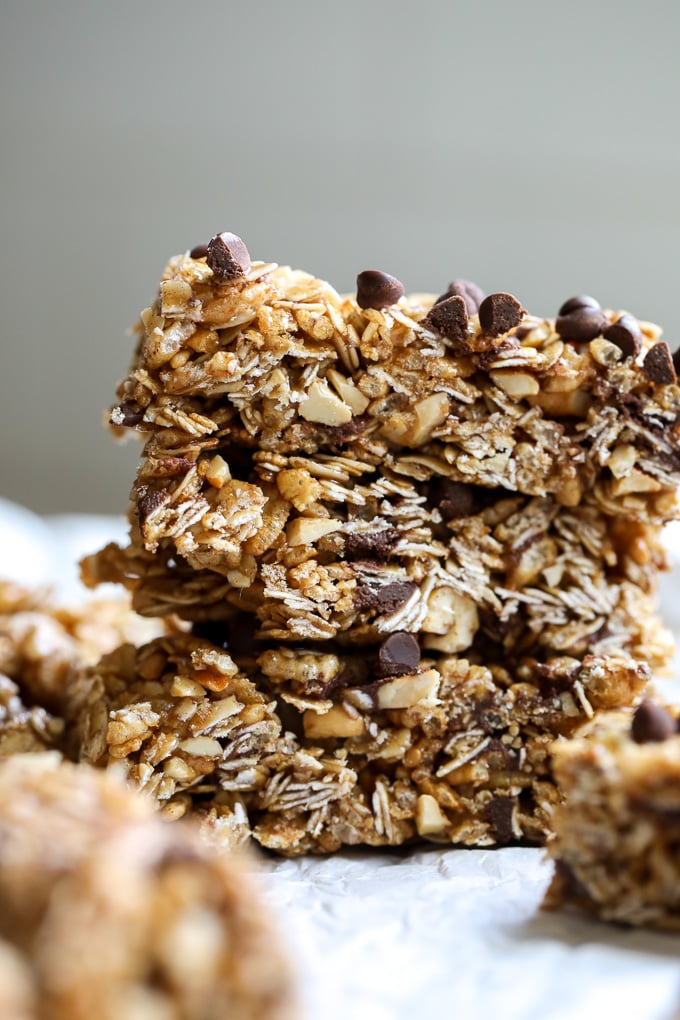 Granola Bars!! Mostly cutting out processed foods a couple of years ago was what really opened my eyes to wellness and showed me how crazy processed so many things are.  Then we cut more and more out with Whole30 and paleo eating so when I got pregnant and need carbs all the time, trying to find some middle ground took a minute.  When I was tired and feeling bad at the store, I saw chewy granola bars and thought, I NEED THESE!  Now granted they are delicious and I would eat the boxful, but reading the ingredient list with all the soybean oil, sugar and caramel color made me remember that those store bought goodies aren't really worth it.  But I still wanted granola bars all the time as a nice carby little snack to get me through the day.  So of course I had to finally make my own!
Adding some almonds to the mix and sweetening them with honey and coconut sugar make for such a delicious granola bar.  I keep these in the fridge so they last longer and aren't too soft. When snacks are too soft I feel like I eat them 10 times faster, anyone else?  Anyways, I hope you love these babies and enough the thoughts of your childhood chewy bars like I did!!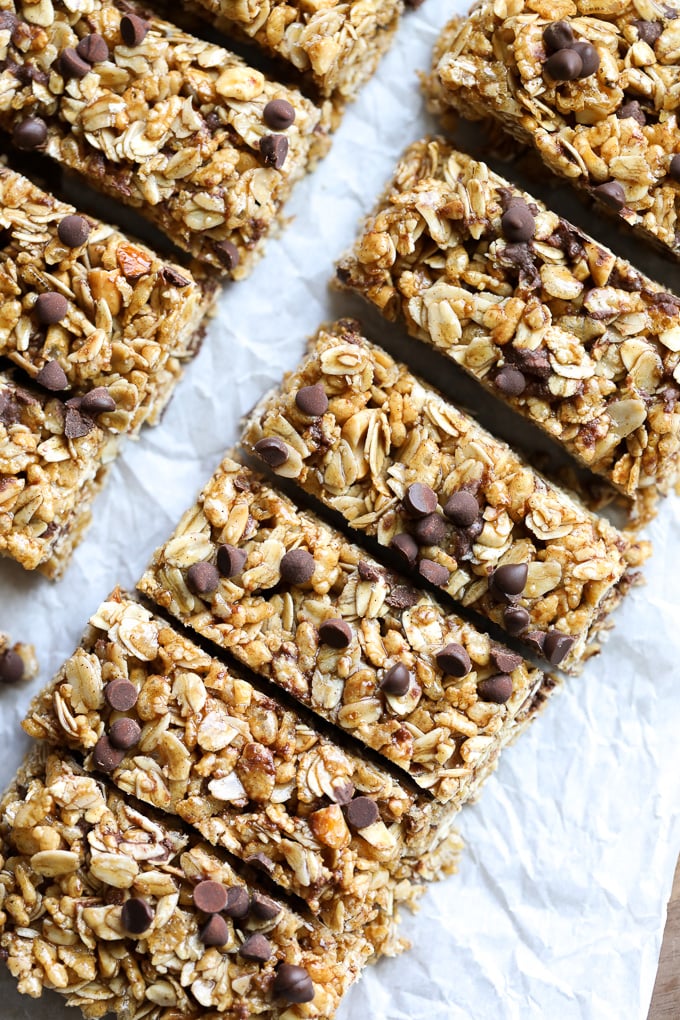 Thanks for the pick up shot Matt's hand!!
If you love these Granola Bars we have more Granola recipes for you: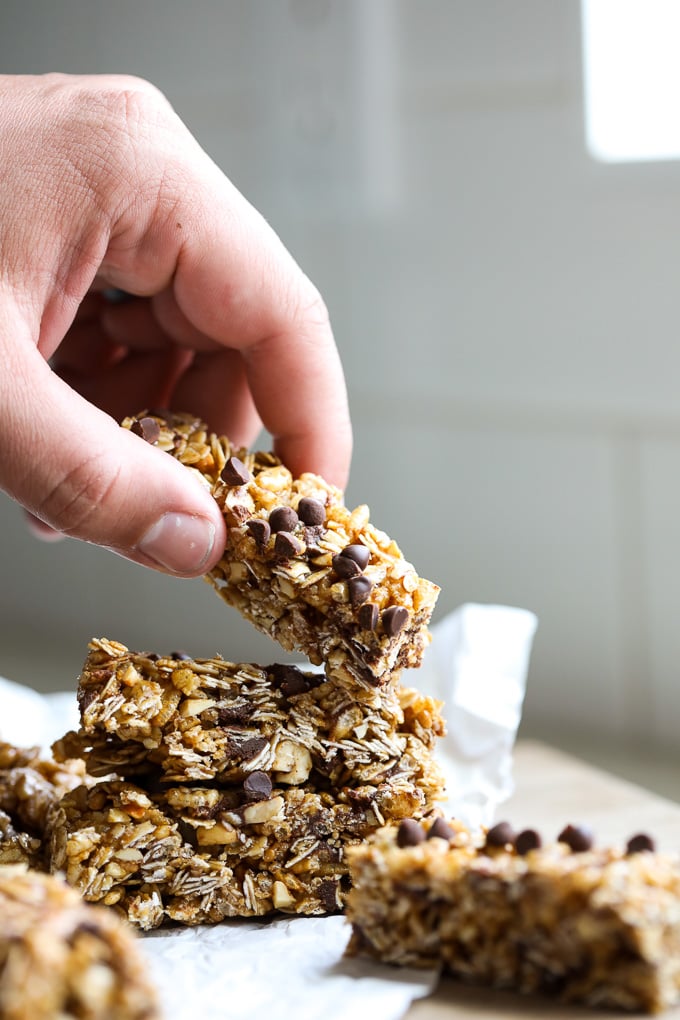 Pin the image below to save these Honey Chocolate Chip Granola Bars!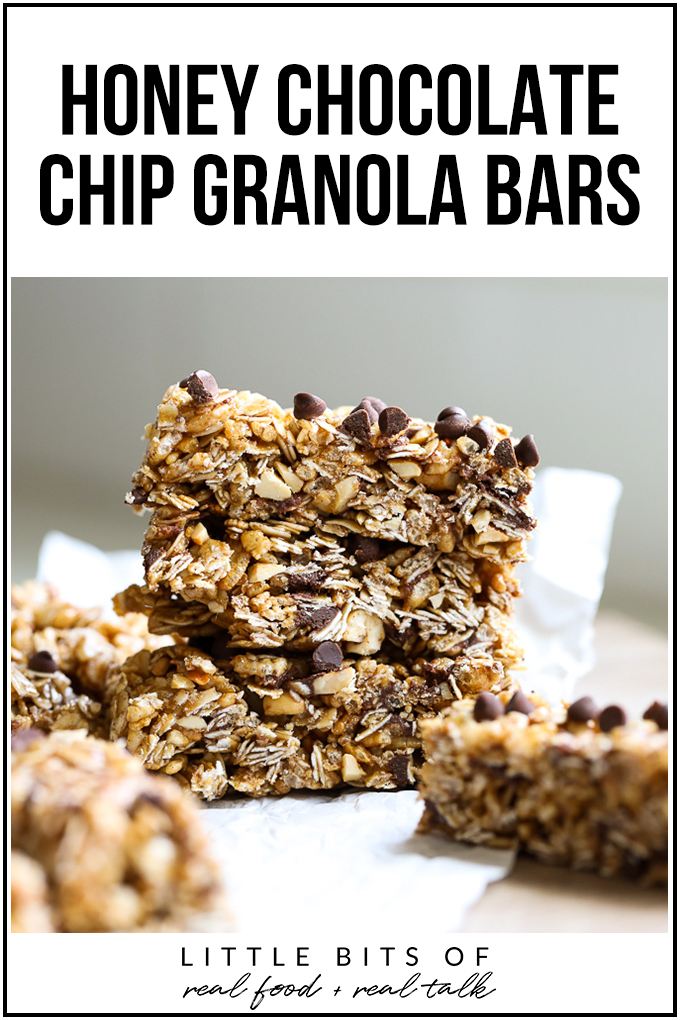 Print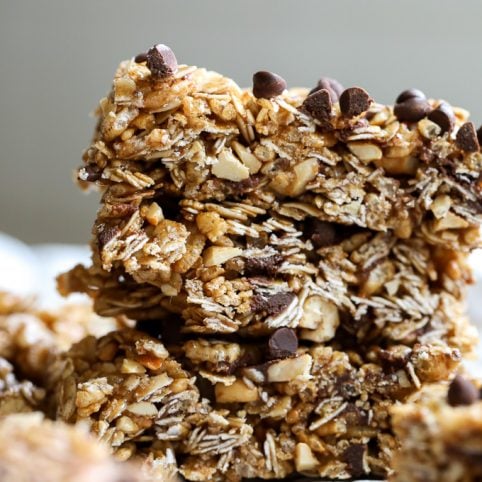 Honey Chocolate Chip Granola Bars
---
1 ½  cups old fashioned rolled oats
1/2 cup  whole almonds, coarsely chopped
1/3 cup honey
1/4 cup coconut oil
1/4 cup coconut sugar
1/2 teaspoon vanilla extract
pinch of salt
1 ½ cup brown rice crisp cereal
1/4 cup plus 2 tablespoons (65 grams) mini chocolate chips
---
Instructions
Heat oven to 350 degrees F. Line bottom and sides of a 8-inch or 9-inch square pan with aluminum foil. Then lightly oil or spray with cooking spray.
Add oats and almonds to a small baking sheet then bake 5 minutes, stir and bake another 3 to 5 minutes until lightly toasted. Transfer to a large bowl.
Combine honey, coconut oil, coconut sugar, vanilla extract and the salt in a small saucepan over medium heat. Cook, stirring occasionally until honey melts and the coconut sugar completely dissolves.
Pour mixture into bowl with toasted oats, almonds and cereal. Mix well. Let cool about 5 minutes then add 1/4 cup of the mini chocolate chips. Stir to combine.
Transfer oat mixture to lined pan then use a rubber spatula or parchment paper to firmly press the mixture into the pan.
Scatter remaining 2 tablespoons of chocolate chips over pressed granola mixture then use a rubber spatula to gently press them into the top. Cover then refrigerate at least 2 hours. Remove block of granola mixture from pan then peel away aluminum foil. Cut into 12 bars.
Store bars in an airtight container for up to one week. For the soft bars, keep at room temperature (if you house is warm they might fall apart a bit). For slightly harder bars, store in the fridge (this is what I did!).
We are participant in the Amazon Services LLC Associates Program, an affiliate advertising program designed to provide a means for us to earn fees by linking to Amazon.com and affiliated sites.