Instant Pot Chicken Shawarma
A simple recipe that can be the base of so many delicious meals, this Instant Pot Chicken Shawarma will the new favorite family meal.
Today we come with maybe the most underrated protein recipe ever. When everyone talks about meal prepping and getting scrumptious protein ready for quick lunches or dinners this is the recipe they need to be talking about. The best thing about it is that it's made in any pressure cooker or even slow cooker if you don't want to buy another appliance for your kitchen. The spices that make this chicken tender and juicy are strait out of the Mediterranean region with cumin, paprika , turmeric, garlic, all spice and chili powder and finished off with a dash of cinnamon. Adding chicken stock to the pressure cooker brings the needed moisture for the chicken to become fall off the bone perfect.
If by chance you are unable to defrost the chicken before you pop it into the pressure cooker have no fear because it will still cook!! Mix the spices with the broth and make sure its throughly mixed, pour it over the chicken and set the cooker,
Chicken Shawarma is one of those things I never remember I love until I randomly order it at a Mediterranean restaurant and freak out about how amazing it is! This chicken is amazing on its own but we especially love it with the homemade tahini sauce, I don't want to say it's the best sauce on the blog but man is it soo good.
Wondering how to make this the the protein for the perfect meal prep:
Lettuce Wraps= Lettuce , cucumbers, tomatoes, red onions and tahini sauce chop and prep all the veggies at the beginning of the week and assemble when you are ready to eat.
Bowl= Prep the rice and let it cool before you make the individually bowls adding lettuce, cucumbers, tomatoes, chopped red onions and tahini sauce.
Wrap= Naan/pita, lettuce, cucumbers, chopped tomatoes, red onion and tahini sauce. Leave everything off the bread until you are ready to eat, or it will get soggy.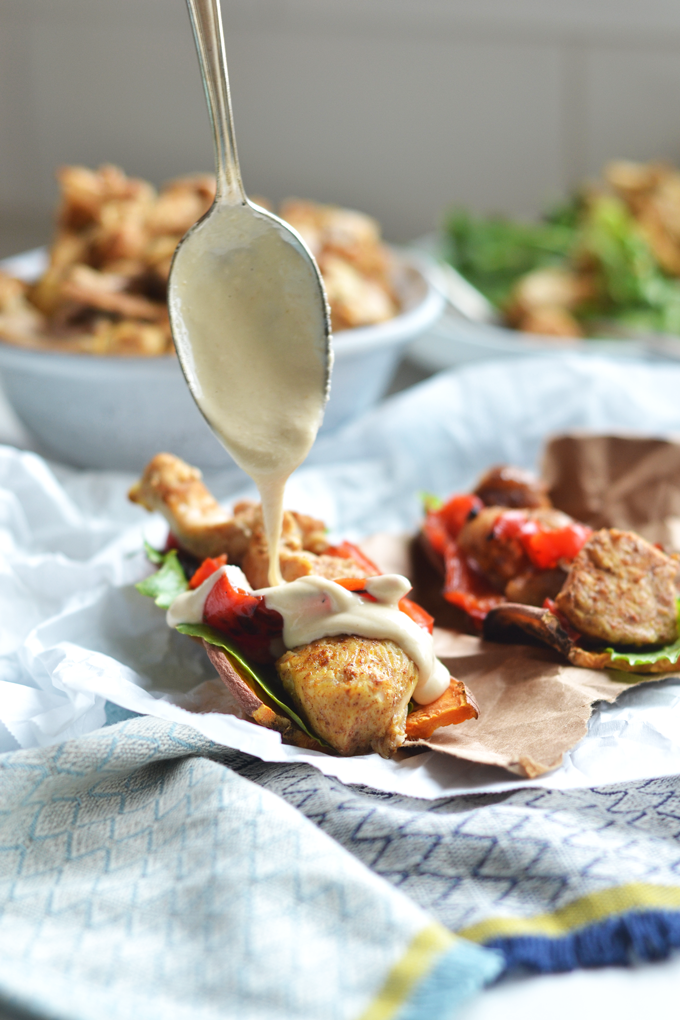 The instant pot is going to get extra use with more of these recipes:
Instant Pot Creamy Dijon Chicken
Herb Stuffed Instant Pot Whole Chicken
Citrus Garlic Shredded Beef Tacos (instant pot)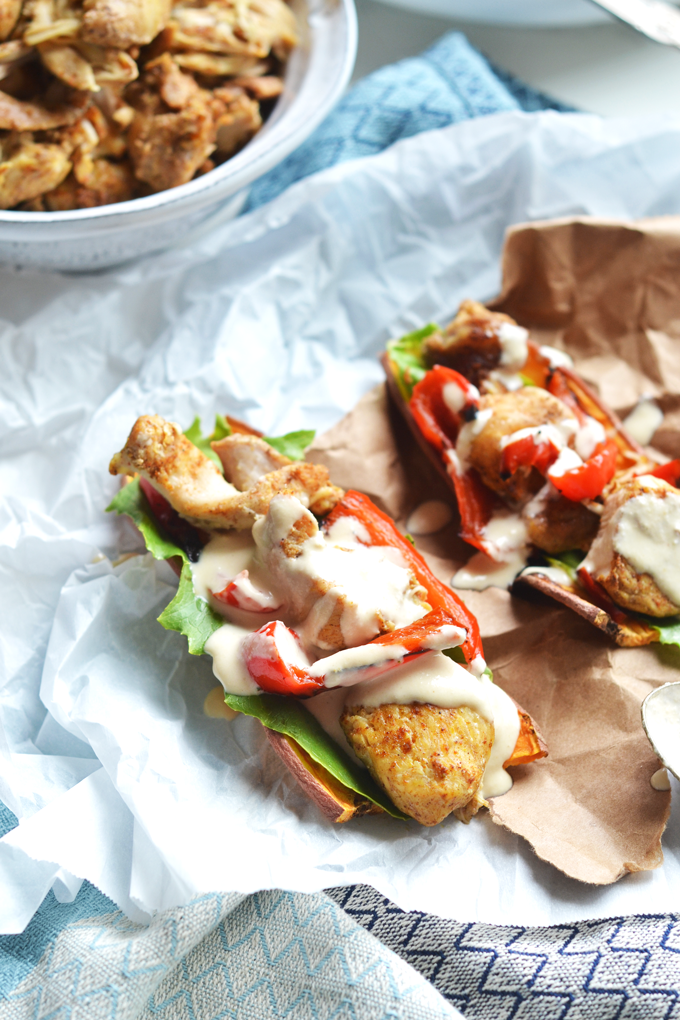 Pin this Instant Pot Chicken Shawarma to save for later!

Print
Instant Pot Chicken Shawarma
---
1 – 1.5 pounds boneless skinless chicken breasts
1 – 1.5 pounds boneless skinless chicken thighs
1 teaspoon ground cumin
1 teaspoon paprika
1/2 teaspoon turmeric
1/4 teaspoon granulated garlic
1/4 teaspoon ground allspice
1/4 teaspoon chili powder
1/8 teaspoon ground cinnamon
Kosher salt and freshly ground black pepper to taste
1 cup chicken broth or stock
---
Instructions
Slice chicken breasts and thighs into strips and place into your instant pot.  
In a small bowl combine all of spices (cumin – cinnamon).  
Pour the spice mix over the chicken with a pinch of salt and some pepper.  
Mix it all together so the spices evenly coat the chicken.   Add chicken broth to the pot and secure the lid. 
Place it on the poultry setting and get the time to 15 minutes.  
Once the time is up let it depressurize on its own for 10 minutes then turn the steam release to venting until all the pressure is released.  
Serve with veggies or on sweet potato toast drizzled with tahini sauce.
Notes
If making in a slow cooker, follow the same instructions and cook on low for 4 hours.
We are participant in the Amazon Services LLC Associates Program, an affiliate advertising program designed to provide a means for us to earn fees by linking to Amazon.com and affiliated sites.