Instant Pot Chicken Shawarma
Where are my Instant Pot fans at??  Well even if you don't have one this recipe is one I can already see myself making time and time again!!  It can easily be made in the slow cooker too, but 15 minutes for tender and tasty chicken is a little life changing.  I got an Instant Pot – which is a pressure cooker – on Amazon Prime day and I am so glad I did!! I've made about 4 or 5 things in it so far and am so impressed with how fast it can cook stuff while making it tender and moist too!  I love my Salsa Chicken and Greek Chicken recipes on this blog and am so happy I can now make them in 20 minutes vs. a few hours in the slow cooker.  I plan on posting a lot more Instant Pot recipes on my blog but if you don't have one and don't want on, DON'T WORRY!  I will have instructions on how to make it in slow cooker too.  It will just mean a longer cooking time but the same delish flavor will be there!  Now let's jump into this recipe!
Chicken Shawarma is one of those things I never remember I love until I randomly order it at a Mediterranean restaurant and freak out about how amazing it is!  It packs so much flavor because it literally has tons of spices in it!!  This also makes it so easy to make because all you have to do is blend the spices all together, mix them with the chicken, add some chicken broth and you're done!  I served mine on some sweet potato toasts with greens, grilled bell peppers and some tahini sauce! I had made the grilled bell peppers for my ebook the same day I made this chicken so it was perfect! I am getting SO excited for this ebook launch and to share all of the ways I make my veggies extra yummy!  This dish definitely proves you don't need hummus or pita to have a super delicious mediterranean meal that is also paleo!  But if you aren't limiting grains I bet this baby would also be fabulous in a pita of any kind!   Okay now its time to get out your instant pot (or order one) or slow cooker and create some magic!
Drizzle on the tahini sauce… you can thank me later!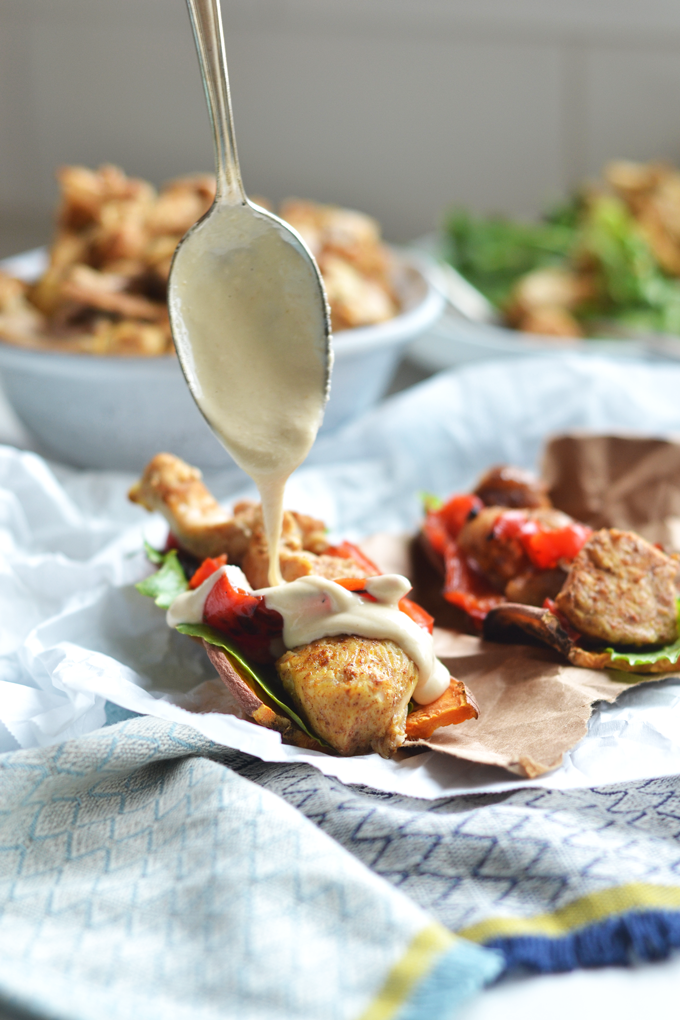 Question – what is your favorite mediterranean dish??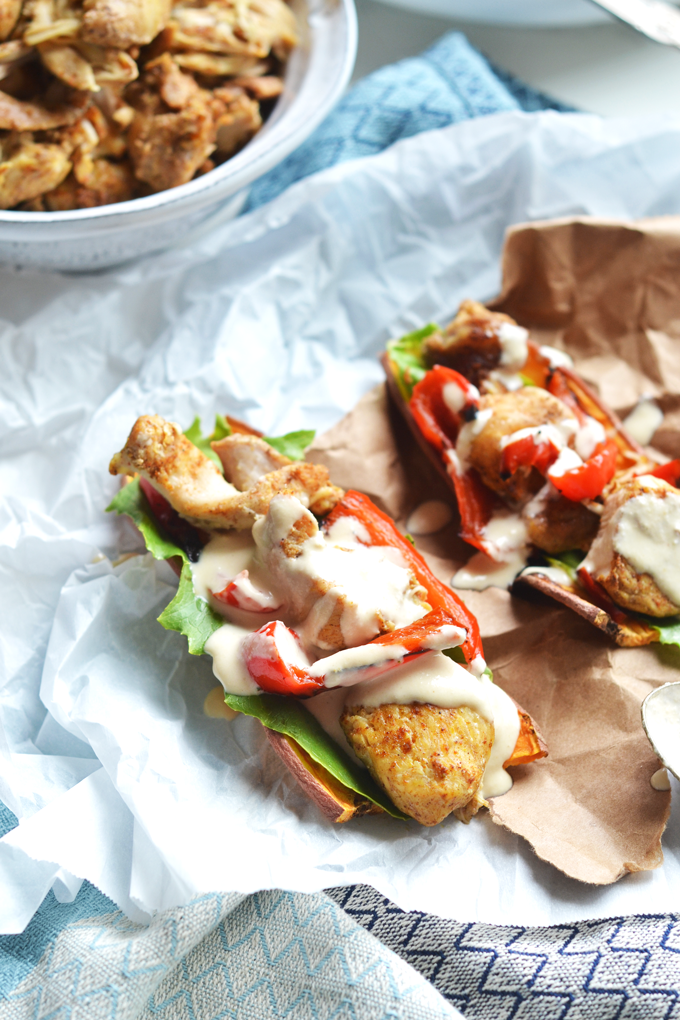 Pin this Instant Pot Chicken Shawarma to save for later!

Print
Instant Pot Chicken Shawarma
---
1 – 1.5 pounds boneless skinless chicken breasts
1 – 1.5 pounds boneless skinless chicken thighs
1 teaspoon ground cumin
1 teaspoon paprika
1/2 teaspoon turmeric
1/4 teaspoon granulated garlic
1/4 teaspoon ground allspice
1/4 teaspoon chili powder
1/8 teaspoon ground cinnamon
Kosher salt and freshly ground black pepper to taste
1 cup chicken broth or stock
---
Instructions
Slice chicken breasts and thighs into strips and place into your instant pot.  
In a small bowl combine all of spices (cumin – cinnamon).  
Pour the spice mix over the chicken with a pinch of salt and some pepper.  
Mix it all together so the spices evenly coat the chicken.   Add chicken broth to the pot and secure the lid. 
Place it on the poultry setting and get the time to 15 minutes.  
Once the time is up let it depressurize on its own for 10 minutes then turn the steam release to venting until all the pressure is released.  
Serve with veggies or on sweet potato toast drizzled with tahini sauce.
Notes
If making in a slow cooker, follow the same instructions and cook on low for 4 hours.
We are participant in the Amazon Services LLC Associates Program, an affiliate advertising program designed to provide a means for us to earn fees by linking to Amazon.com and affiliated sites.