Creamy Balsamic Bacon Pasta
THIS RECIPE!  I am so so in love with it!  This is one of those recipes that is so easy and so delicious that I can't believe I haven't been making it my whole life.  When we perfected the recipe a couple of weeks ago, Catherine, Matt and I just hovered over the bowls after I shot this.  If I get a frozen cheese pizza (usually the cauliflower crust ones), I love to add a drizzle of balsamic glaze, chopped bacon and chopped dates.  The combo of these 3 flavors is something magical and it needed to be on pasta.  The creamy sauce is mostly cashews so it is dairy free but also has balsamic vinegar to make it zippy and fabulous.  You can also totally leave out the bacon and that would make this recipe vegan!
Super plus?  Ruthie loves it.  She is getting pickier as the days go on so I was so happy she liked this. We used gluten free pasta but you can use any you like.
Pasta dishes that come together quick is just what everyone needs to get dinner on the table:
One-Pot Creamy Pesto Pasta & Veggies
Cashew Coconut Crusted Salmon over Creamy Curry Pasta
Greek Pasta Salad with Lemon Herb Tahini Dressing
Nutrition Facts: A bowl of pure goodness!
This recipe is nothing short of delicious without the crazy guilt of eating a savory pasta dish!  Most of the flavor comes from the Balsamic Vinegar, which adds such a kick to the sauce. Balsamic Vinegar has many health benefits coming from its high potency of antimicrobial compounds, acetic acid, and antioxidants.  Because of these three components, Balsamic Vinegar actually helps with clearing up blemishes and promotes healthy vibrant skin.  If you are feeling sick with a head cold, it actually also helps with clearing congestion.  Nutrition wise, vinegars of any sort all help to reduce cholesterol, reduce hypertension and promote healthy digestion!
Pin the image below to save this Creamy Balsamic Bacon Pasta recipe for later!
Print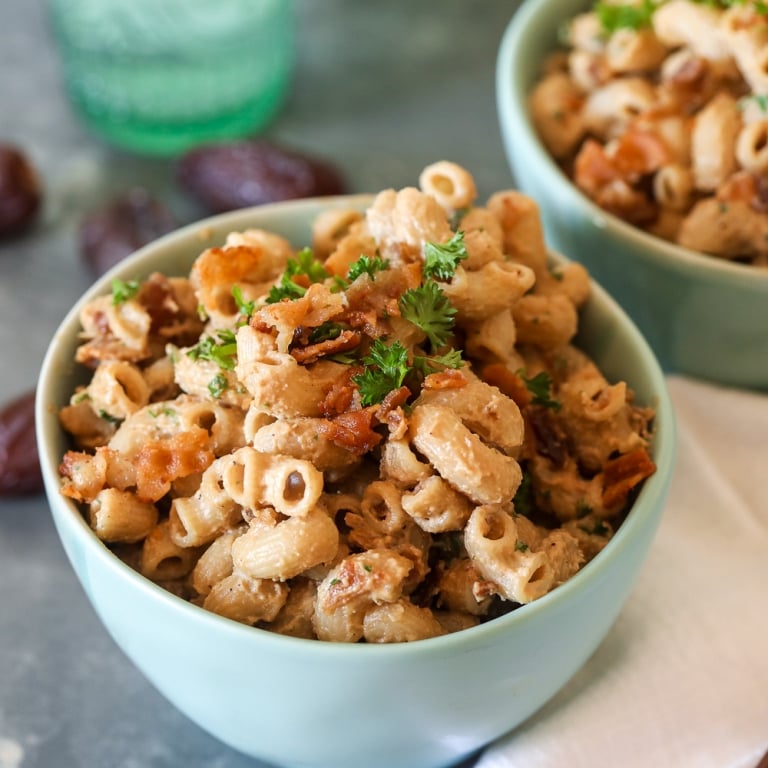 Creamy Balsamic Bacon Pasta
---
1 ½ cup cashews
¾ cup water
¼ cup balsamic vinegar
1 tbsp nutritional yeast
Salt
12 oz gluten free pasta, cooked according to package instructions
6 slices bacon, cooked & chopped
4 medjool dates, chopped
¼ cup chopped parsley
---
Instructions
In a blender combine cashews, water, balsamic vinegar and nutritional yeast. Blend on high until smooth and creamy. Season with salt to taste.
In a bowl combine cooked pasta with the creamy sauce, chopped bacon, chopped dates and chopped parsley.  Stir to combine and season again with salt if needed.
We are participant in the Amazon Services LLC Associates Program, an affiliate advertising program designed to provide a means for us to earn fees by linking to Amazon.com and affiliated sites.