Mint Chocolate Chip Cups
Questions, what is your favorite flavor of ice cream?? Mine is Mint Chocolate Chip.  Fave brand? Thrifty!! Ya know the old grocery store?  I have such vivid memories of getting Thrifty mint chocolate chip ice cream on our way home from the beach when I was younger.  Best days everrrr! So I recreated this favorite of mine into a dairy free and paleo cup that also happens to be packed with protein.  This is one of the many things I love about Vital Proteins collagen – tasteless so you can put it in anything.  So this super simple recipe requires just a few things – cashews, maple syrup, almond milk, mint extract, collagen peptides and chocolate chips! Oh and you can make these into small or larger sized cups – I love silicone to make them pop out super easily.
So if you are wanting a healthy version of one of the best ice cream flavors ever, these are NECESSARY! I cannot wait to have Ruthie try mint chip for the first time – it's gonna be the best day ever. She is going to start eating solids on the 26th this month, her 6th month birthday!  I cannot even tell you how excited I am to see her cute little face try all of the best foods.  And if you haven't seen my post on why and how I use collagen, be sure to check that out here!
Oh how these cups have made my life better!
This post was sponsored by Vital Proteins but all views are 100% my own!
Need more homemade chocolate treats, we have you covered:
Chocolate Peppermint Freezer Fudge
Date Caramel & Peanut Butter Chocolates
Pin the image below to save this Mint Chocolate Chip Cups recipe for later!!
Print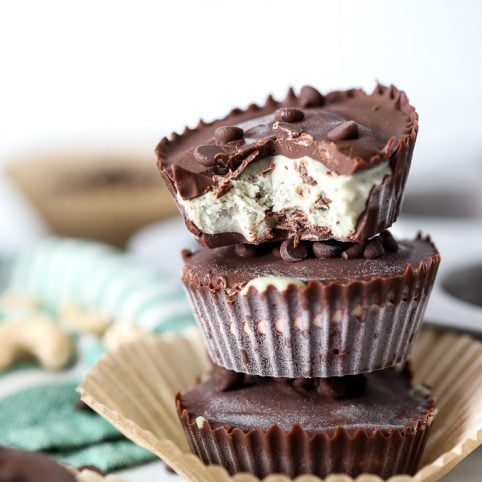 Mint Chocolate Chip Cups
---
2 cups cashews, soaked (4-12 hours)
½ cup almond milk
½ cup maple syrup
2 teaspoons mint extract (not peppermint!)
3 tablespoons mini chocolate chips
½ cup Vital Proteins Collagen peptides
2 cups chocolate chips
---
Instructions
In a blender or small food processor combine soaked cashews, almond milk, maple syrup, mint extract and collagen peptides.  Blend on high until super smooth. Add in 3 tablespoons of mini chocolate chips and pulse a few times to combine.
In a microwave safe bowl, add the chocolate chips. Microwave the chocolate for 30 seconds at a time, stirring between each time, until fully melted.
Take your silicone cup cups and add 1 teaspoon (for small) and 1 tablespoon (for large) of chocolate to each cup. Use the end of a wooden spoon to swirl the chocolate up the sides of the mold. Place the mold in the refrigerator for about 5 minutes to firm the chocolate up. Once chocolate is set, scoop the mint chocolate chip mixture into each cup.
Then scoop the remaining chocolate on top of the mint filling until the cup is full. Once they are all filled, place cups in the refrigerator (on a cookie sheet for stability), until set.
Pop out of the mold and enjoy! Keep them in the freezer for best texture!
We are participant in the Amazon Services LLC Associates Program, an affiliate advertising program designed to provide a means for us to earn fees by linking to Amazon.com and affiliated sites.