Italian Beef & Cauliflower Rice Soup
Ever have days where you look in your fridge and you have food but have no idea what to make? This happens on the reg and my food ADD makes it so I just can't stand to have the same thing twice. We might make Cauliflower Fried Rice at least once a week, but we always top it with something different or add in different veggies to give it some variety. So last week I was faced with frozen grass fed ground beef, cauliflower rice, sweet potatoes and some kale I just picked up at the farmers market. A few pantry staples I always have consist of chicken stock (organic from Costco is the best!), tomato paste & marinara sauce. Between all of those things and a bunch of dried herbs and spices, this soup was born! I am a huge huge fan of rice in soups so I thought I would throw in the frozen cauliflower rice we have stocked from Trader Joes. It worked like a charm and gave this soup really nice body and texture. The whole recipe is done is about 30 minutes too which is SO nice on a busy weeknight. How much do you love that kitchen towel in the photos too? Thank you Trader Joes! I just can't get enough of that place.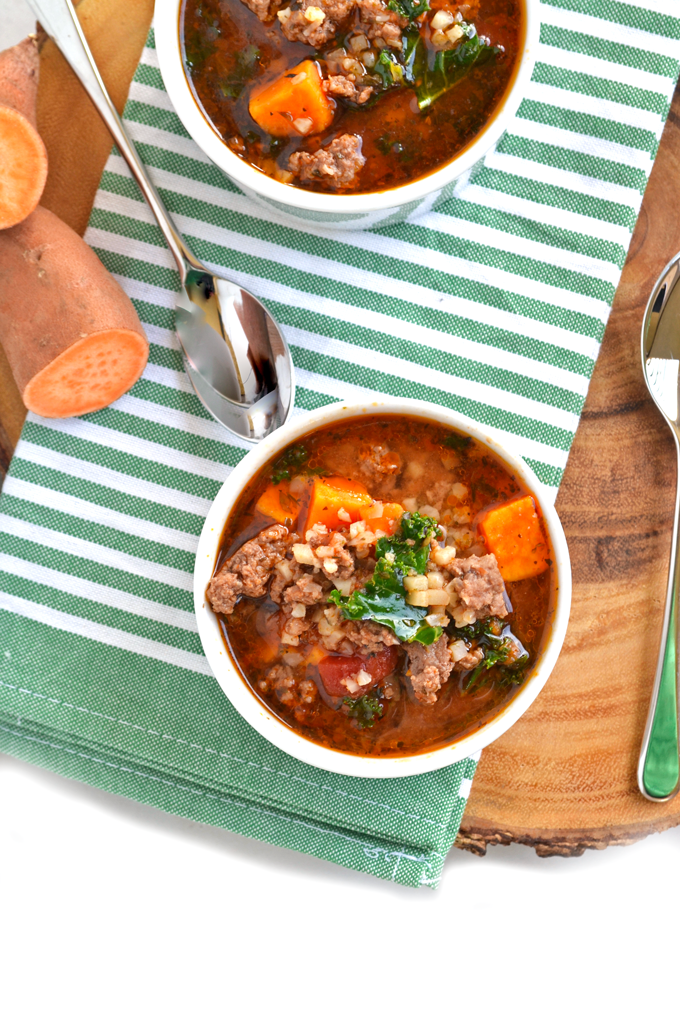 The kale adds just enough green to make us feel good about ourselves. 🙂
Pin it!
Print
Italian Beef & Cauliflower Rice Soup
---
1 tablespoon ghee
1 pound grass fed ground beef
2 teaspoons garlic powder
2 teaspoons dried parsley
2 teaspoons dried basil
1/4 teaspoon paprika
1 teaspoon fennel seeds
½ teaspoon oregano
½ teaspoon thyme
1 teaspoons salt
½ teaspoon pepper
½ cup marinara or tomato sauce
¼ cup tomato paste
4 cups chicken or beef broth
1 cup peeled & chopped sweet potato
2 cups cauliflower rice
1 tablespoon red wine vinegar
2 cups chopped kale
---
Instructions
Place a large pot over medium high heat. Add ghee to the pan and let it melt. Then add in the ground beef and break it up quickly as it will begin to cook. Add in the garlic powder, parsley, basil paprika, fennel, oregano, thyme, salt & pepper and stir to combine. Once the meat is browned, add in marinara sauce & tomato paste and stir again. Then add in the sweet potato, broth, & cauliflower rice. Bring to a boil and then down to a simmer for 20 minutes. Add in red wine vinegar and kale and cook for 5 more minutes or until kale is slightly wilted. Salt and pepper to taste and enjoy!
We are participant in the Amazon Services LLC Associates Program, an affiliate advertising program designed to provide a means for us to earn fees by linking to Amazon.com and affiliated sites.