Grain Free Double Chocolate Muffins
Yayyy for chocolate week!! Isn't that what valentines day basically means?  Well I feel like it does in the blogging world.  And any excuse to get back to my baking roots I am all for!  So I wanted to create a muffin recipe that was actually springy and muffin like vs. dense like most paleo treats can end up.  Thank goodness for unsweetened applesauce!  That mixed with a few eggs (4) helped these muffins get the perfect consistency, even though you use a mix of almond flour and coconut flour.  A little dash of honey added some sweetness but we didn't need much when it's packed with chocolate chips. I have said it on here before and i'll say it again – my mom is not a fan of paleo baked goods and she actually LOVED these!! WIN!
Speaking of my mom – for her birthday last year my sister and I got us all tickets to a Miranda Lambert concert and it is this Friday!  I love seeing live music and country is the best when it comes to concerts.  We can't wait to get our cowboy boots on and stomp the night away – even though I am the DD!  And now that I am thinking about it and writing this post… I should probably make some of these for car snacks.  It will take about an hour and a half to get there and this mama to be needs snacks on hand all the time.
Okay now another change of subject because I have lots of thoughts – we are going to register for our baby shower tonight!! And when you're reading this it will have been last night but I am just so excited.  Choosing the stuff we will use once our baby girl is home with us is the next step to making it feel so real and I just can't wait.
I have been loving peanut butter lately so obviously had to drizzle some of that on these babies!
Basically makes it a frosting which basically makes these cupcakes but lets call them muffins so we can eat them for breakfast, okay?
If you love these muffins we have many more recipes to try:
Whole Wheat Banana Chocolate Chip Muffins
Grain Free Date and Chocolate Chip Muffins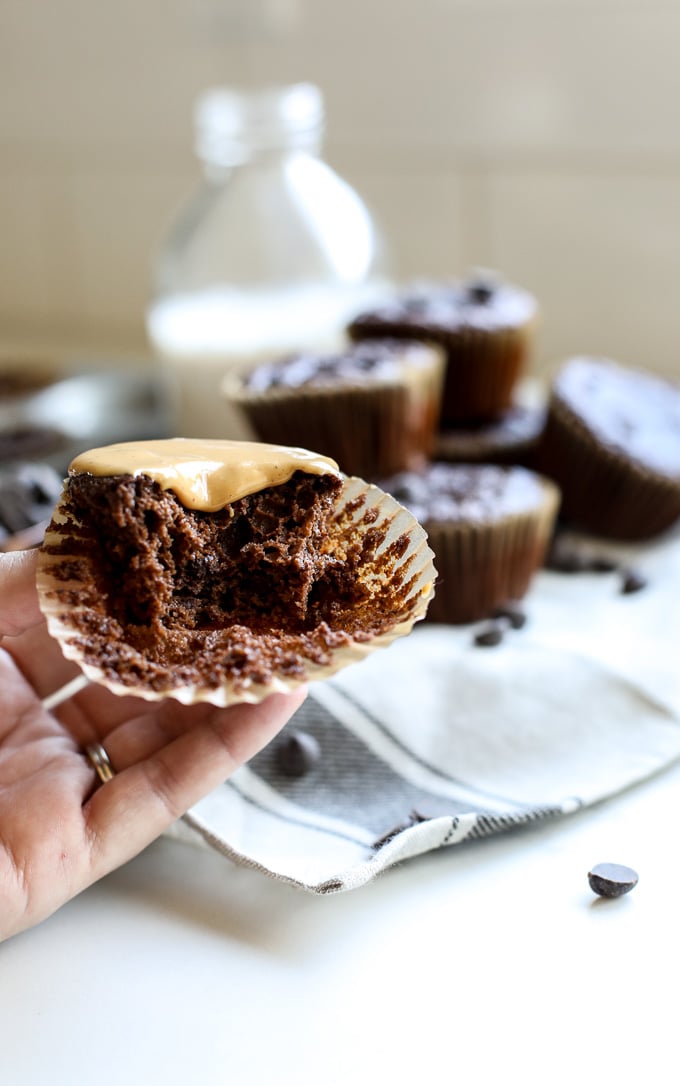 Pin the image below to save this Grain Free Double Chocolate Muffin recipe for later!
Print
Grain Free Double Chocolate Muffins
---
1 cup unsweetened applesauce
4 eggs
1/2 cup almond butter or cashew butter
4 tablespoons melted ghee
¼ cup honey
1/4 cup coconut flour
1/4 cup almond flour
¼ cup + 2 tablespoons cacao powder
1 teaspoon baking soda
1 teaspoon baking powder (look for gluten free to make paleo)
1 teaspoon vanilla
pinch of sea salt
½  cup chopped chocolate chips or chunks
---
Instructions
Preheat oven to 350 degrees.  In a bowl combine applesauce, eggs, nut butter, honey and ghee.  Whisk until evenly blended.
Add in coconut flour, almond flour, cacao powder, baking soda, baking powder, vanilla and salt. Blend again until completely combined.
Add in chocolate chunks and stir to combine once or twice just to incorporate.
Pour into cupcake liners and top with a few extra chocolate chunks.
Bake for 15 – 18 minutes or until a toothpick inserted comes out with just few crumbles.
We are participant in the Amazon Services LLC Associates Program, an affiliate advertising program designed to provide a means for us to earn fees by linking to Amazon.com and affiliated sites.