Pumpkin Coffee Cake (paleo)
Ready for your new favorite coffee cake recipe?!  If you tried and loved my paleo coffee cake recipe from last year you will really love this Pumpkin Coffee Cake!  It has just the right amount of pumpkin & spice flavor, sweetness and the texture is perfection. Ruth loved it too and that always makes me happy!
I think this fall I am going to make a little bit of a fall bucket list for us because Ruth is 3 now and the perfect age to get excited about things like a pumpkin patch or painting pumpkins and pinecones.  Little activities and outings make life feel much more exciting for all of us and now that our baby Milo isn't such a little baby anymore we have a bit more flexibility in our schedules. Like time to make this Pumpkin Coffee Cake!
Pumpkin Coffee Cake Ingredients
Almond Flour
Arrowroot Flour
Baking Soda
Baking Powder
Salt
Coconut Sugar
Vanilla Almond Milk
Pumpkin
Egg
Vanilla Extract
Pumpkin Pie Spice
Ghee
You can never have to many pumpkin recipes to try for the fall:
Maple Pumpkin Spice Simple Syrup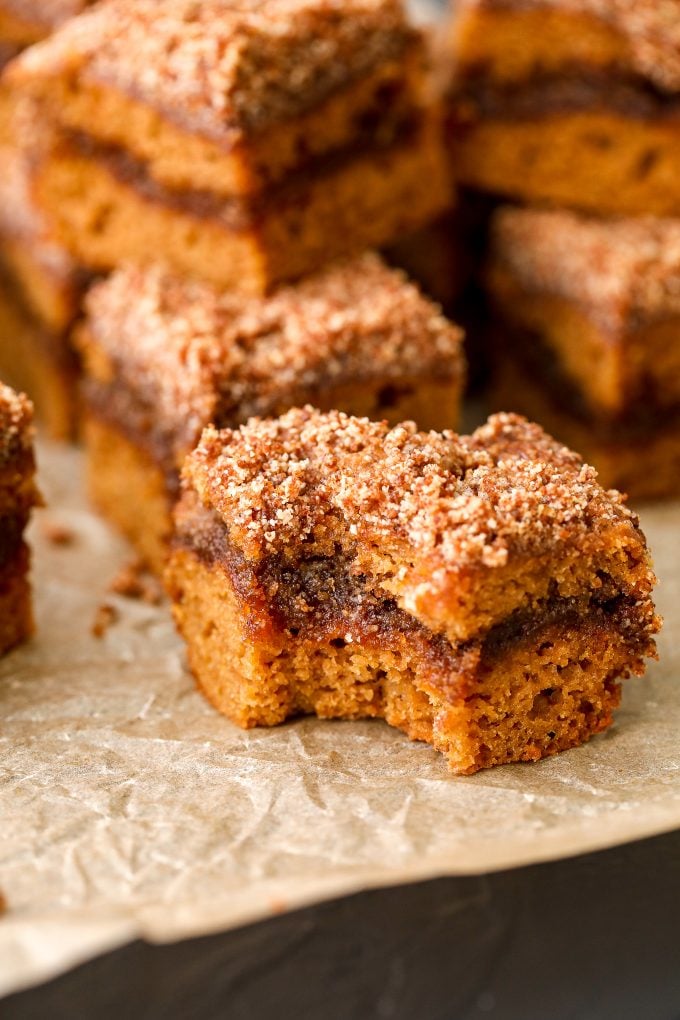 Pin the image below to save this Pumpkin Coffee Cake recipe for later!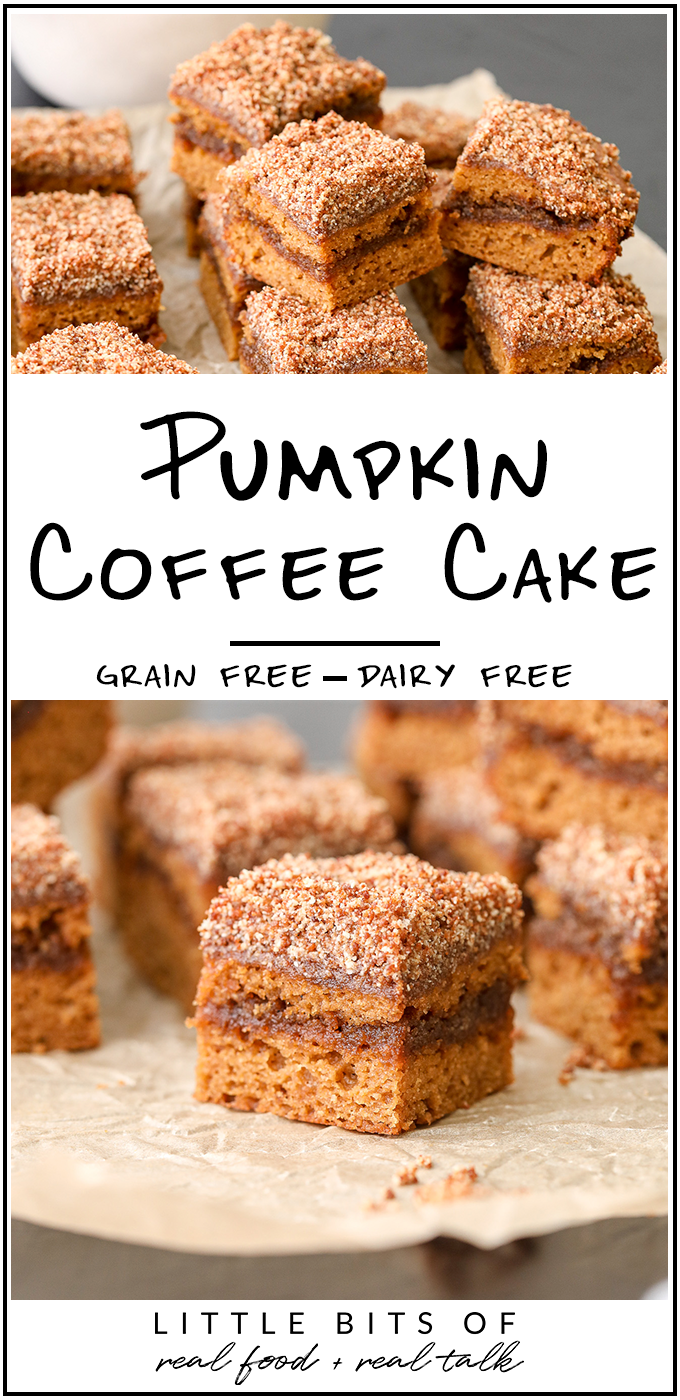 Print
Pumpkin Coffee Cake
---
Cake:
2 cups blanched almond flour
½ cup arrowroot flour
½ teaspoon baking soda
½ teaspoon baking powder
pinch of salt
½  cup coconut sugar
¼ cup unsweetened vanilla almond milk
¼ cup pumpkin  
3 eggs
2 teaspoons vanilla extract
Topping:
¾ cup coconut sugar
1 cup almond flour
2 tsp pumpkin pie spice
¼ tsp salt
6 Tbsp melted ghee
---
Instructions
Preheat oven to 350 degrees and line an 8×8 pyrex pan with parchment paper.
In a bowl combine the cake ingredients and whisk to combine.
In a separate smaller bowl combine the topping ingredients into a crumble mixture.
Pour ½ of the cake batter into the prepared pan and spread out evenly.  Then take half of the topping mixture and sprinkle it evenly over the batter.
Scoop the rest of the batter on top of that and spread it out evenly and finish it by sprinkling the remaining crumble evenly on top. 
Bake the coffee cake for 40-45 minutes or until a toothpick inserted comes out clean (or with small crumbles).
We are participant in the Amazon Services LLC Associates Program, an affiliate advertising program designed to provide a means for us to earn fees by linking to Amazon.com and affiliated sites.