Paleo Pumpkin Crunch Muffins
Baking season is THE BEST.  And my love for a crunchy topping on just about anything – smoothie bowls, salads, and especially muffins, takes over this time of year!  The thing with baked goods is that Matt and I both LOVE them – so we eat them… fast.  So when I bake I like for them to be as healthy as I can make them but still make them tasty and give you that warm homemade treat feeling.  It is a tough feat but after growing up baking all the time and working in a bakery back in the day  – my standards are pretty high!  Let me tell you, these muffins did not last long in our house.  Oh and another huge perk of this muffin recipe? It can also be made into waffles! Just leave out the topping part and scoop the batter into a waffle iron.  I tested this recipe one last time and made 6 muffins then used the rest of the batter to make tons of mini waffles (in my new mini waffle iron) and froze them to have on hand for a quick breakfast or snack!  I am really into my mini waffle iron because it makes them the perfect size to throw in the toaster – winning!  On the subject of this waffle iron – I think I need to use my favorite Simple Mills Bread Mix and the waffle iron to make sandwich bread.  It could revolutionize the world – just a fair warning to you all!
Okay another quick side note – this week is going to be packed with goodness!! I'm going to get you 3 back to back to back posts this week!  Muffins today, a Walmart Whole30 list tomorrow and an epic Blackberry Pumpkin Pie Nice Cream Tart on Thursday.  I do it cause I love ya.  And because I have been churning content lately and want you all to enjoy it so badly!!  Another quick note – if you don't follow me on Instagram yet – @littlebitsof_realfood – you GOTTA!! I am going to be doing more IG and FB Lives in the near future and would love your support over there. Okay okay that's enough out of me – let's BAKE!
I'm telling you – crunchy topping for life.
We know you are going to need more muffin recipes after you make these:
Paleo Blueberry Muffin Pancakes
Grain Free Double Chocolate Muffins
Lemon Poppyseed Spelt Mini Muffins
Pin these Paleo Pumpkin Crunch Muffins to save them for later!
Print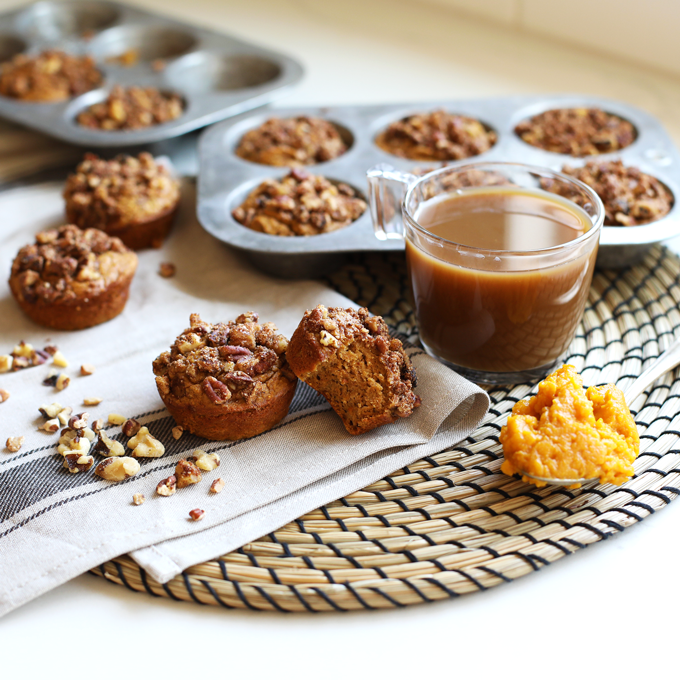 Paleo Pumpkin Crunch Muffins
---
Muffins:
2 cups pumpkin puree
4 eggs
1/2 cup cashew butter or almond butter
3 tablespoons melted ghee or coconut oil
¼ cup maple syrup
1 teaspoon vanilla
1/4 cup + 1 tablespoon coconut flour
1/4 cup + 2 tablespoons almond flour
2 tablespoons arrowroot powder
1 tablespoon pumpkin pie spice
1 teaspoon cinnamon
1 teaspoon baking soda
1 teaspoon baking powder (look for gluten free to make paleo)
pinch of sea salt
Topping:
¼ cup chopped pecans
¼ cup chopped walnuts
1 tablespoon almond flour
1 teaspoon flax meal
1 tablespoon coconut sugar
1 teaspoon pumpkin pie spice
2 teaspoons melted ghee or coconut oil
1 teaspoon water
---
Instructions
Preheat your oven to 350 degrees. Combine your pumpkin, eggs, and nut butter, ghee, maple syrup and vanilla in a bowl and whisk to combine.
Once all of your ingredients are combined, add in your coconut flour, almond flour, arrowroot powder, pumpkin pie spice, cinnamon, baking soda, baking powder and sea salt and mix well.
Pour your batter into muffin tins either sprayed with oil spray or lined with cupcake liners.
In a small bowl combine all topping ingredients and stir until everything is consistent.  Scoop a little bit of the topping onto each muffin and place in your preheated oven.
Bake for 25 minutes or until a toothpick inserted into the center comes out clean.
We are participant in the Amazon Services LLC Associates Program, an affiliate advertising program designed to provide a means for us to earn fees by linking to Amazon.com and affiliated sites.