Paleo Coffee Cake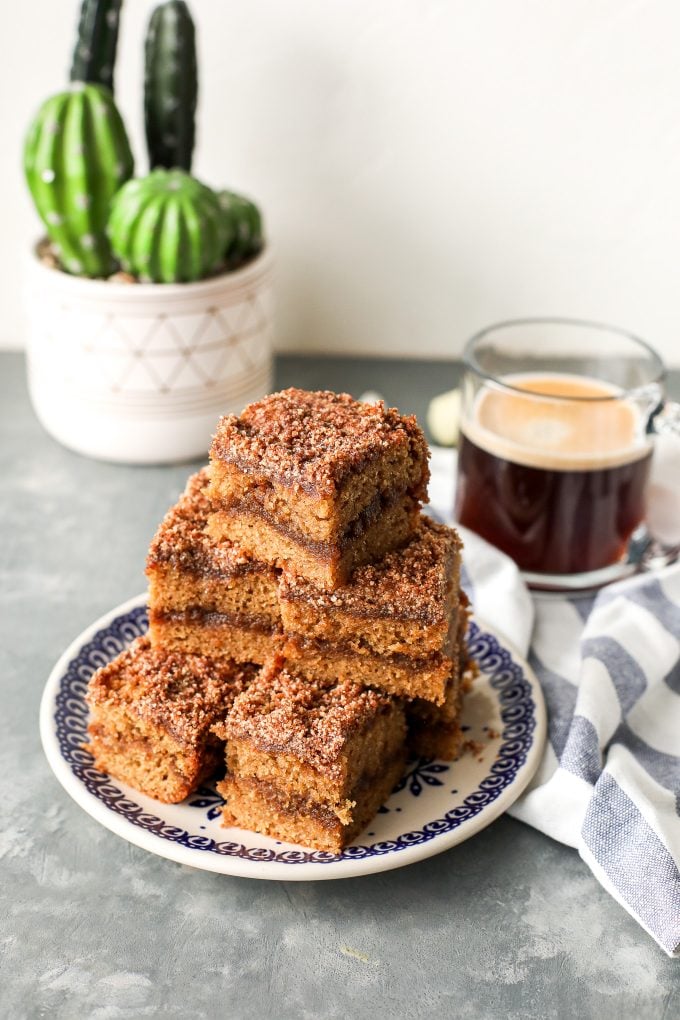 Who doesn't love a good coffee cake?!  For me, coffee cake needs to be packed with that cinnamon sugary filling and topping.  I need to really taste some sugar in every bite ya know?  This coffee cake is so fabulous and also happens to be grain free, dairy free and refined sugar free! I love all the baked goods when it gets chilly out and it is finally getting CHILLY here in southern California. I mean, highs of 62 chilly, which means 45 in the mornings which is FROZEN for people like me.  I love when this weather comes around and we can turn on the fireplace and bundle up with sweaters and blankets.  I can't imagine living in a snowy climate because like I said… 45 is freezing for me!  So while we have this cold weather I am going to enjoy every bit of it with coffee cake and all of the yummy things the season has to offer.  The layers of this cake is what makes it.  You use the same mixture on the top and in the middle but the middle comes out almost creamy and sweet where the top is perfectly crumbly!  So if it's dropped bel0w 70 where you live, get these ingredients together and make the best paleo coffee cake you've ever had!!
Did someone say Cake!! We have so many yummy morning time cake for you to enjoy:
Orange Clove Almond Flour Loaf Cake
Blackberry Cinnamon Streusel Cake
Paleo Blueberry Muffin Pancakes
Pin the image below to save this Paleo Coffee Cake Recipe for later!
Print
Paleo Coffee Cake
---
Cake:
2 cup blanched almond flour
½ cup arrowroot flour
½ teaspoon baking soda
½ teaspoon baking powder
pinch of salt
½  cup coconut sugar
¼ cup unsweetened vanilla almond milk
½ cup ghee, melted
4 eggs
2 teaspoons vanilla extract
Topping:
¾ cup coconut sugar
1 cup almond flour
2 tsp ground cinnamon
¼ tsp salt
6 Tbsp melted ghee
---
Instructions
Directions:
Preheat oven to 350 degrees and line an 8×8 pyrex pan with parchment paper.
In a bowl combine the cake ingredients and whisk to combine.
In a separate smaller bowl combine the topping ingredients into a crumble mixture.
Pour ½ of the cake batter into the prepared pan and spread out evenly.  Then take half of the topping mixture and sprinkle it evenly over the batter.
Scoop the rest of the batter on top of that and spread it out evenly and finish it by sprinkling the remaining crumble evenly on top. 
Bake the coffee cake for 40-45 minutes or until a toothpick inserted comes out clean (or with small crumbles).
We are participant in the Amazon Services LLC Associates Program, an affiliate advertising program designed to provide a means for us to earn fees by linking to Amazon.com and affiliated sites.