Blackberry Pumpkin Pie Nice Cream Tart
It's officially MONSTER MASH season!! Just thinking of that first sentence was tough because I am torn between Thriller and Monster Mash being my classic halloween song.  Thoughts?  MM was the first to come to mind so it wins for me I guess! Okay okay I realize I should talk about this tart!  I made my Blueberry Banana Nice Cream Tart this summer and it BLEW UP!  I don't think I have ever had so many people make something of mine and share pictures with me.  I love seeing you guys make my recipes so be sure to tag me on instagram, use the hashtag #lboeats, or even email me!  I knew I had to make another version and I wanted it to have a fall vibe as well as some fun decoration.  Lucky for me my friends at California Giant Berry Farms had some perfectly SPOOOOOKY blackberries that turn into little spiders so easily!  All I did for the spiders was melt a little chocolate and use a ziplock with the corner cut off to pipe little legs on them then did the same with nut butter for the eyes!  Who says you can't play with your food?
If you have kiddos or just love making halloween treats, you have to click HERE and get the newest ebook from California Giant Berry Farms!  It is packed with the cutest ways to make berries into halloween treats – I'm obsessed!  I feel like by the time we have young kids one day I will be ALL about making holiday themed treats. We are already talking about a Christmas party we are having and sooo many ideas are running through my mind for themed treats – it's just too fun!  This tart seriously tastes like a frozen pumpkin pie but with none of the junk! I love how low in sugar it is while still totally tasting like a treat.  I also love that when we make these we have a fabulous dessert in our freezer all week long – and Matt loves it too! Win win win.
Perfect slices make me super happy!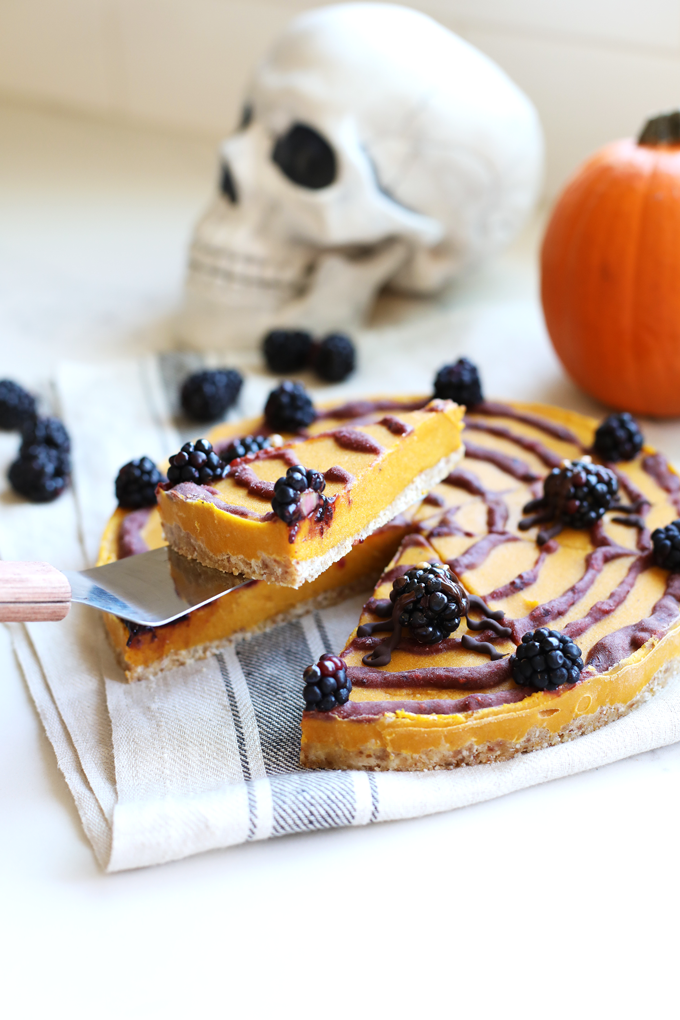 This post is sponsored by California Giant Berry Farms! I was compensated and all opinions are 100% my own. Thank you so much for supporting Little Bits Of!
Need more sweet and cool treats, here are more recipes:
Raspberry Chocolate Chip Nice Cream Tart
Blueberry Banana Nice Cream Tart
Mini Strawberry Nice Cream Cookie Cups
Pin the image below to save this Blackberry Pumpkin Pie Nice Cream Tart for later!
Print
Blackberry Pumpkin Pie Nice Cream Tart
---
Crust:
4 pitted medjool dates
1 cup almond flour
½ cup shredded coconut
1 teaspoon vanilla
1 tablespoon coconut oil, melted and cooled
1 tablespoon maple syrup
2 teaspoons pumpkin pie spice
Pinch of salt
Nice Cream:
2 frozen chopped bananas
1 can pumpkin puree
1/2 cup full fat coconut milk, shaken
1 teaspoon vanilla
2 teaspoons pumpkin pie spice
½ cup blackberries
Toppings:
---
Instructions
Crust:
In a food processor combine dates, almond flour, shredded coconut, vanilla, coconut oil, maple syrup, pumpkin pie spice and salt.
Process until dates have broken down and the crust can be pinched together and hold.  
Lightly grease a springform pan with some coconut oil and pour the crust into the pan and press into one even layer.  
Place in freezer for at least 10 minutes to harden.
Nice Cream:
Pour a can of pumpkin puree onto a parchment paper lined baking sheet and spread into an even layer.  Place in the freezer for at least 30 minutes to harden.
Once pumpkin is frozen, in a food processor combine frozen chopped bananas, frozen pumpkin, coconut milk, vanilla and pumpkin pie spice.
Blend until there are no chunks and it is nice and creamy.  
Take the crust out of the freezer and add all but 1/4 cup of the "nice cream" on top on it, spread it out in one smooth layer.
Leave 1/4 cup of mixture in the food processor and add 1/2 cup blackberries to the food processor and blend until thin blackberries are broken down.
Put the blackberry mixture into a ziploc bag and cut a little of the corner off with scissors .  Draw a spiral starting from the center all the way around to the outside of the tart.  Use a knife or skewer and lightly press into the tart from the middle out to create a spider web look.
Place blackberry halves around the outside of the tart and if you are celebrating halloween you can make little blackberry spiders by piping chocolate legs on them and nut butter eye balls!
Place back in the freezer for at least 30 minutes until frozen through.
Before opening the springform pan run a butter knife around the outside edge so the pan releases easily!
Note: before serving let sit out for about 5-10 minutes to soften a bit!
We are participant in the Amazon Services LLC Associates Program, an affiliate advertising program designed to provide a means for us to earn fees by linking to Amazon.com and affiliated sites.