Chunky Monkey Protein Ice Cream (Ninja CREAMi)
The talk of the town and through the internet is all about The Ninja Creami and now this Chunky Monkey Protein Ice Cream.
If you are one of the lucky humans who has been influenced by the whole internet to get a Ninja CREAMi, this ones for you!  This Chunky Monkey Protein Ice Cream is incredible so I knew it had to be a recipe from my ebook that I also shared on the blog.  My Healthy Ninja CREAMi Cookbook comes out on Wednesday, May 10th and it will be packed with 20 recipes including protein ice cream, fruit based treats, frozen yogurts and frozen cocktails! The best part about this appliance is that once you figure out how to use it, the variations of things you can make is endless.  The book is also packed with tips and tricks if you feel like you haven't figured out your appliance yet.  One question I have gotten a lot is "Can I just use my ice cream maker/ blender/ food processor?"  I wish the answer was yes but there is some kind of magic in there that can take rock solid fruit, milks, etc, and turn them into creamy goodness and I don't know how! A lot of these recipes probably could be blended then frozen then blended again with more liquid but it would not be as thick and creamy as it gets with the Ninja.
If you make this you must come back to this blog post and leave a review and tell me what you think!  The most important part of this recipe is the protein powder you use.  You can use any kind you love but you have to love it!  I have tried a lot of protein powders in my day and there are a lot out there that are just plain not good.  If you have a protein you love then you will definitely love this recipe!  I use the Flavcity Protein (code is REALFOOD15) and it's fabulous but you can use any because we measure with 1/2 cup serving and not a scoop as all scoops can be different.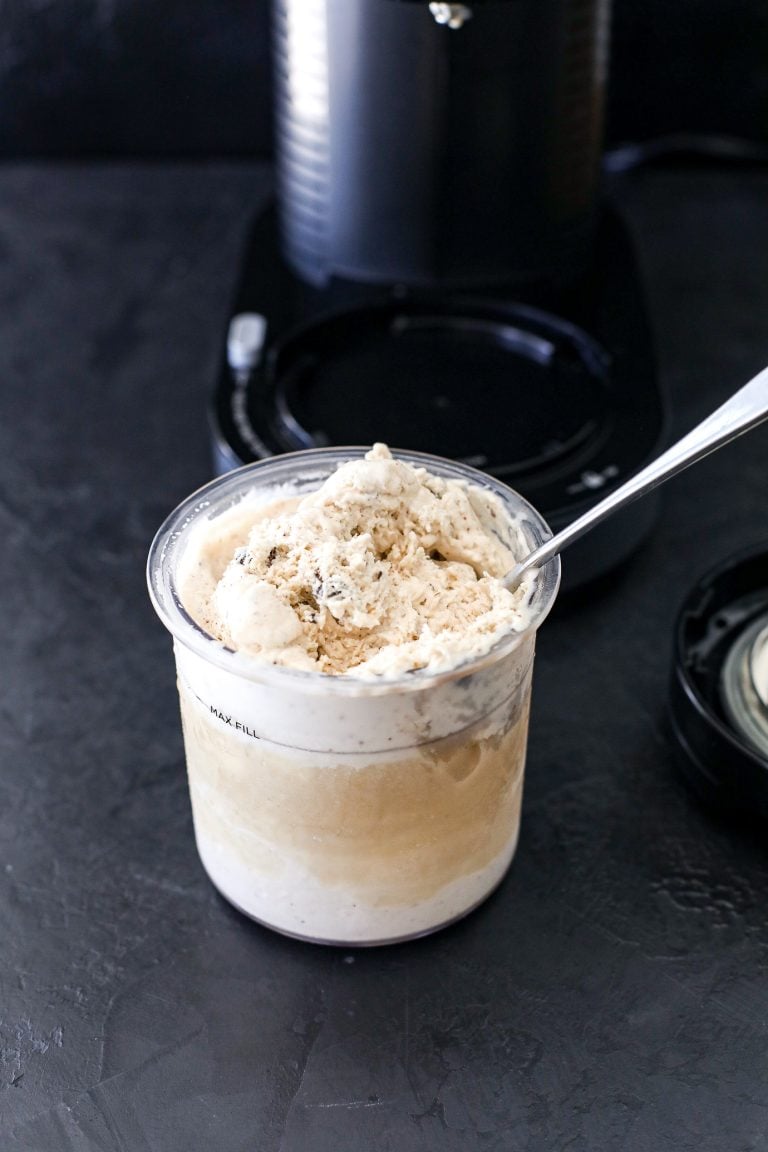 All you need to make this recipe:
Bananas
Vanilla Protein Powder
Milk – I use Unsweetened Vanilla Almond Milk but any kind of dairy or non dairy milk works.
Vanilla Extract
Chocolate – you can use chips, chunks or chopped!
Walnuts – which are optional if you don't like nuts
Pin the image below to save this Chunky Monkey Protein Ice Cream recipe for later!
Print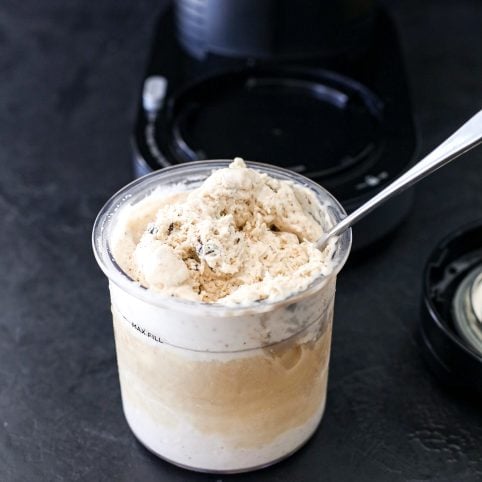 Chunky Monkey Protein Ice Cream (Ninja CREAMi)
---
Description
This Chunky Monkey Protein Ice Cream is blended up in the Ninja CREAMi and is so creamy and delicious!
---
2 bananas
1 cup milk + 1 tbsp (dairy or non dairy works)
½ cup vanilla protein powder
1 tsp vanilla extract
¼ cup chocolate chips or chunks
⅛ cup walnuts
---
Instructions
Peel the bananas and slice them in half, place the 4 halves straight up in your container.
In small blender or blender bottle combine 1 cup milk, protein powder, vanilla extract and combine then pour over bananas.
Cover and place in the freezer on a flat surface for 24 hours.
Once frozen, place in your ninja creami and press 'light ice cream'.
Once that is done it might slightly crumbly.  Add in 1 tbsp milk (only if it's crumbly), chocolate and walnuts and press it down the middle, then put it back in the machine and press respin. 
Notes
Once you do the first spin, if there is no hole in the middle of the ice cream you can take a butter knife and put it down the middle, spin it and scoop some out so you can easily add your mix ins.
We are participant in the Amazon Services LLC Associates Program, an affiliate advertising program designed to provide a means for us to earn fees by linking to Amazon.com and affiliated sites.