Gluten Free Pumpkin Crunch Muffins
Leave all the other pumpkin recipes behind these Gluten Free Pumpkin Crunch Muffins are the star of the season.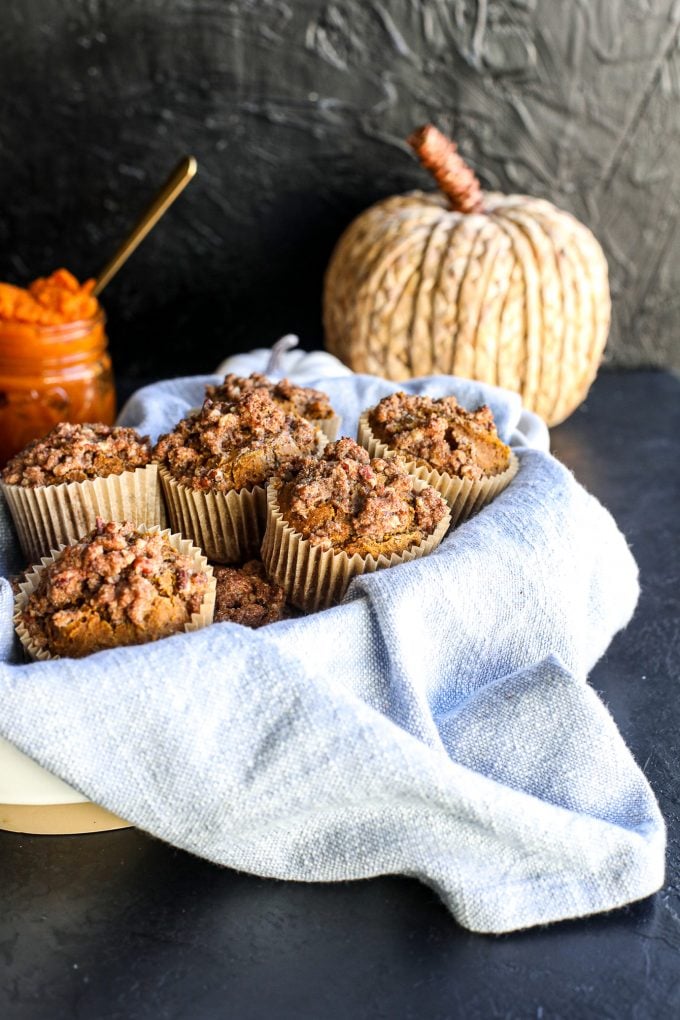 Guess what time it is?  It's PUMPKIN SEASON, and we all know what that means,  it means the grocery stores are going to try and change everything into pumpkin flavor and act like it is the best creation ever. That's not to say they don't come up with some amazing things. Let's just take a minute and thank the lord for pumpkin spice coffee creamer, but there is something so perfect about a homemade pumpkin muffin.  With the arrival of cooler weather, changing tree colors and maybe even a brisk morning soccer game for the littles these pumpkin muffins are going to be perfect anytime of the day. 
These Gluten Free Pumpkin Muffins are absolute perfection.  The warm spices we love,  cinnamon, ginger, and allspice paired with oat flour and actual pumpkin puree, well it's the perfect pastry. The perfection continues with the topping, a nut and coconut sugar topping that you will want to use on every baking creation you make this season.  
When building this recipe the main focus was how to make a pumpkin muffin that wasn't super wet and could hold its shape. This is the main issue I come across when trying to bake with alternatives such as oat flour and coconut sugar.  The addition of almond or nut butter gives the muffins the structure they need without adding too much additional sugar.  
Taste and texture are not the only bonuses about this recipe,  it also comes together in one bowl, a triple win!!  As with most baking recipes, mix all the wet ingredients: pumpkin, almond butter, eggs, vanilla extract and coconut sugar together in a large bowl making sure there are no lumps or bumps. Next add all the dry ingredients oat flour, pumpkin pie spice, baking powder, baking soda, salt and cinnamon ensure everything is mixed thoroughly and there are no streaks of flour remaining.
What if I'm nut free?
No worries these muffins will still be delicious if you subtract the nut butter and switch it to coconut oil. You can also leave the nuts off of the topping of the muffins and just mix the spices, sugar, flour and coconut oil to make a delicious topping. 
How do you make Pumpkin Pie Spice?
It is extremely easy to make your own pumpkin pie spice at home, you probably have all the spices already in your cabinet. You will need cinnamon, nutmeg, ginger, cloves and allspice. Make sure to keep it in a sealed container and you should be able to store it for up to 6 months. 
Can I make this into a loaf?
Yes, you can always change a muffin recipe to a loaf or loaf to muffins recipe. To make this recipe into a loaf you will need to bake for 40-50 minutes at 350 degrees.
These pumpkin muffins are just the start of the seasonal goods:
Pumpkin Oatmeal Chocolate Chip Cookies
Pin the image below to save this Gluten Free Pumpkin Crunch Muffin recipe for later!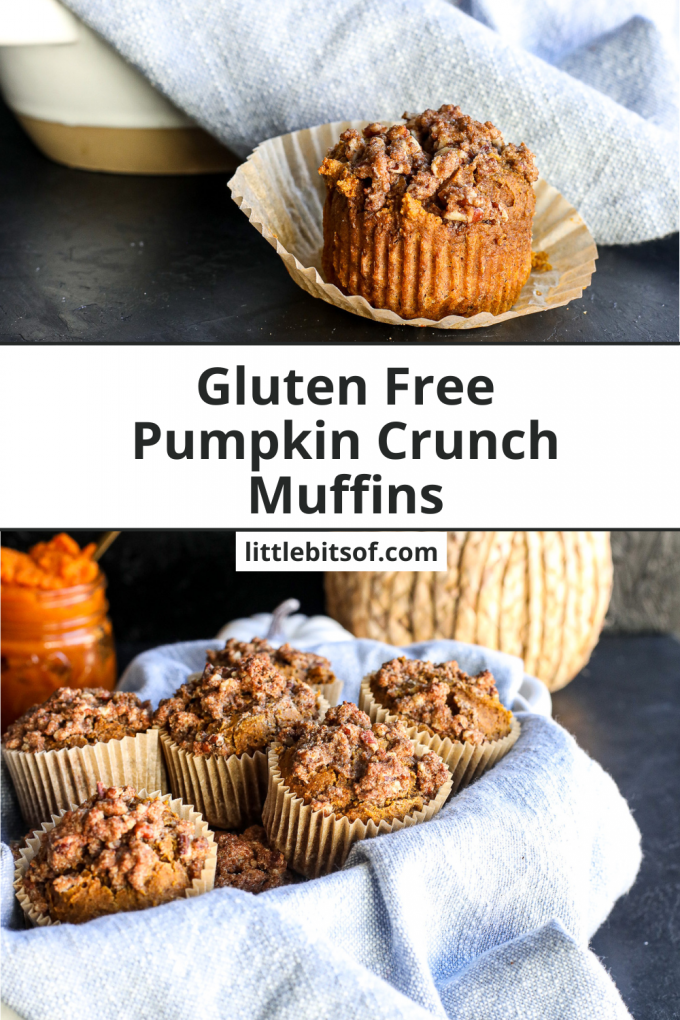 Print
Gluten Free Pumpkin Crunch Muffins
---
Description
These Gluten Free Pumpkin Crunch Muffins are easy to make and so delicious!
---
Muffins:
1 cup pumpkin
3 eggs
¼ cup cashew or almond butter*
½ cup coconut sugar
1 tsp vanilla extract
2 cups oat flour
1 tbsp. pumpkin pie spice
1 tsp. cinnamon
1 tsp. baking powder
1 tsp. baking soda
½ tsp. Salt
Topping:
¼ cup oat flour
1/4 cup coconut sugar
3 tbsp. melted coconut oil
1 tsp pumpkin pie spice
¼ cup finely chopped pecans*
---
Instructions
Preheat oven to 350 degrees.
In a large bowl combine pumpkin, eggs, nut butter, coconut sugar and vanilla extract and stir to combine.
Then add in the 2 cups of oat flour, 1 tablespoon of pumpkin pie spice, cinnamon, baking powder, baking soda and salt and stir until combined.
In a separate small bowl combine the topping ingredients and stir to combine.
Line a muffin pan with paper liners and divide the batter between 12 cups.
Sprinkle a little of the topping over each muffin and bake for 20 minutes.
Notes
*To make these nut free, replace the nut butter with 3 tablespoons of refined coconut oil
* If you leave out the pecans from the topping, reduced the coconut oil in the topping to 2 tablespoons.
We are participant in the Amazon Services LLC Associates Program, an affiliate advertising program designed to provide a means for us to earn fees by linking to Amazon.com and affiliated sites.