Raspberry Chocolate Chip Nice Cream Tart
The perfect pairing comes together with this Raspberry Chocolate Chip Nice Cream Tart, a not too sweet dessert for anytime of year.
It's time for another nice cream tart!! This one – Raspberry + Chocolate, one of my FAVE combos! My love for this combo started when I worked at a french bakery during summers in college.  They had this incredible slice of raspberry chocolate cake that was so perfect, moist and flavorful it became my all time favorite thing in the world.  The bakers knew I loved it and would save me scraps they sliced off the ends of the cake and I would leave on a Friday night with a big box of cake ends.  Best day ever.
Clearly I hadn't been eating very healthy at the time, but this flavor combo can also be healthy!  With this heat lately, frozen treats are the BEST. Making this nice cream tart and keeping it in the freezer for your nightly treat is probably the best idea you will make all summer.
So grab these ingredients and TREAT YO SELF!!
This has to go down as the worlds easiest dessert to make for a party or just yourself. Drop the crust and the nice cream into muffin tins to make easy desserts on the go.  Other ideas dip these babies in some melted chocolate before you toss them back in the freezer, the ideas are truly endless and there is no wrong way to eat this tart.
Ingredient List
Medjool dates
Almond four
Cacao powder
Shredded Coconut
Vanilla
Coconut oil
Salt
Frozen Bananas
Frozen Rasberries
Full fat coconut milk
Mini chocolate chips
Fresh Raspberries
Tarts are the perfect treat to have any time of the year:
Berry Tart w/ Grain Free Vanilla Almond Crust
Raw & Grain-Free Toasted Coconut & Blueberry Tart
Pecan, White Chocolate & Cranberry Tarts
Paleo Fruit Tart with Lemon Curd
Pin the image below to save this recipe for later!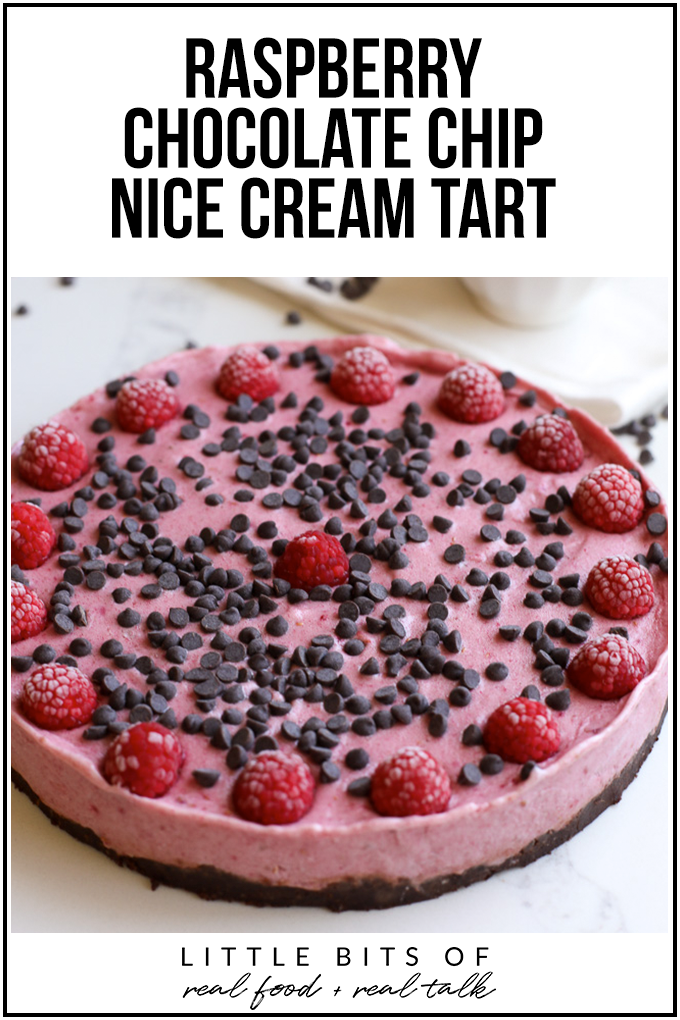 Print
Raspberry Chocolate Chip Nice Cream Tart
---
Crust:
7 pitted medjool dates
1 ¼ cup almond flour
½ cup cacao powder
½ cup shredded coconut
1 teaspoon vanilla
1 tablespoon coconut oil, melted and cooled
2 tablespoons water
Pinch of salt
Nice Cream:
4 frozen chopped bananas
1 cup frozen raspberries
1/2 cup full fat coconut milk, shaken  
1 teaspoon vanilla
Toppings:
Fresh raspberries
Mini chocolate chips
---
Instructions
Crust:
In a food processor combine dates, almond flour, cacao powder, shredded coconut, vanilla, coconut oil, water and salt.
Process until dates have broken down and the crust can be pinched together and hold.  
Lightly grease a springform pan with some coconut oil and pour the crust into the pan and press into one even layer.  
Place in freezer for at least 10 minutes to harden.
Nice Cream:
In a food processor combine frozen chopped bananas, frozen raspberries, coconut milk, and vanilla.
Blend until there are no chunks and it is nice and creamy.  
Take the crust out of the freezer and add the "nice cream" on top on it, spread it out in one smooth layer and add toppings.  
Place back in the freezer for at least 30 minutes until frozen through.
Before opening the springform pan run a butter knife around the outside edge so the pan releases easily!
Notes
To freeze the bananas: slice banana before freezing and freeze them in a single layer on a baking sheet making sure the pieces don't touch each other.
A trick for coconut milk: The full fat coconut milk usually separates a but between the thick cream at the top and the liquid.  If yours does this, Pour it all into a mason jar and microwave for about 30 seconds to a minute then add a lid on the jar and shake it to combine.  Then let it cool to room temperature before adding to the recipe!
We are participant in the Amazon Services LLC Associates Program, an affiliate advertising program designed to provide a means for us to earn fees by linking to Amazon.com and affiliated sites.