Apple Pie Protein Ice Cream (Ninja CREAMI)
Apple Pie but in ice cream form, this Apple Pie Protein Ice Cream is the ultimate combination of apple pie with vanilla ice cream.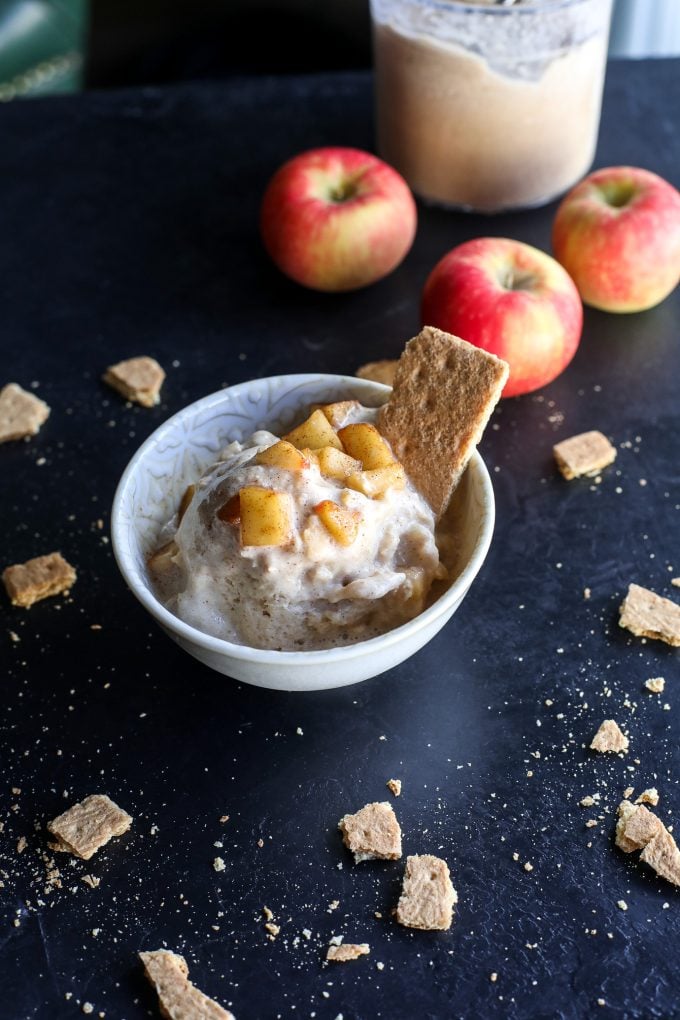 Let's all rejoice in the knowledge that we can eat ice cream year round, thank goodness some good soul invented the ice box so no matter what time of day to year we can have delicious frozen treats. With the purchase of the Ninja Creami I have really gotten to experiment with some fun combos year round and this Apple Pie Protein Ice Cream is my latest obsession. Made with real apples, any type of milk you like, spices like cinnamon and nutmeg and of course Flav City Vanilla Protein Powder.
When I was creating this apple pie goodness I kept having flashbacks to a certain memory and I could not put my finger on it, but it finally came to me. Growing up and had apple pie and vanilla ice cream with my Nana and Papa especially during the holiday months. My grandpa who we called PJ POP would always have a large slice with a heap of ice cream and always claimed the last few bits were the best. The ice cream coating the apples and pie crust on the bottom and it would be just the most perfect combo. After making this Apple Pie Protein Ice Cream that was exactly how I felt about it. Keeping the graham crackers out until the very end keeps them crunchy and not soggy, just how it's suppose to be. Please make this recipe as soon as you can let me know if you agree with the taste.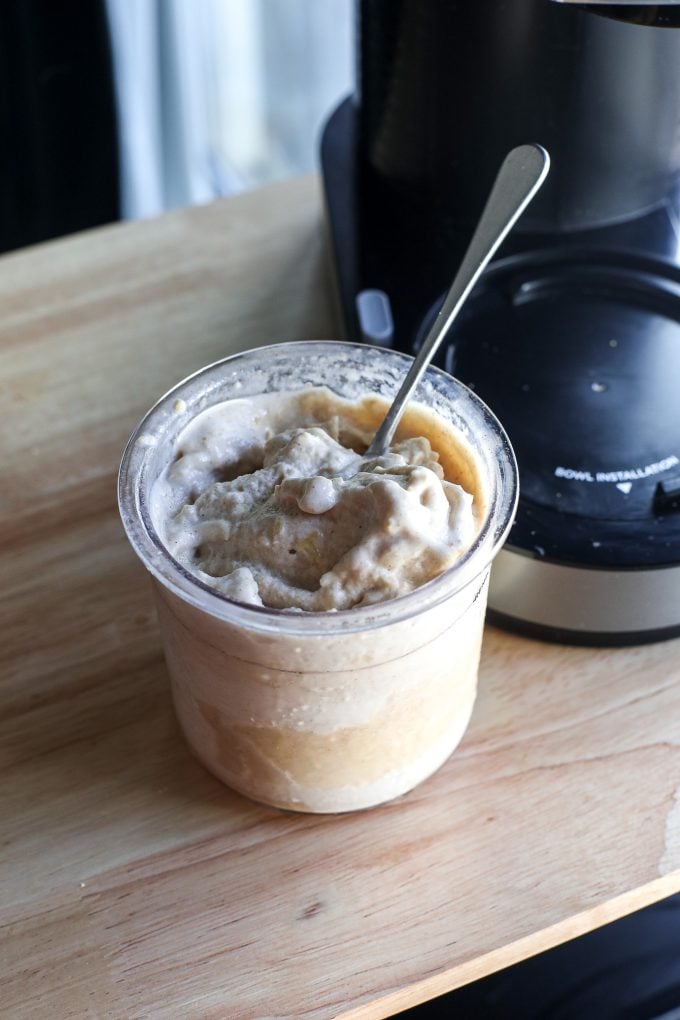 The Ninja Creami is still the new favorite device to use, here are more recipes to try:
Chunky Monkey Protein Ice Cream (Ninja CREAMi)
Ninja CREAMi Dole Whip (dairy free)
The Healthy Ninja Creami Cookbook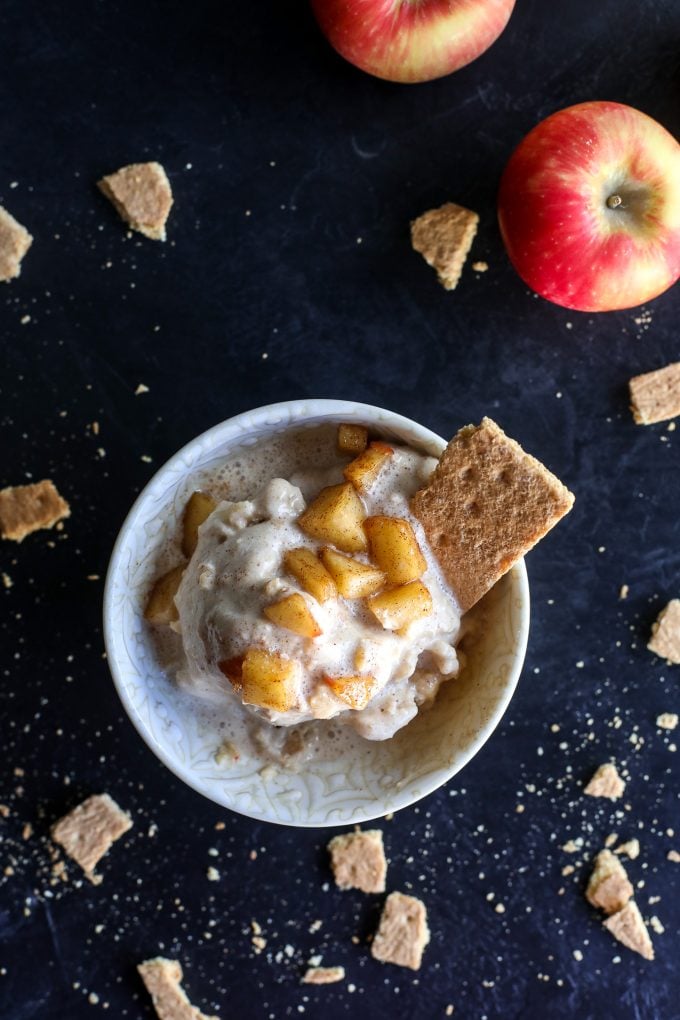 Pin the image below to save this Apple Pie Protein Ice Cream recipe for later!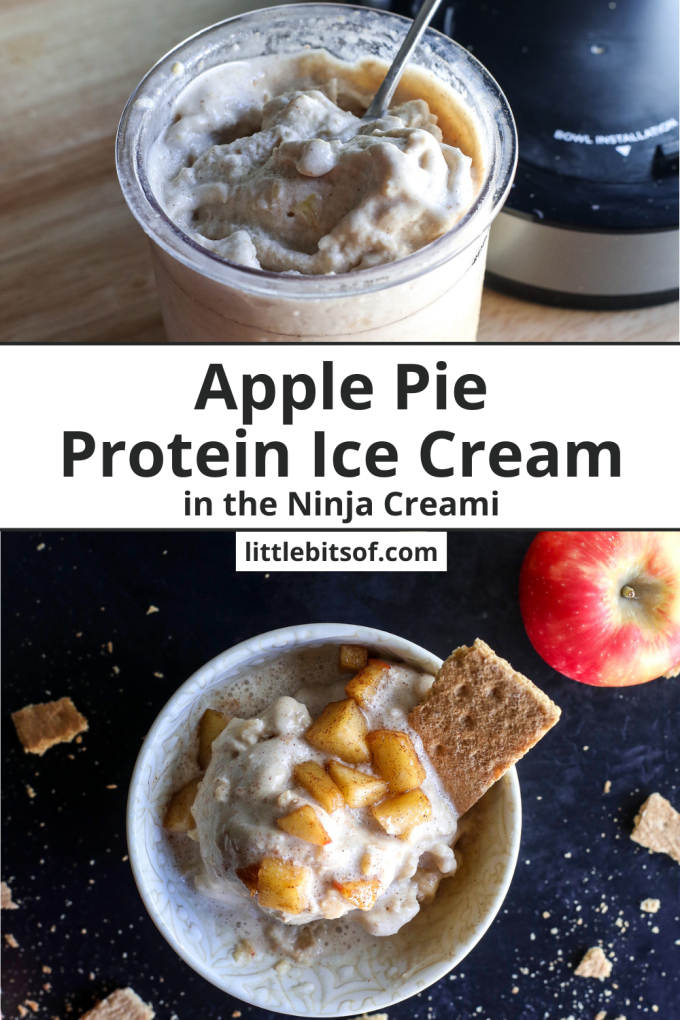 Print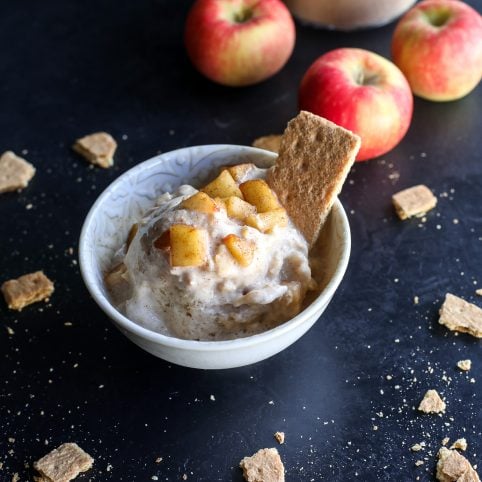 Apple Pie Protein Ice Cream (Ninja CREAMI)
---
Description
This Apple Pie Protein Ice Cream is easy to whip up in the Ninja Creami and is insanely delicious!
---
1 cup almond milk
1/2 cup applesauce
1 scoop vanilla protein powder
1/4 tsp cinnamon
1/8 tsp nutmeg
1/8 tsp allspice
1 cup peeled and chopped apple
1/2 Tbsp butter
1 tbsp brown sugar
1/2 tsp cinnamon
1 tbsp almond milk
1 graham cracker sheet
---
Instructions
In a small blender combine almond milk, applesauce, protein powder, cinnamon, nutmeg and allspice and blend together.
Pour into your ninja creami container and freeze for 24 hours.
Then make your apple mixture, this can be made when you are about to eat but if it is hot it will melt the ice cream quicker.  It is best to make the day before and keep refrigerated while the rest freezes.
To make apple mixture, place a pan over medium heat. Add apple, butter, brown sugar and ½ tsp cinnamon in to the pan and stir to combine. Cook apples for 5 minutes then let cool.
Once base is frozen, place in your ninja creami and press 'light ice cream'.
Once that is done it will be slightly crumbly. Use a butter knife to dig out a core down the middle. Add in 1 tbsp milk and press as much of the apple mixture as you can down the center of the ice cream. You might have some leftover apple, just save it to serve on top. Make sure they are distributed all the way down to the bottom and then put it back in the machine and press 're-spin'.
Then it will look amazing and you can easily press some graham crackers down the middle and put it in one more time and press "mix-in".
We are participant in the Amazon Services LLC Associates Program, an affiliate advertising program designed to provide a means for us to earn fees by linking to Amazon.com and affiliated sites.