10 Easy & Healthy Weeknight Meals
10 Easy & Healthy Weeknight Meals
We have found the most popular, most commented and by far the most delicious recipes from website. Many of these recipes have options for substitutes, working with what you have on hand and also making these meals ahead of time and freeze them for later. Comment below on your favorite recipe!
1. Pulled Pork Sandwich Casserole
We love a dish that can use some leftover and change them into a whole new dinner, that's what this pulled pork sandwich casserole is all about. A base of cornbread and a topping with a homemade coleslaw with the perfect pulled pork interior, can we all say YUM!
2. Weeknight Garlic Veggie Pasta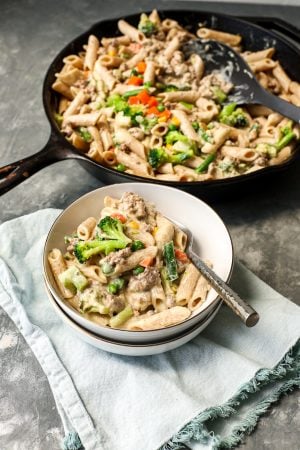 The pasta dish to end all 'what's for dinner' questions that come up. Sometime Mac and Cheese is just not what we want to feed the kids and this Garlic Veggie Pasta has way more protein and veggies then any boxed Mac and Cheese can provide. This meal comes together surprising quick with the hardest thing being making cashew sauce in a blender. Feel free to use any veggies you have on hand to make this meal even easier frozen or fresh both work great.
3. One Pot Chicken Enchilada Rice
For this perfect weeknight meal, think enchiladas but 100% easier to make and all in one pot. This dish is packed full with loads of veggies including that sneaky cauliflower, bell peppers, onion and kale. Mixed with either brown or white rice and topped with melty cheese. Top it with slices of avocado and have yourself the perfect weeknight meal for a whole group of friends.
4. Instant Pot Creamy Dijon Chicken
This Instant Pot Creamy Dijon Chicken is one of the most commented and liked recipes on the whole site, we know why. Made in either your instant pot or the slow cooker with endless options. Pour this over mashed potatoes or rice, or just have it by its self you will have this on the weekly rotation in no time.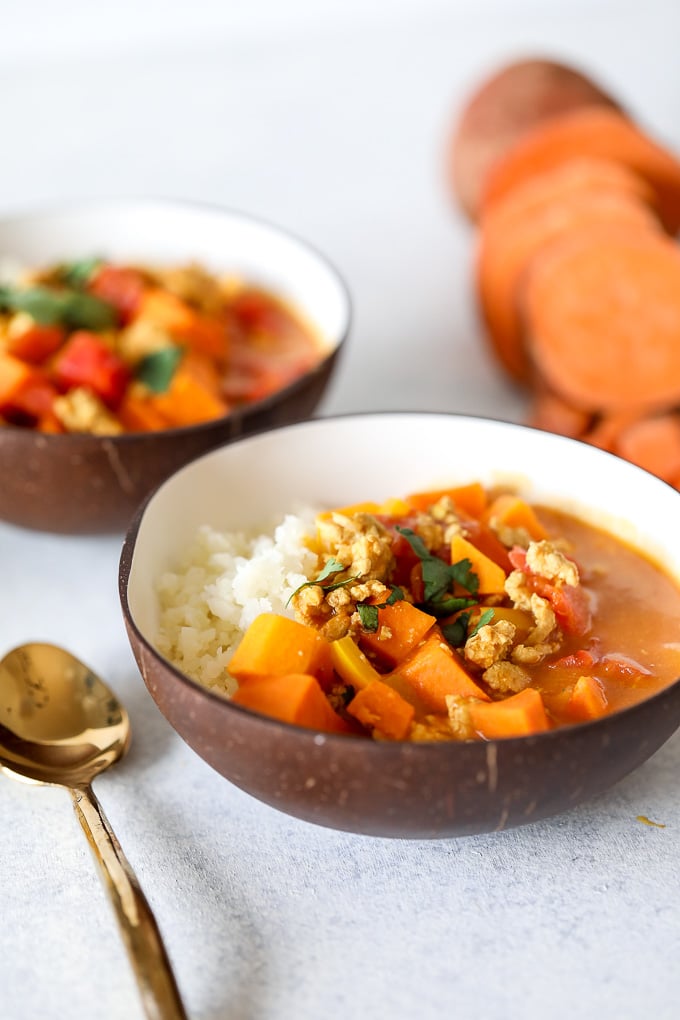 Warm spices like turmeric, ginger and curry powder this dish is for sure going to bring warmth in these cold chilly months. This dish can also be made ahead of time and you can swap the ground turkey for either ground chicken or ground beef.
6. Air Fryer Maple Roasted Chicken & Sweet Potatoes
The perfect cozy dinner with veggies and chicken that comes together in the air fryer which is our most favorite appliance in the whole kitchen.
A large salad is always a good weeknight menu idea. The great thing about this Chopped Wedge Salad is that you can easily add some cooked chicken to pump up the heartiness of it and make it a full dinner. Feel free to chop all the veggies and cook the bacon head of time so if your short on time one night all the work is done for you.
8. Turkey & Sweet Potato Asian Lettuce Wraps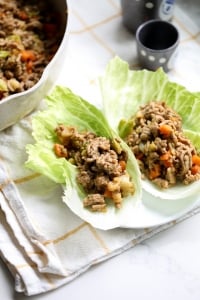 Frozen veggies, sweet potatoes and ground turkey make these asian inspired lettuce wraps soo delish. If you want to make this meal a bit more filling you can add some rice and chopped lettuce to make a dinner bowl. This recipe can also be made earlier in the week and stored in the freezer until the day you need it. We love dinners that can be prepped a few days or even a few weeks ahead of time and then have a delicious dinner with no effort.
9. Tomato Basil Turkey Meatloaf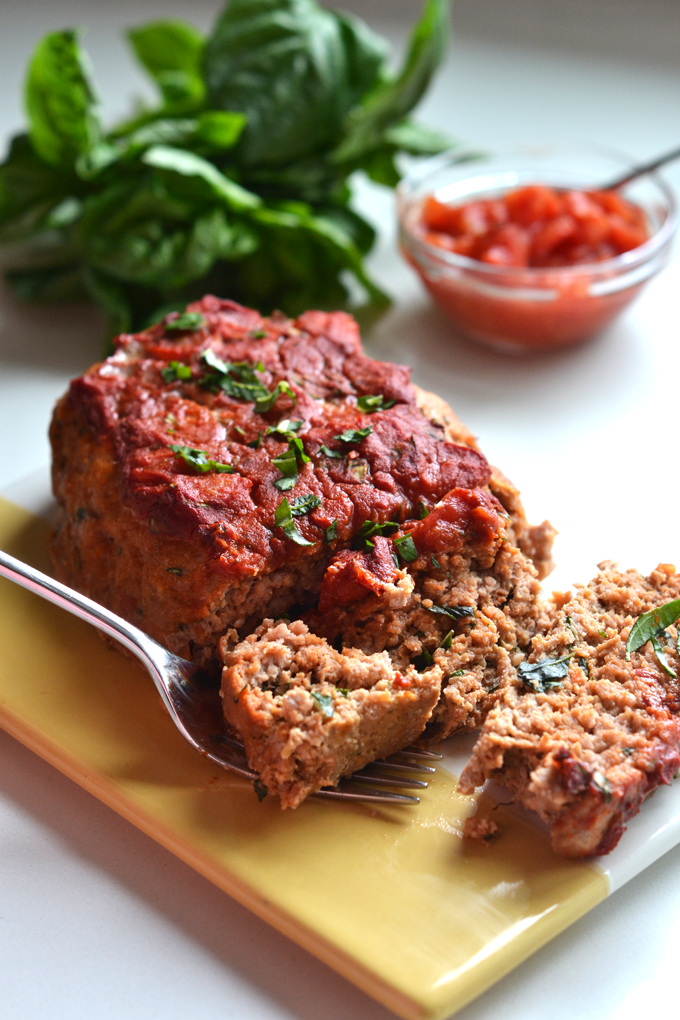 Everyone has a meatloaf recipe that they have made and are just alright but this Tomato Basil Turkey meatloaf is going to make you obsessed with meatloaf. Made with turkey instead of beef and naturally paleo, we love this meatloaf with mashed potatoes or warm sourdough.
10. BBQ Bacon Cheeseburger Casserole
A dish that has all the fixing for a delicious BBQ bacon cheeseburger, but made in one dish. With a bottom layer of sauted onion, bacon and ground beef and a thick cashew cheese sauce, frozen hashbrown and finished off with a bed of fresh romaine lettuce. This casserole can also be made ahead of time and popped in the freezer for later in the week, you just keep the lettuce off until serving. We can guarantee this will be a family favorite in no time.
We are participant in the Amazon Services LLC Associates Program, an affiliate advertising program designed to provide a means for us to earn fees by linking to Amazon.com and affiliated sites.