Coconut Sweet Potato Curry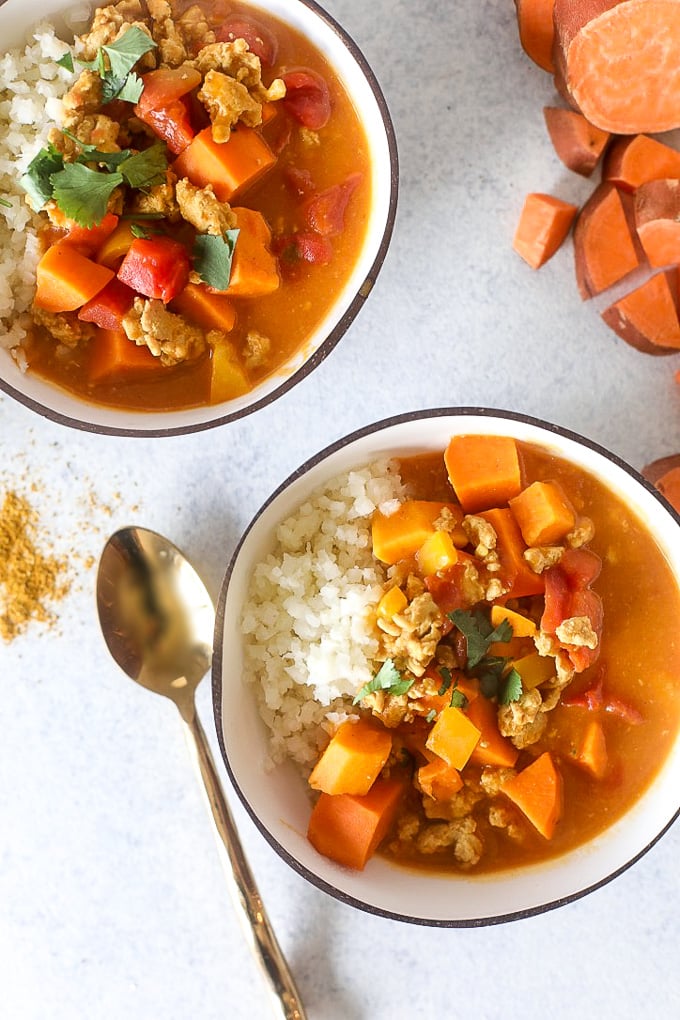 Sweet potato, coconut, curry… these are a few of my favorite things!  This dish is so perfect for a chilly night and not to mention super easy to throw together.  Oh and a huge plus?  Ruthie LOVES it!! I took some and mashed it up and served it to her on her little spoon and she gobbled it up.  She's kind of still in the phase where she feels her food and throws most on the floor, but not with this curry!  I love that she is already trying foods that I didn't eat until I was in college.  I have a good feeling that she will be an amazing eater as she grows up!  My mom and I love curry so we have been loving the process of testing this recipe.  I've made it 3 times now to perfect it and they were all super delicious but this last one is perfection.
I think serving curry over rice is the way to go, so i served this over cauliflower rice! You can totally serve it over regular rice, quinoa, or whatever grain you want.  Or have it straight up in the bowl.  You can also make it vegetarian by taking out the meat and using vegetable stock instead of chicken!  So versatile and sooo delish.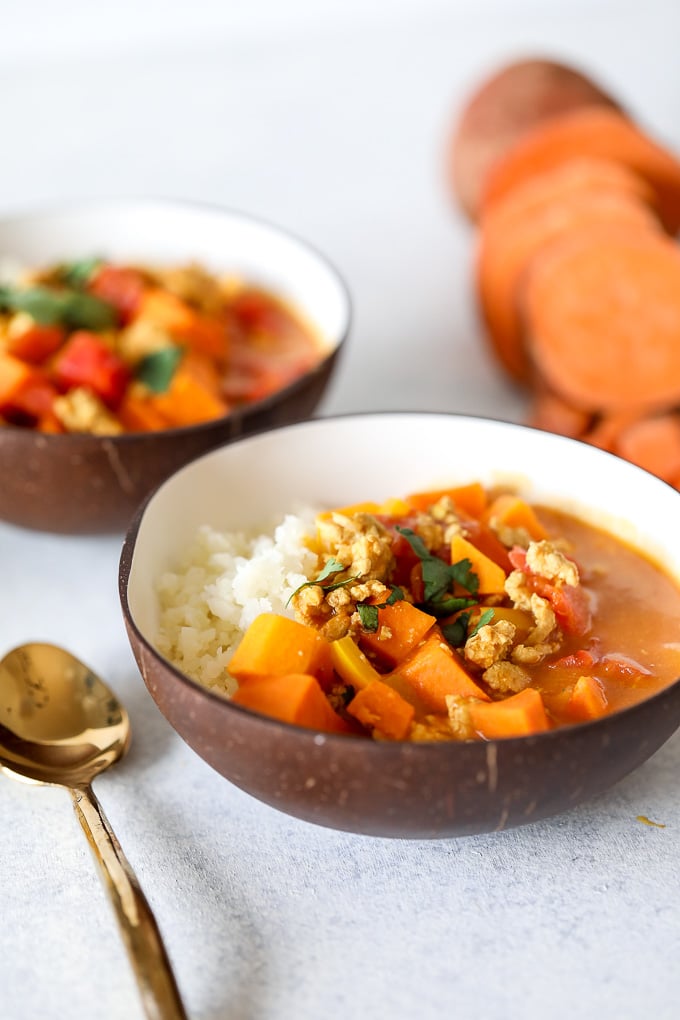 How fun are these coconut bowls btw!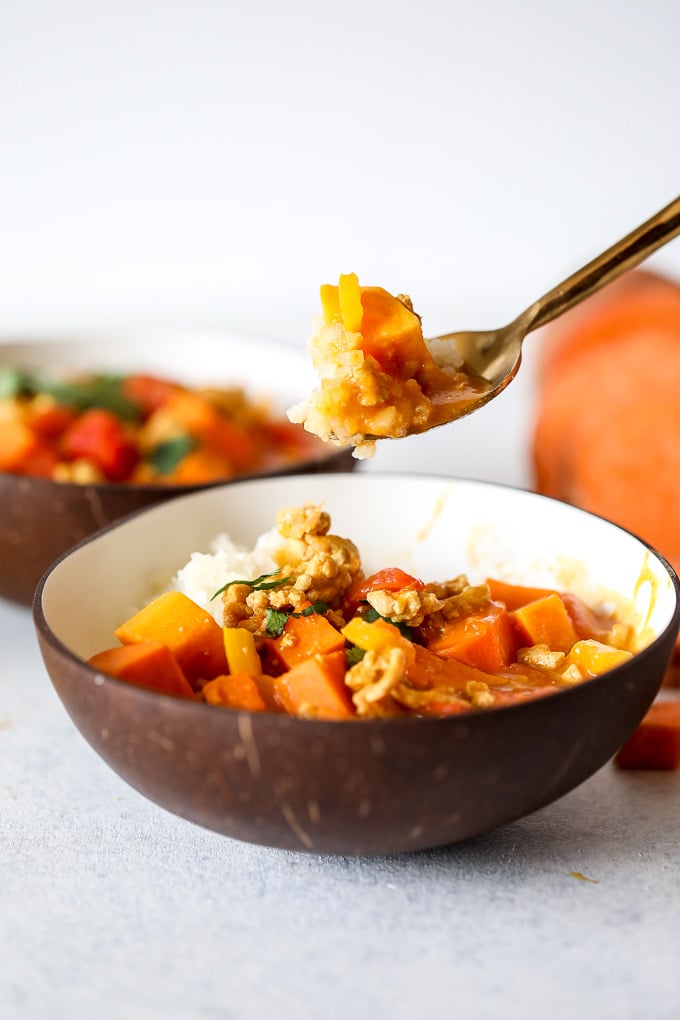 Pin the image below to save this Coconut Sweet Potato Curry recipe for later!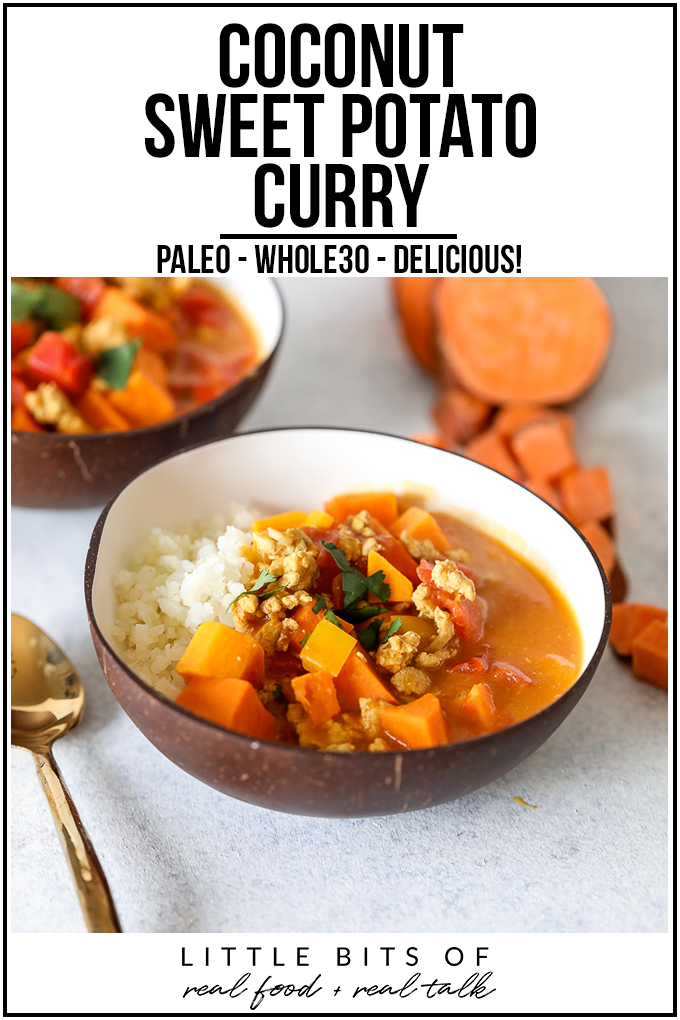 Print
Coconut Sweet Potato Curry
---
1 tablespoon avocado oil
1 pound ground turkey
1 can pureed butternut squash
1 can full fat coconut milk
1 cup chicken broth
1 14.5 oz cans of chopped tomatoes- drained
3 cups peeled and chopped medium sweet potatoes
1 tablespoon curry powder
½ teaspoon turmeric
1 teaspoon ground ginger
1 teaspoon garlic powder
1 teaspoon salt
1 bell pepper, diced (any color)
1 tablespoon arrowroot powder + 1 tablespoon water (whisked together)
---
Instructions
Add 1 tablespoon avocado oil to a large pot on medium-high heat.  Add turkey and cook until browned and cooked through.
While the meat is browning, peel sweet potatoes and dice into ½ inch cubes.  Dice bell pepper into a small dice.
Once the meat is cooked through, add butternut squash, coconut milk, chicken broth, strained chopped tomatoes and all spices and bring to a boil.
Add sweet potatoes and boil for 8 minutes until tender.
Add arrowroot mixture to the curry and stir quickly to thicken.
Once thickened add red pepper and cook for 5 more minutes to soften the peppers.
Season to taste with salt and pepper.
Enjoy!
Notes
You can use ground beef or ground chicken instead of turkey
To make this recipe vegetarian, just leave out the meat all together and use vegetable stock instead of chicken.
We are participant in the Amazon Services LLC Associates Program, an affiliate advertising program designed to provide a means for us to earn fees by linking to Amazon.com and affiliated sites.