Air Fryer Maple Roasted Chicken & Sweet Potatoes
This Air Fryer Maple Roasted Chicken & Sweet Potatoes recipe is so easy and perfect for a busy weeknight!
We all have those dinners that are a family favorite, easy to throw together and also fill the family bellies. Let me present to you a new fall favorite Apple, Sweet Potato and Chicken Airy Fryer dinner.
What we love the most about this recipe is that it comes together and cooks in one appliance, the air fryer! Yup, you heard that right a whole dinner with veggies and protein cooked together and ready within 40 minutes. You might think this is some kind of voodoo work but believe me it's not. Whether you live in a warmer place like me and don't really have a true autumn or live in a place where the trees are already changing to a lovely yellow and orange this dinner will bring the warmth of the season right into your kitchen. 
With two kids and sometimes multiple nights with Matt gone I'm always looking for a meal that all three of us will love, maybe leave some leftovers and most important has all the food groups represented. Apple, sweet potato, chicken and some maple syrup to top it off is what really makes this dish shine.
Tips:
You want to make sure that your sweet potato, apple, onion mixture is a single layer in your air fryer, if you fill it up your veggies will not get cooked all the way.
The best chicken to use for this recipe will be chicken thighs which hold a bit more moisture and fat which creates a better all around meal. You can also use breast or tenders you will just have to double check to make sure you do not overcook them. 
Make sure to chop your veggies in similar sizes this will ensure that all the veggies get cooked at a similar time table. 
How do I know if the chicken is cooked?
There are a few ways to check if your chicken has been cooked all the way. First you can check the temperature which should be anywhere from 165 degrees to 180degrees. If you do not have a thermometer you can always slice the chicken in half and check to make sure there is no pinkness on the inside. 
Can I make this in the oven?
This dinner can easily be switched to a sheet pan dinner and cooked in the oven, you will just need to do a few more steps. First you will toss all your veggies onto a sheet pan and cook at 400 degrees for 8 minutes. Once that is cooked move your veggies to one side of the baking sheet and place your chicken in one layer on the empty side. Cook for 10 more minutes then flip the chicken and cook for 5 more minutes. Each time you open the oven make sure to shuffle the veggies so they get evenly cooked. You should also check to make sure the veggies do not get burned, if you see they are just pull them off the baking sheet while the chicken finishes.
How to store and reheat?
If you have any leftovers after this dinner it can easily be stored in the fridge in an airtight container. The leftovers should be eaten within a few days of making the dinner. 
What's the best air fryer?
It's hard to say what the best air fryer is but here is what we each have!
Kelsey – Drew Barrymore brand at Walmart
Britt- Ninja Foodi Pressure Cooker & Air Fryer
Pin the image below to save this Air Fryer Maple Roasted Chicken & Sweet Potatoes recipe for later!
Print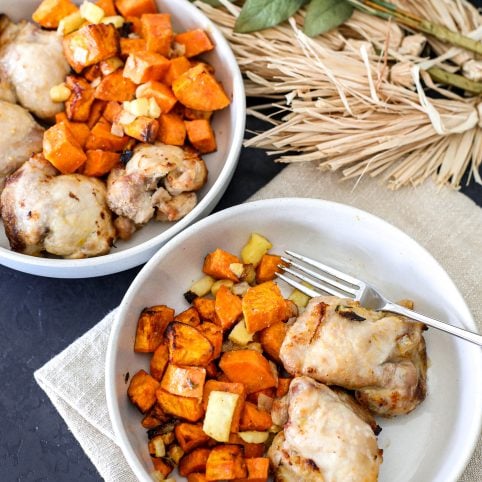 Air Fryer Maple Roasted Chicken & Sweet Potatoes
---
Author:
Yield: 4 servings 1x
Description
This Air Fryer Maple Roasted Chicken & Sweet Potatoes is so easy and perfect for a busy weeknight!
---
3 cups chopped sweet potatoes
½ cup chopped onion
1 cup chopped apple
2 tbsp oil
1 tsp garlic powder
1 tsp thyme
1 tbsp maple syrup
1 tsp salt
¼ tsp pepper
1.5 lbs chicken thighs
2 tbsp oil
1 tbsp champagne vinegar
1 tsp salt
1 tsp garlic powder
1 tbsp maple syrup
---
Instructions
In an air fryer combine sweet potatoes, onion and apple.
Pour in 2 tbsp oil, 1 tsp garlic powder, 1 tsp thyme, 1 tbsp maple syrup, 1 tsp salt and ¼ tsp pepper and toss to coat.
Air fry for 8 minutes at 400 degrees.
While that is cooking, in a bowl combine chicken thighs, 2 tbsp oil, 1 tbsp champagne vinegar, 1 tsp salt, 1 tsp garlic powder and 1 tbsp maple syrup and toss to coat.
When sweet potatoes are done, stir them to disperse and place chicken thighs on top of them in a single layer.
Place back in the air fryer for 10 minutes, then flip the chicken and cook an additional 5 minutes.
Remove from the air fryer and enjoy!
We are participant in the Amazon Services LLC Associates Program, an affiliate advertising program designed to provide a means for us to earn fees by linking to Amazon.com and affiliated sites.