Pulled Pork Sandwich Casserole
This Pulled Pork Sandwich Casserole is not only easy to throw together but also incredibly delicious!  You start with a cornbread base, top it with pulled pork and then top that with coleslaw.  I love pulled pork sandwiches and this is a great way to get that vibe in one pan for the family. If you are thinking how can making pulled pork be easy when it takes hours?  Well my friends, did you know you could just buy it already cooked?  Most stores (and costco!) sells pre cooked pulled pork without bbq sauce.  So for this recipe I used that pre cooked pulled pork and added my fave bbq sauce which is stubbs.  You can also totally use shredded chicken which would be fabulous.
In other non food news – our podcast, the Genuine Joy Podcast has been back on the air and we have so many fun episodes for you to listen to! Just click here to check them out wherever you listen to podcasts!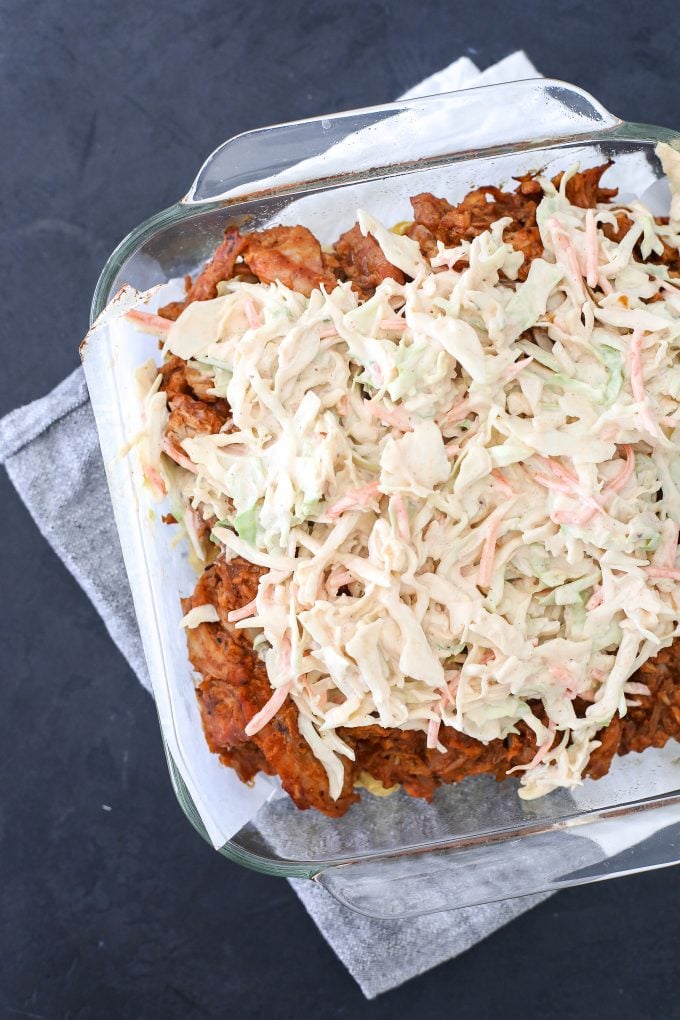 Ingredient List
Oat flour
Gluten free yellow corn meal
Baking powder
Salt
Avocado oil
Milk
Eggs
Canned corn
Pulled Pork
Barbecue sauce
Mayo
Apple cider vinegar
Coleslaw mix
How to make Pulled Pork Sandwich Casserole 
This is such a simple casserole to put together and enjoy in a short amount of time. Stick with me so you don't get lost with the instructions.
Preheat your oven to 400 degrees. Grab a bowl and add oat flour, gluten free yellow corn meal, baking powder and salt and mix it all about. Next goes in is avocado oil, milk and egg. You will want to mix without over mixing. Next drain the corn so its just the kernels and add that to the bowl At this time the base layer is completed.
You can either use an 8×8 dish or a 9×13 baking dish. The difference is the 9×13 dish is going to yield a thiner tamale base. Add the tamale mixture to the bottom of your greased baking dish and bake for 20-25 min. The tamale base will not be completely cooked but that is okay, poke some holes in the base.
Mix the pulled pork with the BBQ sauce and layer on-top of the tamale base, cover with foil and bake for 10 more min. Take for off and cook for 5 min.
When the casserole is doing its final cook mix together mayo, barbecue sauce and apple cider vinegar in a bowl. Add the coleslaw mix and throughly combine. Once the casserole is finished cooking took with the coleslaw and ENJOY.
When you are unsure what to have for dinner, casserole is always the answer:
Whole30 BBQ Bacon Cheeseburger Casserole
One-Pot Chicken Bacon Ranch Rice
Pin the image below to save this Pulled Pork Sandwich Casserole recipe for later!
Print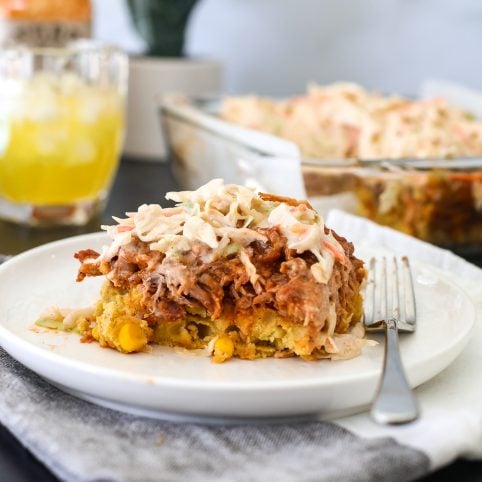 Pulled Pork Sandwich Casserole
---
⅔ cup oat flour
½ cup gluten free yellow corn meal
1 tbsp baking powder
¼ tsp salt
2 tbsp avocado oil
⅓ cup milk (regular or dairy free)
1 egg
1 can of corn 
1 lb cooked pulled pork*
1 cup bbq sauce
¼ cup mayo
1 tbsp bbq sauce
1 tbsp apple cider vinegar
2 cups coleslaw mix
---
Instructions
Preheat oven to 400 degrees. Whisk oat flour, corn meal, baking powder and salt together. Add the oil, milk, and egg add to the dry ingredients and mix. Next add the drained corn. Once all mixed, bake in a 8×8 or 9×13 pyrex (depending if you want a thicker cornbread or more thin.) Bake for 20-25 min until set. 
After it has cooked for 20-25 it will not be completely set, that's okay. Poke holes in the cornbread base. Mix the pulled pork with the bbq sauce then put the pork on top and spread equally over the cornbread.  
Cover with foil and return to oven for 10 min. Remove foil and cook for 5 more minutes.  
While that is cooking, in a bowl combine mayo, bbq sauce and apple cider vinegar, then add in coleslaw mix and season to taste with salt and pepper.
Remove from oven and top with coleslaw and serve.
Notes
You can swap pulled pork for shredded chicken!
We are participant in the Amazon Services LLC Associates Program, an affiliate advertising program designed to provide a means for us to earn fees by linking to Amazon.com and affiliated sites.