Smashed & Loaded Potatoes
Next party you are invited to be sure and bring these Smashed and Loaded Potatoes, they will please a crowd and keep everyone full.
Sometimes the best recipe ideas come from the most random times, this little gem came to fruition while I was up visiting my sis and her family in Montana. We decided to grill steaks one night and needed a starch to go on the side, we kicked around baked potatoes, scalloped or just fries but nothing was sounding right. I knew smashed potatoes were delish and a loaded backed potato is always a winner but what if we mixed the two. So my brain goes bacon, cheese, chives all sound good for sure even better over some crispy potatoes. Insert this delicious summer side dish.
So we grabbed some petite potatoes and tossed them into boiling water with a generous amount of salt. Cook the potatoes until they are fork tender, this can take anywhere from 10-20 minutes. Once they are fork tender drain them dry they off with a paper towel so they are not wet.  Next use 2 tablespoons to grease the baking sheet and space out the potatoes. Now comes the fun part, you will need a sturdy cup to smash all the potatoes down. You want to make sure each potato cracks open so all the edges get nice and crispy. Then drizzle the remaining oil on top of the potatoes and sprinkle with some salt.
In your 425 degree oven you will need to bake the smashed potatoes for about 10 minutes, then flip all the potatoes and bake for another 10-15 min. At this time all the edges are going to be crispy and they will smell amazing. Pull the potatoes out and sprinkle with the cheese, toss the back in the oven for a few more minutes just to get the cheese nice and melty. Finish them off with chopped bacon, chopped scallions and a few dollops of sour cream. Enjoy anywhere sunshine is shining and people are having fun!
Ingredient List
 Petite gold potatoes
Olive oil
Salt
Cheddar Cheese
Bacon
Chives
Sour Cream
Tips and Tricks
You want to make sure and use petite or small potatoes, any color works. Just make sure you don't use a large baker potato chopped up.
These potatoes are a great base or any topping: chili, pulled pork, BBQ chicken get creative and see what's in your fridge that you can add on top.
If you want to prep these ahead of time go ahead and boil the potatoes and smash them, then bake them and top with cheese closer to when the potatoes are going to be served.
Pool party, park date, beach, lake you are going to need yummy food for the crowds:
Dairy Free Cashew Spinach Artichoke Dip
Pin the image below to save this Smashed & Loaded Potatoes recipe for later!
Print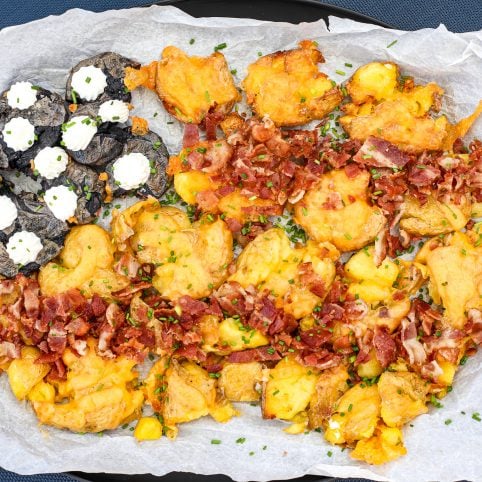 Smashed & Loaded Potatoes
---
1.5 lbs baby or petite gold potatoes*
4 tbsp oil (avocado or olive)
Salt
1 cup shredded cheddar cheese
8 slices bacon, cooked & chopped
1 tbsp chopped chives
Sour cream
---
Instructions
Bring a large pot of water to a boil then add potatoes.
Cook until fork tender (anywhere from 8-15 minutes depending on the size of the potatoes).
When potatoes are fork tender, transfer into a paper towel lined bowl to dry off.
For oven: Preheat oven to 425 degrees.  Pour 2 tbsp oil on a baking sheet and place potatoes on the oil.  Use the bottom of a cup to press down on each potato to flatten it. Add remaining 2 tbsp oil over the top of the potatoes then sprinkle with salt. Bake for 10 minutes, flip them, and cook for another 10-15 minutes until browned.  Sprinkle cheese on top and cook for another 3-5 minutes until cheese is melted.
For Air Fryer:  You will probably need to do a few rounds as all of them won't fit in the air fryer. Place some of the potatoes in the air fryer and use the bottom of a cup to press down on each potato to flatten it. Make sure the potatoes are in one layer and not crowded.  Drizzle with some oil and sprinkle with salt.  Turn it on to 400 degrees for 5 minutes, flip and cook another 5 minutes.  Add cheese to each potato and cook for another 2 minutes.
Once the cheesy potatoes come out of the oven or air fryer you can add bacon, chives and sour cream to each, or you can arrange them into a flag and use bacon for the stripes and sour cream for the stars!
Notes
*If you are going to make a flag, add about 6 small purple potatoes to the recipe!
We are participant in the Amazon Services LLC Associates Program, an affiliate advertising program designed to provide a means for us to earn fees by linking to Amazon.com and affiliated sites.