Mexican Street Corn Dip
Let's talk DIP, specifically this Mexican Street Corn Dip, that just so happens to be dairy free!  I know your summer calendar is already filling up with parties, barbecues and festivities galore, so I wanted to arm you with a healthy yet mildly addicting dip to take to your next shindig.  I have loved corn dips forever (like this old roasted corn dip from a couple of years ago), and have lost touch with them the past year!  When you find a good non-gmo corn that is sweet and scrumptious you grill it!! There is definitely a certain way I remove my husks and grill my corn that I will highlight below, but if you do it right, the results are incredible!  I am so excited to be working with Duda Farm Fresh Foods again to share this recipe because their produce is THE BEST!!  They also have tons of helpful links and recipes on their site, like this Corn Recipe Ebook – if you download it you also get entered to win a whole box of Dandy Sweet Corn! You can see everything they produce here but today it's all about this sweet yellow corn.
I wanted to play off the flavors in Mexican Street Corn by making a cheesy sauce from cashews and nutritional yeast and mixing it with the grilled corn and a little chili powder and garnishing with lime juice and cilantro!  It is perfection and I think you will agree. Before we dive to far into the dip, let's talk cooking corn and prepping it so you get none of those silk strands up in your grill (grill meaning teeth but I guess the actual grill too). 🙂
How to cook that corn
First you want to trim back some of your husk leaves and cut off a little of both ends.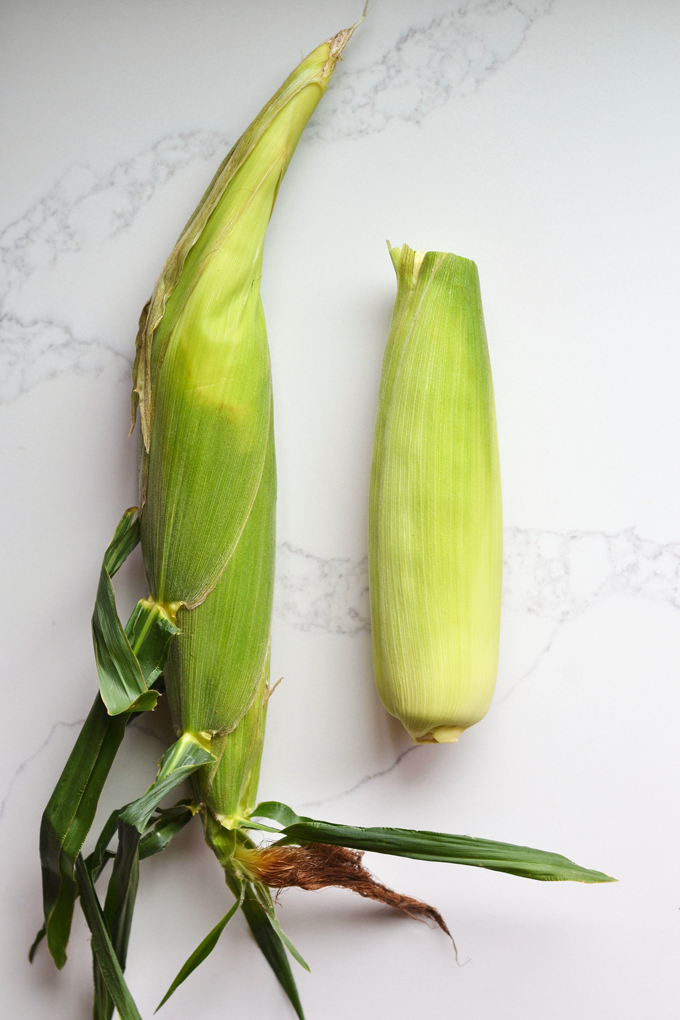 Then you want to microwave that (I did 2 ears at a time)  for 2 minutes per side, totaling 4 minutes.  Then you just squeeze from the top end and let the corn come out the bottom silk free!
Then just a light coating of avocado oil, salt and pepper and they were ready for a quick char on the grill.
Making Mexican street corn dip
Once you have your corn cooked cut the kernels off the cob, if you are not using fresh feel free to use canned or forzen
Next you will take your soaked cashews, milk, chili powder, nutritional yeast and salt and blend in a high powered blender until creamy about 2-3 minutes
In a large skillet on medium heat add 1 tablespoon avocado oil and the chopped bell peppers and cook for around 5 minutes staring occasionally. The corn goes in next along with the cashew sauce you just made. Heat the mixture throughly and taste to see if it needs any salt or pepper to taste.
Scoop into a serving dish and top with sprinkle of chili powder, lime and cilantro. This dip goes great with everything from chips, vegetables and even plantain chips, enjoy!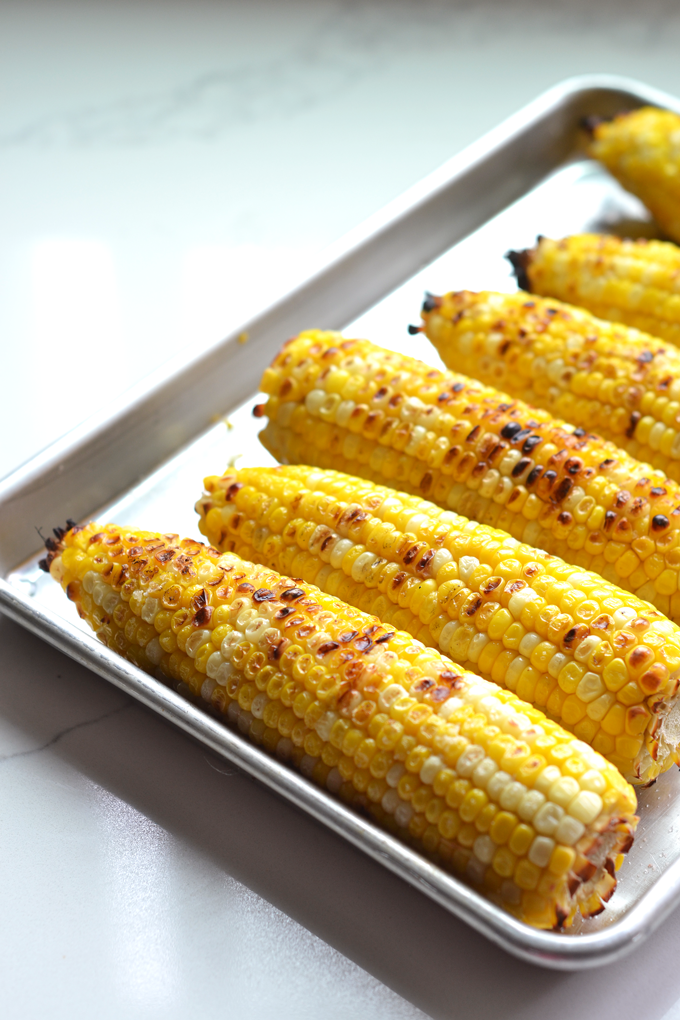 If you love this Mexican Street Corn Dip you will love these other corn recipes:
Roasted Cornbread Mini Muffins
This post is sponsored by Duda Farm Fresh Foods. I was compensated and all opinions are 100% my own. Thank you so much for supporting Little Bits Of!
Pin this Mexican Street Corn Dip recipe to save it for later!
Print
Mexican Street Corn Dip
---
6 ears of corn
2 tablespoons avocado oil or olive oil
1½ cups cashews, soaked for at least an 1 hour, drained
1 cup unsweetened dairy-free milk (i used original almond milk)
1 teaspoon chili powder
⅓  cup nutritional yeast
½ teaspoon salt
1 tablespoon avocado oil
½ red bell pepper, diced small
½ green bell pepper, diced small
Salt and pepper to taste
Cilantro and lime to garnish
---
Instructions
Remove a few layers of the husk wrapping at slice a little of the husk off of both sides (see picture in post)
Microwave 2 ears at a time for 2 minutes on each side for a total of 4 minutes.  Then slice off ½ inch into the ear on the shank end.  Grab the other end and start squeezing the husk off.  It should slide off pretty easily but you need to really grab and pinch with your hand.
Once you have all of the husks removed, pour 2 tablespoons of avocado oil into a bowl then brush it all over the corn.
Heat up a grill over high heat.  The corn will be slightly cooked from the microwave already so you can just grill them for about 4-5 minutes per side until lightly browned.
Slice off the kernels with a sharp knife and set aside.
In a high powdered blender or food processor add soaked cashews, milk, chili powder, nutritional yeast and salt.  Blend of high until creamy, about 2-3 minutes.
Place a large skillet over medium high heat and add 1 tablespoon of avocado oil.  Add bell peppers to the pan and cook for 5 minutes, stirring occasionally.  
Add corn into the pan followed by cashew sauce and stir to combine and heat through.  Taste it and add salt and pepper to taste if needed.
Scoop into a serving dish and garnish with a sprinkle of chili powder, some chopped cilantro and a squeeze of lime!
Serve with Plantain chips, sweet potato chips and/or bell pepper pieces!
Notes
**NOTE – if you like it spicy you can also add in 1 chopped jalapeno when you add the bell peppers!
We are participant in the Amazon Services LLC Associates Program, an affiliate advertising program designed to provide a means for us to earn fees by linking to Amazon.com and affiliated sites.