Quick Curry Butternut Squash Noodles
Okay I love Trader Joe's for many reasons but my new favorite reason – pre cut veggie noodles!  Being able to pick these up fresh is so nice and the butternut squash noddles go well with just about any kind of sauce.  I was at my moms house the other day and we got these noddles so I whipped up a quick curry sauce with some ingredients we had on hand and it turned out so good! So I knew I had to recreate it for the blog, and here it is.  We added some chicken on top so you can do that or any kind of meat – like chopped up chicken apple sausage for the ultimate easy dish.
I have always been a fan of quick meals (i mean, who isn't?!) but now that there is a baby in the house, it's extra important! Speaking of the baby…can we talk about my sweet Ruthie?!  She is THE BEST.  So smiley, so happy, sleeps like a dream and is so freakin cute I can't believe it! She will already be 4 months at the end of the month and that means feeding her real food is coming soon.  I can't wait to see what foods she likes and dislikes and I hope she is a foodie like me!  Now back to this recipe – if you have the pre-cut butternut squash noodles, it takes less than 10 minutes to make!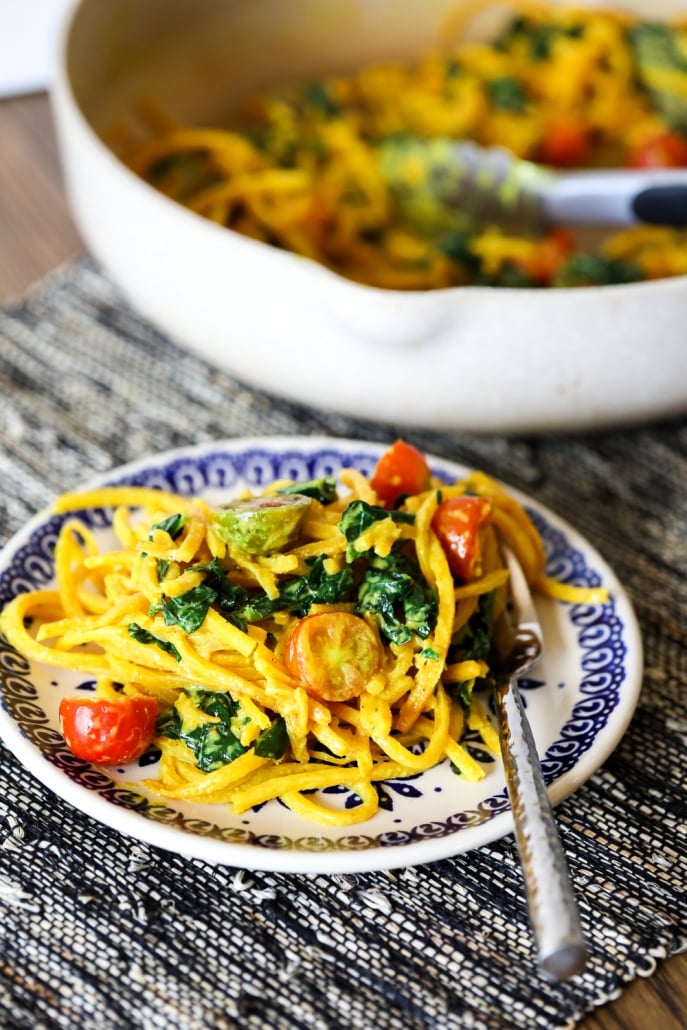 Squash can be used in tons of recipes, we have a few for you to try:
Spaghetti Squash w/ Creamy Butternut Sage Sauce
Grilled Butternut Squash & Goat Cheese Flatbread
Chicken Bacon Ranch Spaghetti Squash Casserole
Chicken Caesar Spaghetti Squash Bake
Pin the image below to save this Quick Curry Butternut Squash Noodles recipe for later!
Print
Quick Curry Butternut Squash Noodles
---
1 tablespoon Avocado oil
10.5 oz Butternut squash noodles (I used the pack from Trader Joe's, you can also just do 1 butternut squash, spiralized)
2 packed cups kale, destemed
½ cup coconut milk
1 tablespoon nut butter (i used peanut butter but almond or cashew are great too!)
2 teaspoons curry powder
1 teaspoon garlic powder
1 cup chopped in half cherry tomatoes
Salt and pepper
---
Instructions
Place a large skillet over medium heat.  Add avocado oil to the pan and let it heat up.
Add butternut squash noodles and toss them with the oil then cook for about 2 minutes.
Then add in the kale and cook for another 2 minutes.
While those cook, combine coconut milk, nut butter, curry powder and garlic powder in a bowl and whisk to combine.
Turn up the heat to medium high and add the coconut milk mix.  Stir to coat the noodles in the sauce and let it reduce for 30 seconds, then add in tomatoes.  Cook for just about another 30 seconds – a minute until butternut squash noodles are cooked and sauce is reduced a bit.
Add any protein you like or keep it off for a vegetarian dish!
We are participant in the Amazon Services LLC Associates Program, an affiliate advertising program designed to provide a means for us to earn fees by linking to Amazon.com and affiliated sites.