Chicken Bacon Ranch Spaghetti Squash Casserole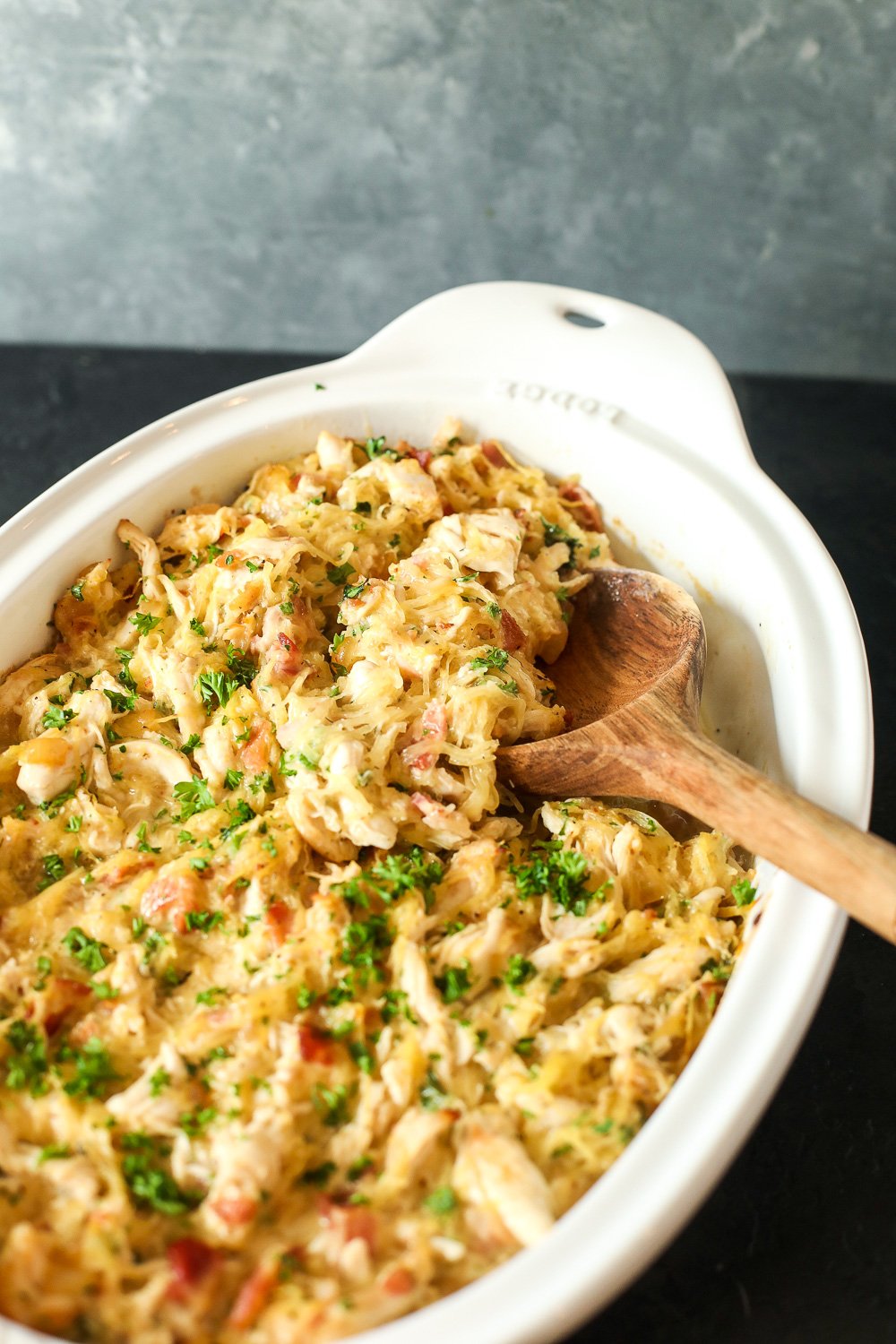 After the response to my Whole30 Cheeseburger Casserole was so huge I knew I had to up my casserole game on this blog!  So of course my next though is Chicken Bacon Ranch.  This combo feels like comfort food to me because all through college is was the sandwich Matt would get from Subway.  It was such a good one and those flavors just remind me of a warm comforting hug!  So I wanted to put it in a casserole and knew that spaghetti squash would be the perfect thing to add some veggie but not overpower that ranch flavor.  You can use any ranch you like but if you want to keep it Whole30 compliant then Primal Kitchen is my fave.  I tested this with a thicken ranch (sir kensingtons) and the thinner Primal Kithcen ranch and they both worked perfectly so it's really up to you!  Oh and I highly recommend cooking your spaghetti squash in an instant pot if you have one because it cooks SO quickly and makes this dish extra speedy and hands off.
So creamy and perfect!
Pin the image below to save this Chicken Bacon Ranch Spaghetti Squash Casserole recipe for later!
Print
Chicken Bacon Ranch Spaghetti Squash Casserole
---
5 slices of bacon
½ cup chopped onion
1 tbsp coconut aminos
1 spaghetti squash, cooked*
4 cups cooked & shredded chicken
1 cup ranch dressing* (i use primal kitchen)
¼ cup chopped fresh parsley
Salt & pepper to taste
Avocado (to garnish)
---
Instructions
Preheat the oven to 350 degrees.
Place a large skillet over medium heat and let it warm up.
Cook bacon in the pan until crispy, then remove it onto some paper towels to cool.  
To the bacon grease, add chopped onion and cook for 3-5 minutes or until soft.
Add in coconut aminos, stir and cook for 1 more minute.  Remove onions and place them in a large bowl. Chop the bacon and add it to the bowl as well.
Then add in the cooked spaghetti squash, shredded chicken, ranch dressing and parsley.  Toss thoroughly to combine. Season to taste with salt and pepper. 
Pour the mixture into a casserole dish and bake for 20 minutes.
Garnish with avocado and serve.
Notes
There are many ways to cook spaghetti squash but my favorite is in the instant pot! Slice the squash horizontally through the middle and scoop out the seeds then put 1 cup of water in the instant pot with the squash and cook for 6 minutes on high.
You can also bake the spaghetti squash at 400 degrees on a cookie sheet after slicing vertically and scooping the seeds out,  for 30-40 minutes.
We are participant in the Amazon Services LLC Associates Program, an affiliate advertising program designed to provide a means for us to earn fees by linking to Amazon.com and affiliated sites.