Grilled Butternut Squash & Goat Cheese Flatbread
This Grilled Butternut Squash & Goat Cheese Flatbread is about to change your life!! This weekend we are having our 2nd Gourmet Group and we are hosting.  If you haven't heard, a group of my friends (4 couples) decided to start this tradition where we meet up 4 times a year for a night of gourmet in home cooking.  Each couple takes a turn each year to host and the host must decide a theme and the menu.  The host makes the main dish and a side dish, then sends each other couple a recipe to make – 1 appetizer, 1 side dish and 1 dessert! Our first one was Hawaiian themed and it was so fun and delicious.  This weekend we are hosting a Tuscan Harvest theme.  I will take pictures and do a whole post on the entire menu for you, but for now I will share what our side dish is – this flatbread!  All you do is buy some pizza dough from the store, grill it, then top it with a goat cheese mixture, caramelized butternut squash and onions, then some pomegranate seeds!  The key is all of the yummy stuff I toss into the goat cheese – it is a must make.  You can also totally use a stovetop grill or pan to cook your pizza dough if you make this in the colder months.
I mean, how badly do you want to dive into this!
We know you are going to be obsessed with this recipe, so here are a few other similar ones:
Cranberry Pecan Brussel Sprouts
Roasted Cauliflower & Butternut Squash Hummus
Roasted Delicata Squash w/ Pine Nuts & Dried Cherries
Pin the image below to save this Grilled Butternut Squash & Goat Cheese Flatbread recipe for later!
Print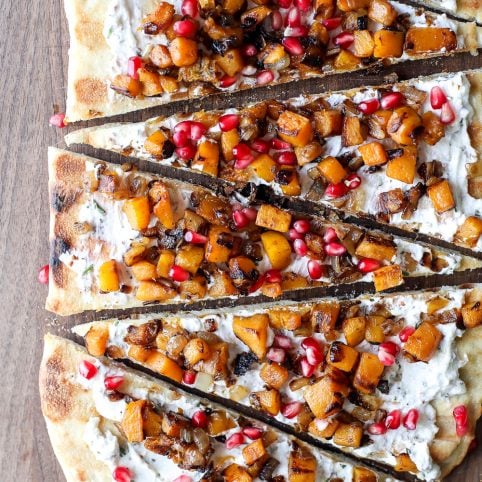 Grilled Butternut Squash & Goat Cheese Flatbread
---
1 pack store bought pizza dough
6 tbsp oil (separated)
2 cups finely chopped butternut squash
½ onion, chopped
4 oz. goat cheese
2 tsp chopped rosemary
1 tsp whole grain mustard
½ tsp garlic powder
¼ cup pomegranate seeds
Salt and pepper
---
Instructions
Preheat your grill to about 500 degrees.
Stretch out your pizza dough until it is your desired thickness on a piece of parchment paper and rub 2 tablespoons of oil on each side of the dough.
Place a large skillet over medium heat and once it is warm, add 2 tablespoons of oil to the pan.  Add in butternut squash and onion and cook, stirring occasionally for 8-10 minutes or until the squash is fork tender and lightly browned.  Remove veggies and set aside.
In a small bowl place the goat cheese and put it in the microwave for 40 seconds at 40% power to soften it. Then add in chopped rosemary, whole grain mustard and garlic powder.  Stir to combine and season with a pinch of salt and pepper.
Take your pizza dough out to the grill and quickly flip the dough from the parchment paper onto the grill and close the lid.  Let it cook for 2-3 minutes depending on the thickness (2 for thinner crust and 3 for thicker), then using tongs, flip the crust and cook for the same amount of time on the other side.
Remove crust when it is cooked and place it on a cutting board or baking sheet.
Scoop goat cheese mixture onto the crust and spread it evenly on top. Sprinkle the butternut squash and onion evenly on top then finish it off by sprinkling the pomegranate seeds over the flatbread.
We are participant in the Amazon Services LLC Associates Program, an affiliate advertising program designed to provide a means for us to earn fees by linking to Amazon.com and affiliated sites.