Spaghetti Squash w/ Creamy Butternut Sage Sauce
Hi lovely friends!! 2 things are certain in my life right in this moment. Spaghetti Squash is LIFE and 90s music is sorely missed. This could be from a combination of me having eaten this dish 3 times in the last week and me listening to Doo Wop by Lauren Hill. Now you can't tell me you didn't click on that link and are bobbin your head while reading the rest of this. I might have been 9 when that song came out but I remember feeling super gangster when listening to it. And now I feel the same way… super gangster spaghetti squash loving blogger, that's me! When I posted my Spaghetti Squash Chow Mein a year and a half ago I had no idea it would blow up on pinterest and bring tons of lovely individuals this here website. If that is what brought you to my site to begin with, I want you to know my love for spaghetti squash has not wavered! Okay it did for a few months when I was really into my spiralizer… but it is back with a vengeance! This SUPER creamy sauce has only a few ingredients and comes together in about 15 minutes. Cook the spaghetti squash however you like but I prefer the microwave as its fast and effective. Okay onto this creamy goodness (thats topped with lots of bacon) and some Spin Doctors.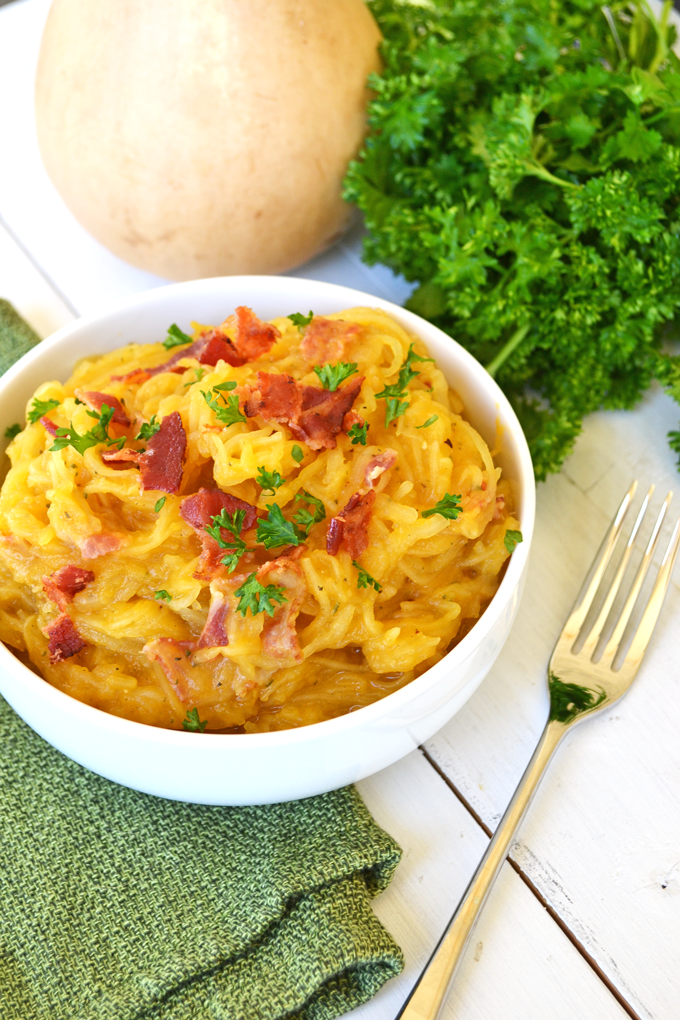 BACON! The salty with the creamy is too good!
Pin it!
Print
Spaghetti Squash w/ Creamy Butternut Sage Sauce
---
1 tablespoon ghee
1 cup diced red onion
3 cups chopped & peeled butternut squash
1 cup chicken stock
1 ½ tablespoons chopped fresh sage
1 teaspoon dried thyme
1 teaspoon garlic powder
½ cup dairy free milk (i used unsweetened original almond milk)
salt to taste
3 pieces of bacon
1 spaghetti squash, seeded, cooked & strings removed
---
Instructions
Place a large saute pan over medium high heat. Add ghee and red onion to the pan and cook for 3 minutes. Add in the butternut squash, chicken stock, sage, thyme and garlic powder. Cover and cook for 10 minutes or until squash is fork tender, stirring occasionally. Pour everything into a food processor and add dairy free milk. Blend until creamy and salt to taste. In another pan, cook bacon until crispy then set aside. Remove all but about 1 teaspoon of bacon grease from the pan and add cooked spaghetti squash to the pan. Pour about 1 cup of the sauce on the spaghetti squash and stir to coat. Add more sauce depending on how much you want on the squash (this varies as all spaghetti squashes are different sizes). Chop cooked bacon and toss into the pan. Stir everything together and serve warm!
To Microwave Spaghetti Squash: Pierce the spaghetti squash about 4-5 times with a knife through to the center. Microwave for 15-18 minutes (depending on the size of the squash), turning upside down halfway through. You will know it is down when it is easy to pierce with a knife. Remove from microwave and chop of the stem, then cut in half lengthwise. Scoop out seeds and discard. Then scrape out squash with a fork and onto a pile of paper towels. The squash will be a bit soggy so press between 2 stacks of paper towels until most of the moisture is removed (This may take a few rounds of paper towel pressing).
We are participant in the Amazon Services LLC Associates Program, an affiliate advertising program designed to provide a means for us to earn fees by linking to Amazon.com and affiliated sites.