Paleo Chocolate Almond Toffee
Oh yes I did that! I am a huge toffee lover and December seems like the perfect month to try making it yourself! I love almond roca and find that a little almond adds so much goodness to the texture and taste of the toffee.  This toffee is dark in color because I used coconut sugar and ghee to make it paleo!  It is a little tricky using these replacement so there are just a few hacks you will have to look out for in the directions to make it perfect. This year I am going to be dragging through this month as I am now almost 36 weeks pregnant! I am having more tired days than not right now but that is okay, this baby is still adding on lots of cute baby fat. Some day I would LOVE to be the person that makes TONS of Christmas treats and gives little tins of goodies to all of my friends and neighbors, but that is just not going to start this year.  Or probably until all of my children are done being babies!  But it is fun to think about happening one day.  As for now I will make one cute batch of toffee for my fam to enjoy and be super proud of it.  Toffee sounds intimidating but if you have a candy thermometer (or even a meat thermometer), then it really is beyond easy, I promise!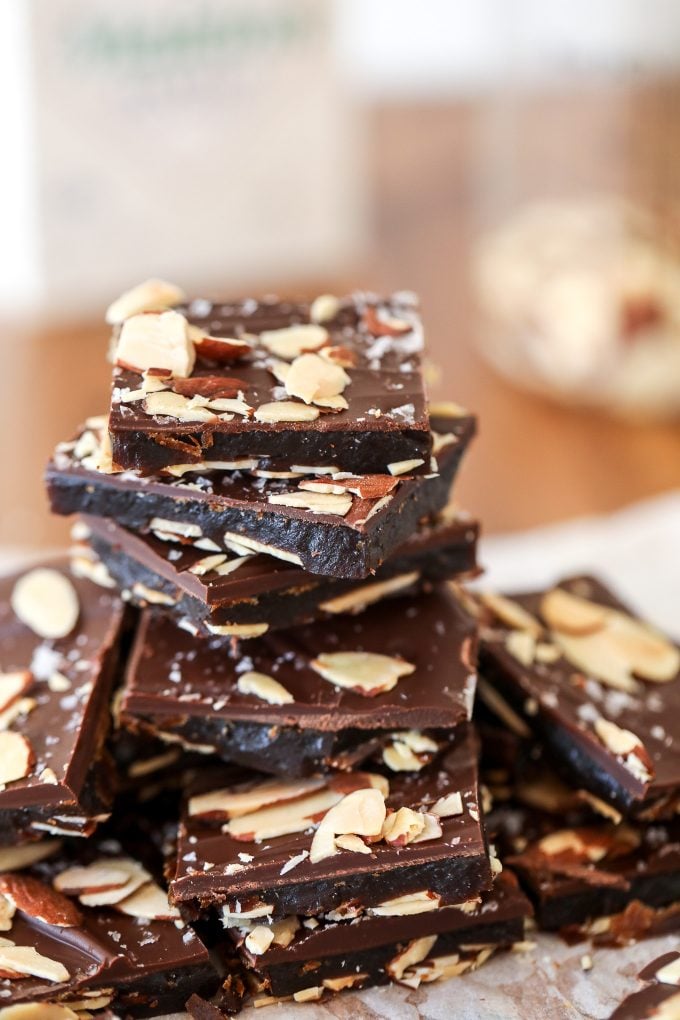 It is pure perfection!
After you try these Chocolate Toffee Squares you will have to try these other Chocolate recipes asap!
Chocolate Dipped Raspberry Energy Truffles
Chocolate Coconut Kahlua Balls
Pin the image below to save this Paleo Chocolate Almond Toffee recipe for later!
Print
Paleo Chocolate Almond Toffee
---
1 1/4 cups slivered almonds
1 3/4 cups coconut sugar
3 tbsp water
1/2 cup ghee
1/4 tsp salt
1 tsp vanilla
1/4 tsp baking soda
1 cup dark chocolate chips*
optional: flakey sea salt to sprinkle on top
---
Instructions
Preheat oven to 325 degrees.
Lay slivered almonds on a baking sheet and spread them out evenly. Bake for 7-10 minute or until lightly browned on top.
Line a 13 x 9 pyrex dish with parchment paper.  I like to spray the dish with oil first so the parchment paper sticks to it.
Pour 3/4 cup of the roasted almonds into the bottom of the 13 x 9.
In a medium sauce pan (about 2.5 qt), combine coconut sugar, water, ghee, and 1/4 tsp salt.
Place that pan over medium heat and bring to a boil, stirring occasionally.
Use a candy or meat thermometer to keep track of the temperature and once it hits 295 degrees, remove it from the heat and add in the vanilla and baking soda.
The ghee might be separating from the sugar a bit but just continue to whisk quickly, then pour it over the almonds in the prepared dish and use a rubber spatula to evenly distribute the toffee.
Let it sit for about 3-5 minutes, then you will want to take a paper towel and just lightly dab the top of the toffee to remove any excess ghee that separated to the top.
Melt your chocolate chips in the microwave in 30 second increments until smooth.
Pour the chocolate over the toffee, then spread it evenly with the back of a spoon.
Immediately sprinkle on some flakey sea salt to your liking then sprinkle on the remaining toasted almonds.
Let set either at room temperate or in the fridge if you are in a rush!
Notes
I use enjoy life chocolate chips to keep this dairy free.
We are participant in the Amazon Services LLC Associates Program, an affiliate advertising program designed to provide a means for us to earn fees by linking to Amazon.com and affiliated sites.