Creamy Chocolate Orange Cups
Happy Friday!!! Real talk – I am writing this blog post at 10 PM on Thanksgiving night because I wanted you to have this recipe so badly.  When I made these a couple of weeks ago and teased them on instagram stories, I got a ton of messages asking for the recipe ASAP!  I had said I would get it out this week and by golly I'm gonna make that happen… by the skin of my teeth!  This week has weirdly been crazy and I don't even know why.  Probably the holiday and wanting to get work done, or maybe the looming Christmas party we are hosting on December 1st that I feel like i'm not totally ready for?  Hosting parties is so much fun but until you can go grocery shopping (aka 2 days before) you always kind of feel like you are behind.  BUT my menu is planned and its all make ahead easy stuff so I have a feeling it will be a low stress prep sitch.
Wow did I just ramble? ANYWAYS – these cups!  First things first, if you want to make these you MUST buy some of this Orange Essential Oil.  You gotta get a good quality brand like this Doterra one because the oils at target and walmart, while fine to diffuse, are not good to injest.  I also love to diffuse orange oil and any citrus because it just wakes me up and makes me happy!! And if you clicked on that link and are thinking umm I want that wholesale price… just click here and sign up for doterra to get all the good prices!  Trust me, i'll be using lots of peppermint oil in recipes this Decemeber too so stock up while you are ordering.  Okay NOW CUPS!!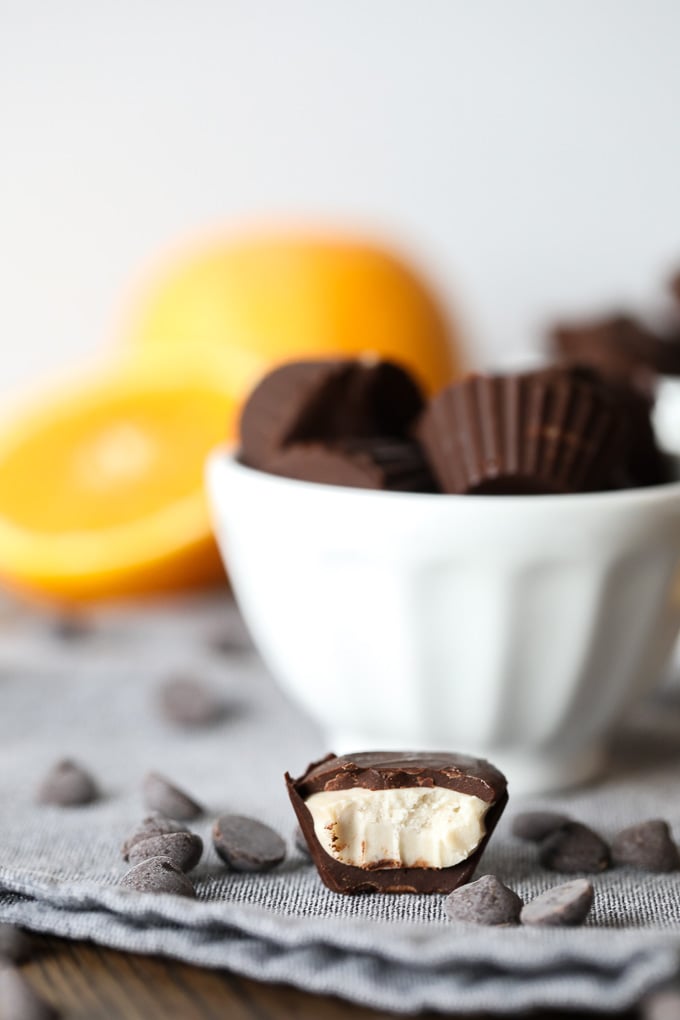 The texture on these is sooo creamy and delish!!
We love Paleo Desserts so we have lots more recipes for you to try:
Paleo Chocolate Chip Toasted Coconut Banana Bread
Pin the image below to save this Creamy Chocolate Orange Cups recipe for later!
Print
Creamy Chocolate Orange Cups
---
1 cup cashews, soaked (4-12 hours)
¼ cup almond milk
¼ cup maple syrup
5–8 drops of orange essential oil
1 ¼ cups chocolate chips
---
Instructions
In a blender or small food processor combine soaked cashews, almond milk, maple syrup and orange essential oil.  Blend on high until super smooth.
In a microwave safe bowl, add the chocolate chips. Microwave the chocolate for 30 seconds at a time, stirring between each time, until fully melted.
Take your silicone cup mold and add 1 teaspoon of chocolate to each cup. Use the end of a wooden spoon to swirl the chocolate up the sides of the mold. Place the mold in the refrigerator for about 5 minutes to firm the chocolate up. One chocolate is set, scoop the creamy orange mixture (about 1 heaping teaspoon) into each cup.
Then scoop the remaining chocolate on top of the creamy orange filling until the cup is full. Once they are all filled, place cups in the refrigerator (on a cookie sheet for stability), until set.
Pop out of the mold and enjoy! Keep them in the refrigerator for best texture!
We are participant in the Amazon Services LLC Associates Program, an affiliate advertising program designed to provide a means for us to earn fees by linking to Amazon.com and affiliated sites.