Oven Roasted Sweet Potato Buns
Finally sharing this delicious and simple recipe with you!! You know I have always loved sweet potato toast but sometimes I like to oven roast the slices in order to do many more at one time and be able to prep a little. In these photos you can see the array of ways you can cut the sweet potato or even use regular russet potatoes! I honestly thing sweet potatoes are the best way as regular potatoes can be a bit more dry than sweets, but it is an option for you. When I find a nice thick sweet potato I like to slice it into coins as it is more of a burger shape, but when they aren't thick enough, I do the longer slices! All that matters is thickness of your slices – they must be 1/4 of an inch thick, roughly.
You can make all kinds of sandwiches with these! Breakfast sandwiches with sausages, tuna sandwiches, chicken salad sandwiches… the list goes on and on. Later this week I am sharing a delish BBQ pulled pork sandwich on these and it is Whole30! Make sure to read the instructions carefully for reheating instructions too!
This recipe will blow your mind on Thursday!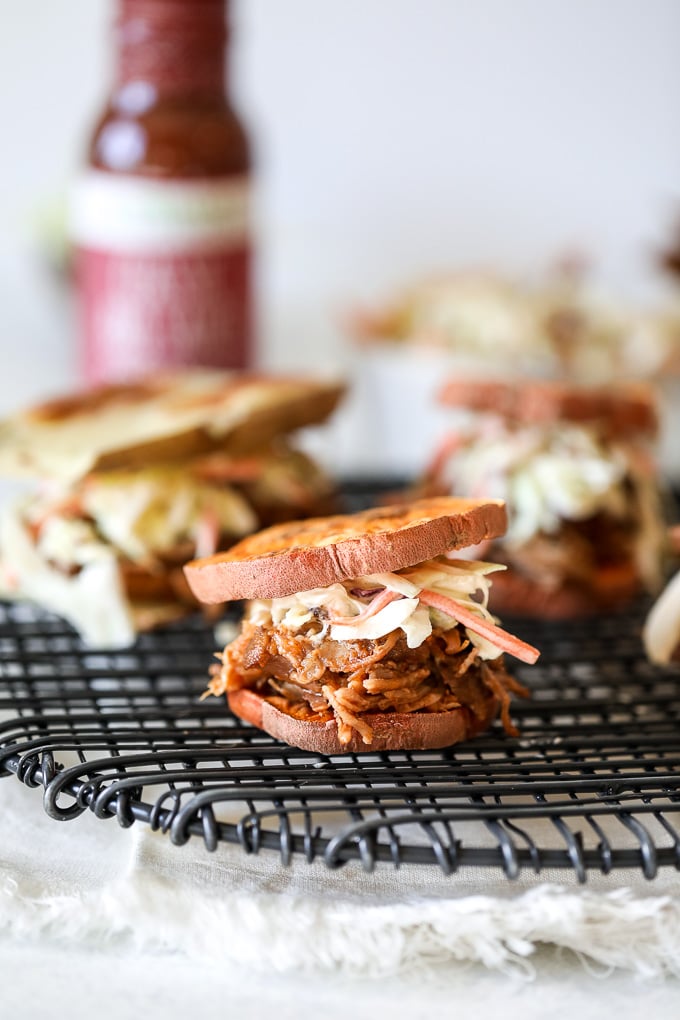 Pin the image below to save this Oven Roasted Sweet Potato Buns recipe for later!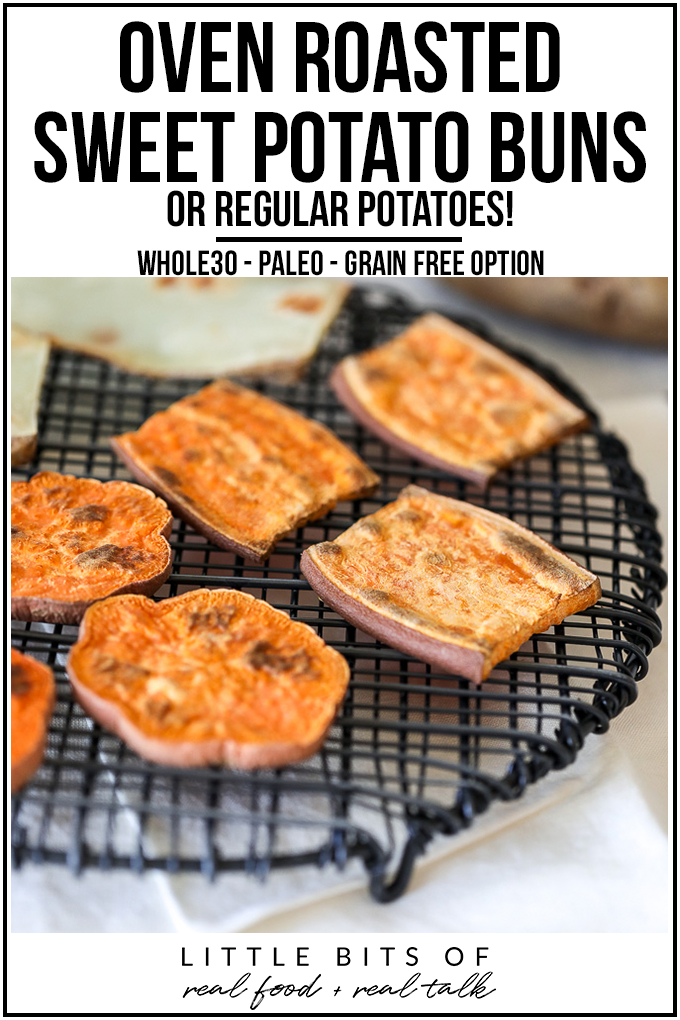 Print

Oven Roasted Sweet Potato Buns
---
Sweet Potatoes or Russet Potatoes
---
Instructions
Preheat oven to 425 degrees.
Place slices on a parchment paper lined baking sheet and bake for 20 minutes, flip, then cook for another 10-15 minutes, or until lightly browned and cooked through.
**Cooking times can vary depending on how many are on the pan and how many pans are in the oven! Looking for the lightly browned color and making sure you can easily pierce them with a fork is the most important.
Notes
If using russet potatoes, pierce (not all the way through) a few times on top with a fork before cooking.
If meal prepping for the week, the best way to reheat them is to pop the slices in the toaster and cook once through on high.
If you don't have a toaster, you can reheat on the stove top just until heated through.
I have tried making these with oil and without and I find without is just as good put doesn't feel as oily when you pick it up like a sandwich!
We are participant in the Amazon Services LLC Associates Program, an affiliate advertising program designed to provide a means for us to earn fees by linking to Amazon.com and affiliated sites.