Caramelized Fennel & Date Chicken Sausage
I am so pumped to shared this Caramelized Fennel & Date Chicken Sausage recipe with you!  As you probably know we have been obsessed with chicken apple sausage for the last year because it is a naturally sweet breakfast meat that is too good to ever get sick of.  And for some reason I have not attempted to make my own breakfast sausage!  I think I was under the impression that NOTHING could taste better than my beloved chicken apple, but I am SO pumped I finally gave it a shot.  For these babies I decided to caramelize chopped fresh fennel and dates! Fennel is my go to when I want to make something sausagey, which is why we add ground fennel to our meatballs all the time. It has a sweet flavor so when you combine it with dates that are naturally super sweet too, this breakfast sausage completely transforms!  The only other thing in this ground chicken is some dried sage which I find to be so comforting and tasty especially at breakfast.  And that is it! 4 simple ingredients that will totally change your breakfast game.  I made these this weekend and passed some along to my fam who absolutely died over them!  These will also make kiddos reach for the protein – hello natural sweeteners for the win!!
First – Make Caramelized Fennel & Date Chicken Sausage, Second – Buy a Couch
So after I made all this goodness I went down a Pinterest/ interior design RABBIT HOLE.  Ya know the feeling?  We have been in our house for about a month and a half and have been obviously VERY focused on the kitchen!  We have bee using my parents old brown couch which has been fabulous but I have been dying to get our living room looking more like our own.  So we bought a couch!!! I have been on the lookout for a big gray sectional for under a grand for months and this last weekend I looked at Living Spaces to see if they had any sales. Then I saw they had a new couch I had never seen and it was in budget!! Monday we went to the store to test it out and LOVE it!! Win win win. We now have to wait for 2 weeks for it to arrive! And as much as i am now already dying to get a rug for under it, I am embracing living in the moment and joy that we will soon have this super comfy couch that is contributing to our new home!
I can't wait to show you pictures of the whole whole renovation soon, but for now, just follow along on instagram to see the progress!
If you have some leftover Dates for this recipe we have a few treats for you to try with them:
Grain Free Date and Chocolate Chip Muffins
Cashew Cookies with Salted Date Caramel Filling
Date Caramel & Peanut Butter Chocolates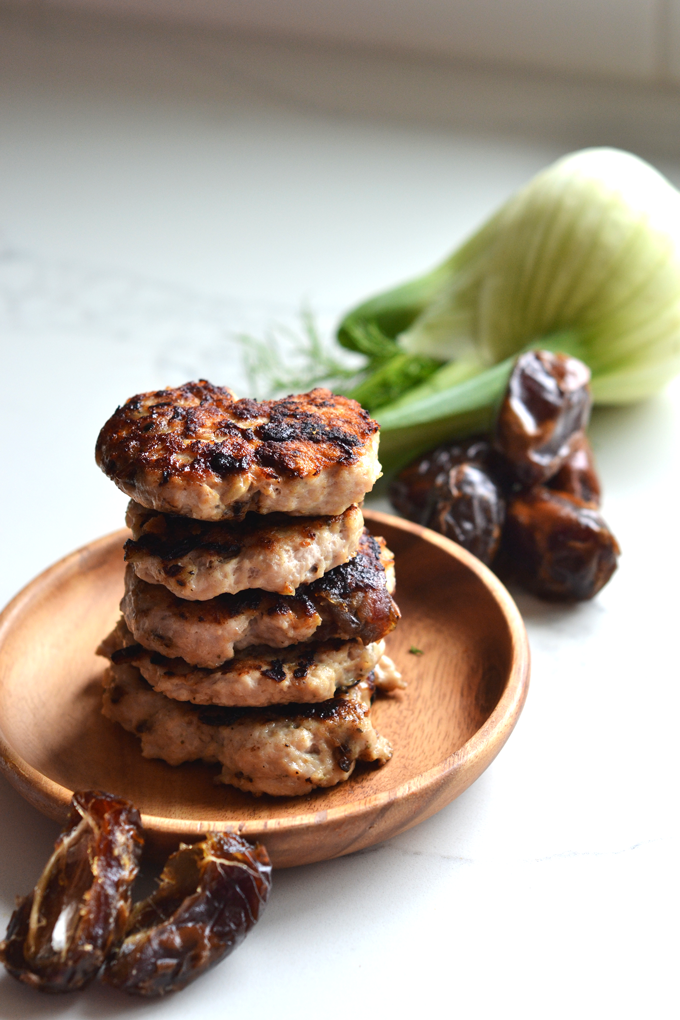 Pair this Caramelized Fennel & Date Chicken Sausage recipe with a fried egg and you have a protein packed breakfast of champs!
Hover over the photo below and pin this Caramelized Fennel & Date Chicken Sausage recipe to have for later!
Print
Caramelized Fennel & Date Chicken Sausage
---
1 tablespoon avocado oil or coconut oil
½ cup chopped fresh fennel (the white part)
¼ cup chopped pitted dates
1 pound ground chicken
1 teaspoon dried sage
1 teaspoon salt
---
Instructions
Place a pan over medium high heat and add oil to the pan. Add chopped fennel to the pan and cook for about 3 minutes, stirring occasionally until they start to brown. Then add chopped dates to the pan and stir to combine then cook for an additional minute. Remove pan from heat and transfer mixture to a plate or bowl to let cool for a few minutes.
In a medium sized bowl combine ground chicken, dried sage, fennel & date mixture and salt. Stir or mix with hands until fully combined.
Bring a pan over medium high heat and spray with oil spray or a little drizzle of oil. Scoop chicken into small patties and press them down in the pan with the back of a spatula. Cook for about 2 1/2 -3 minutes per side. Enjoy!
We are participant in the Amazon Services LLC Associates Program, an affiliate advertising program designed to provide a means for us to earn fees by linking to Amazon.com and affiliated sites.