Mixed Berry Pecan Chicken Salad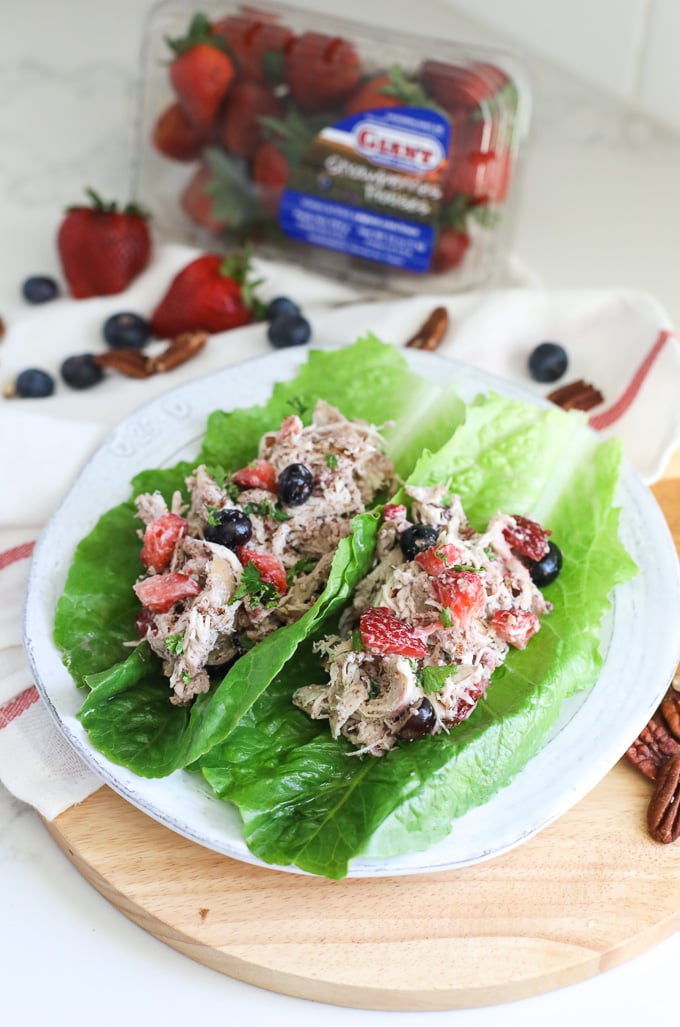 Yep I am back with another life changing chicken salad!! I love chicken salads which you probably know by now, but how can you beat make ahead protein that is packed with flavor and gets better every day?  You also probably know that I love adding fruit to my chicken salads so it was only a matter of time before my beloved berries made it into the mix.  And I think berries and pecans make such a wonderful combo so I threw those in too!  Today I am partnering up with California Giant Berry Farms to share this recipe and a few reasons why I make sure to get my berries in during my pregnancy.
3 reasons to eat berries during pregnancy:
Nutrient packed!!  Strawberries contain vitamin C, folate, potassium, manganese, dietary fiber, and magnesium – all super important vitamins and minerals to support a healthy pregnancy.
Digestion. Okay real talk – pregnancy can back a sister up.  So all the fruit and fiber you can manage is key. This is huge motivation to eat all the berries!
Sugar Cravings! For real.  The sugar dragon is insane for me lately.  I want all the sweets all the time.  So berries can totally come in and help in those times of need!
Convinced? I thought so.  The best part is that these reasons really don't just apply to pregnancy, but really for all of life!  I just see everything I do through a pregnancy lens now – and soon it will be a mom lens. 🙂  And if we are on the pregnancy train – that is another reason chicken salads are my JAM.  Protein!!  The amount of protein I am supposed to eat during this third trimester is kind of insane:  75-100mg a day.  But chicken salad makes that so much easier!  Okay okay time to get to the recipe:
I love to wrap chicken salad in a lettuce wrap, on sweet potato toast or just with a fork!!
We have a few more recipes for you to try with this Chicken Salad:
Mini Strawberry Nice Cream Cookie Cups
Orange Ginger Asparagus & Radish Salad
Chocolate Chip Cookie Dough Cashew Cheesecake Bars
Pin the image below to save this Mixed Berry Pecan Chicken Salad for later!
Print
Mixed Berry Pecan Chicken Salad
---
⅓ cup + 1 tablespoon mayonnaise
1 tablespoon honey (optional, leave out for whole30!)
1 ½ tablespoons lemon juice
Salt and pepper
1 cup roasted unsalted pecans
4 cups of shredded or chopped chicken
1 cup chopped California Giant Berry Farms Strawberries
½ cup chopped California Giant Berry Farms Blueberries
2 tablespoons chopped parsley
---
Instructions
In a large bowl combine mayonnaise, honey, lemon juice and a pinch of salt and pepper.  Stir to combine well.
Take your pecans and add them to a food processor. Blend on high for about 10 seconds to get the pecans minced into small pieces. You can also just chop then very finely, the food processor is just easier!
Add in chicken, pecans, strawberries, blueberries and parsley to the mayo mixture.  Season to taste with salt and pepper.
We are participant in the Amazon Services LLC Associates Program, an affiliate advertising program designed to provide a means for us to earn fees by linking to Amazon.com and affiliated sites.