Honey Strawberry Lemonade
I am so excited to finally share this recipe with you!  We made a huge batch of this Honey Strawberry Lemonade for Ruth's first birthday party and I've been dying to share it ever since.  Now you probably know that I use my honey syrup in just about everything these days.  I keep a squeeze bottle of it in my fridge to squeeze into coffee in the morning and cocktails at night!  Of course I knew I wanted to use it in this recipe for the party but when I searched for "Honey Strawberry Lemonade" barely anything came up!  And the ones that did, had a TON of honey.  I wanted to make a recipe that was sweet but not overly sweet, so you can enjoy it without getting a large headache after.  That is of course if you have it as is… if you add vodka like I like to do some times, i cannot guarantee you will be headache free.
I also gave ruth a sip of this and I thought her brain was going to explode from excitement.  We don't give her sweet drinks or juice – I mean she is only one, so this was like some kind of magic to her! While summer is still here, it's time to make some honey strawberry lemonade and soak up the sun while you can.
Serve with a slice of lemon and enjoy!!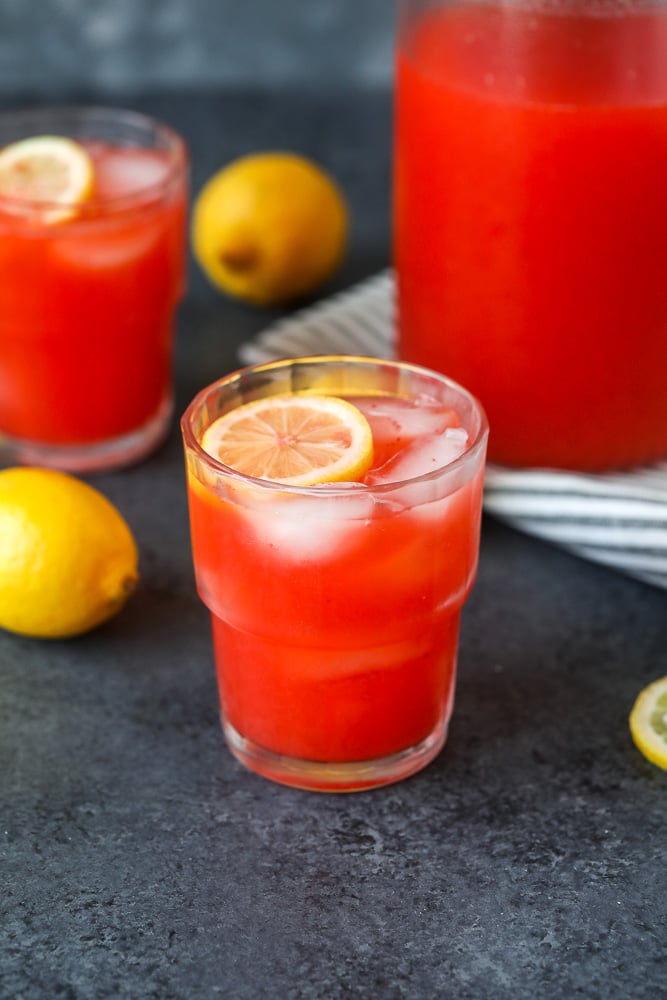 Pin the image below to save this Honey Strawberry Lemonade recipe for later!
Print
Honey Strawberry Lemonade
---
3 cups frozen strawberries, defrosted
2 cups fresh lemon juice
3/4 cup honey syrup*
5 cups cold water
---
Instructions
In a blender combine defrosted strawberries, lemon juice, honey syrup and water and blend on high until strawberries have broken down.
Pour mixture through a sieve to remove the strawberry pulp and seeds and into a pitcher.
Add more honey syrup to taste depending on how sweet you like it!
Serve over ice!
We are participant in the Amazon Services LLC Associates Program, an affiliate advertising program designed to provide a means for us to earn fees by linking to Amazon.com and affiliated sites.