Caesar Chicken Salad on Sweet Potato Toast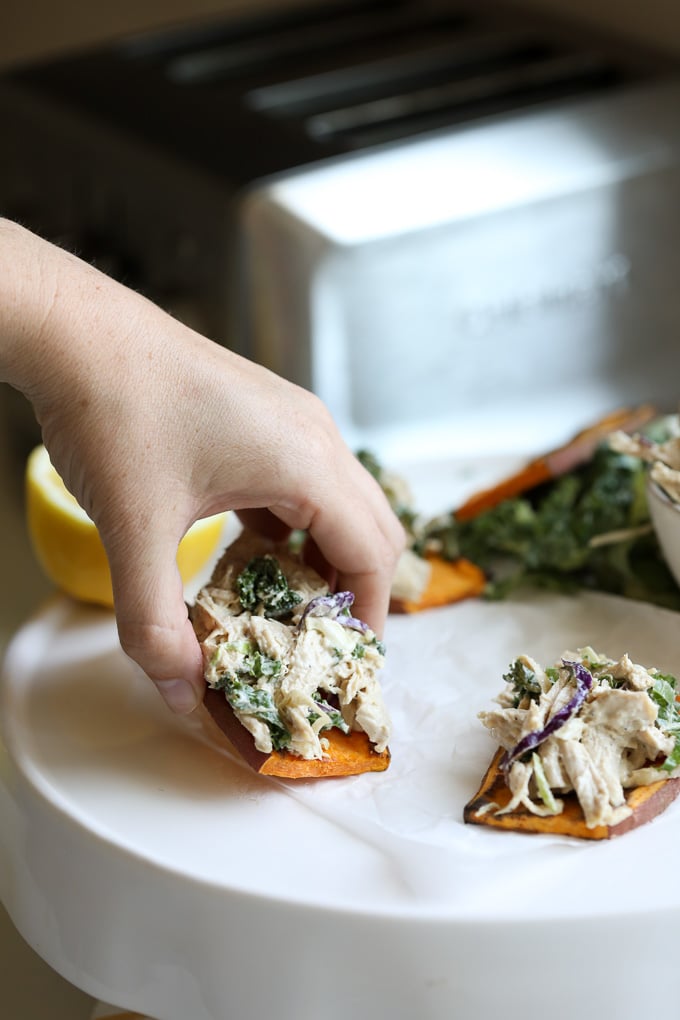 Day 2 comin at ya with a Whole30 Caesar Chicken Salad that will blow your mind!  Just a simple combination of flavors make the most delish caesar dressing to coat this chicken – and don't be scared when you see anchovy paste in the ingredient list!  It is easy to find and way better to work with that actual anchovies. Not to mention the amount of umami flavor it adds to this!  You guys know I love chicken salad and honestly whats not to love?  You can make it ahead and put it on just about anything – so of course it had to top some sweet potato toast this week.  If you are over on instagram, be sure to show me your sweet potato toast creations this week and use #sptweek2018 in the caption so I can see all the goodness!  I absolutely love seeing how creative people get with toppings and really the options are endless.  This week will be a whole mix of unique ways you can mix up your sweet tater toppings and I hope it gets you excited to get in the kitchen and try something new.
After a crazy week last week taking over the @whole30recipes instagram, I am so excited to start wrapping up content for my maternity leave now!  I want to continue to get you guys new recipes while I take time with our new baby girl in 6 weeks, so I am working on all the summer goods.  I also can't wait to share on here more about our nursery and what I have been using and loving this pregnancy soon so stay tuned!  Now – time for chicken salad!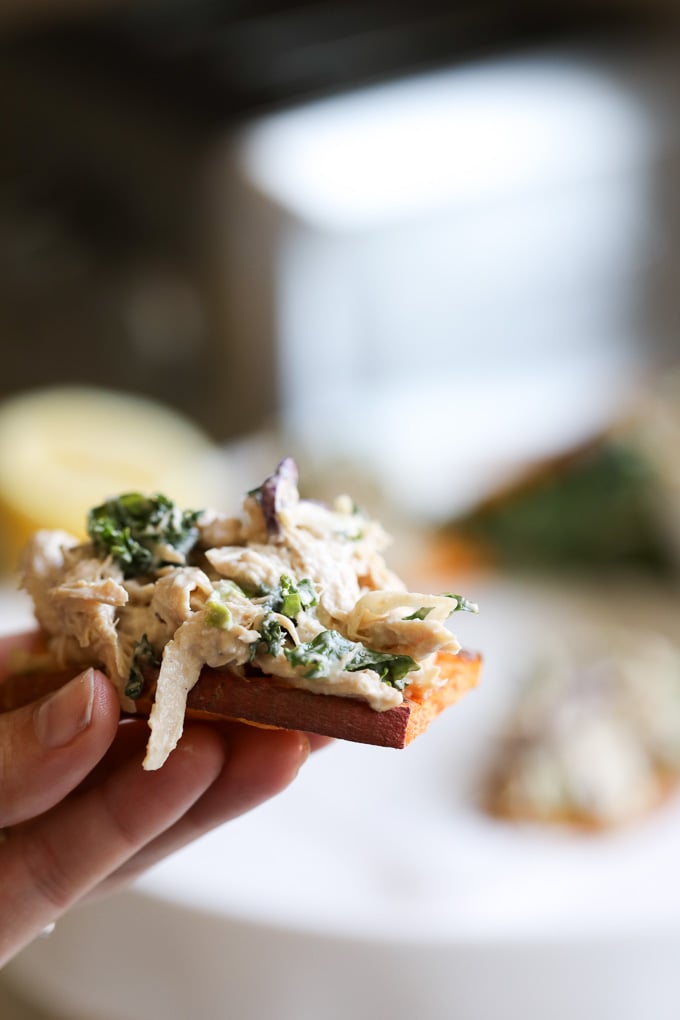 The perfect blend of ingredients make for a happy lunch hour!
If you love this Caesar Salad recipe we have more Caesar fun for you:
Warm Kale Chicken Caesar Salad
Creamy Caesar Bacon Potato Salad
Chicken Caesar Spaghetti Squash Bake
Greek Yogurt Caesar Chicken Wrap
Pin the image below to save this Caesar Chicken Salad for later!
Print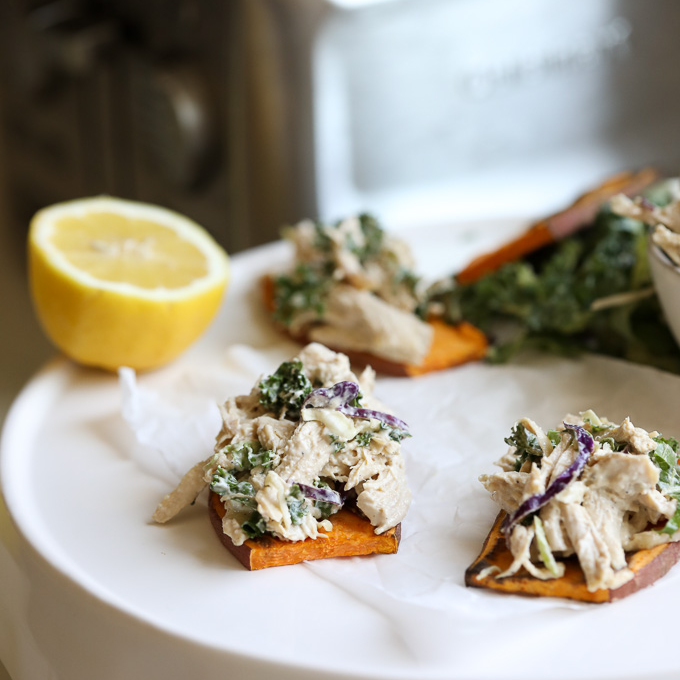 Caesar Chicken Salad on Sweet Potato Toast
---
⅓ cup + 1 tablespoon mayonnaise (compliant brand or homemade!)
½ teaspoon garlic powder
2 tablespoons fresh lemon juice
2 teaspoons coconut aminos
½ teaspoon Dijon mustard
1 tablespoon nutritional yeast
1 teaspoon anchovy paste
Salt and pepper
1 pound cooked and shredded chicken
2 handfuls of shredded kale/cabbage mix
2–3 sweet potatoes
---
Instructions
In a large bowl combine mayonnaise, garlic powder, lemon juice, coconut aminos, dijon mustard, nutritional yeast and anchovy paste.  Stir to combine thoroughly then season to taste with salt and pepper.
Add in chicken and kale mix and stir to coat.  Season again to taste and serve on sweet potato toast
How to make Sweet Potato Toast:
Slice sweet potatoes lengthwise into 1/4 inch slices. Add to the toaster like you would bread and toast on high. Toast them 2-3 times through until there is browning on both sides and it is cooked through.
We are participant in the Amazon Services LLC Associates Program, an affiliate advertising program designed to provide a means for us to earn fees by linking to Amazon.com and affiliated sites.