Greek Stuffed Turkey Burgers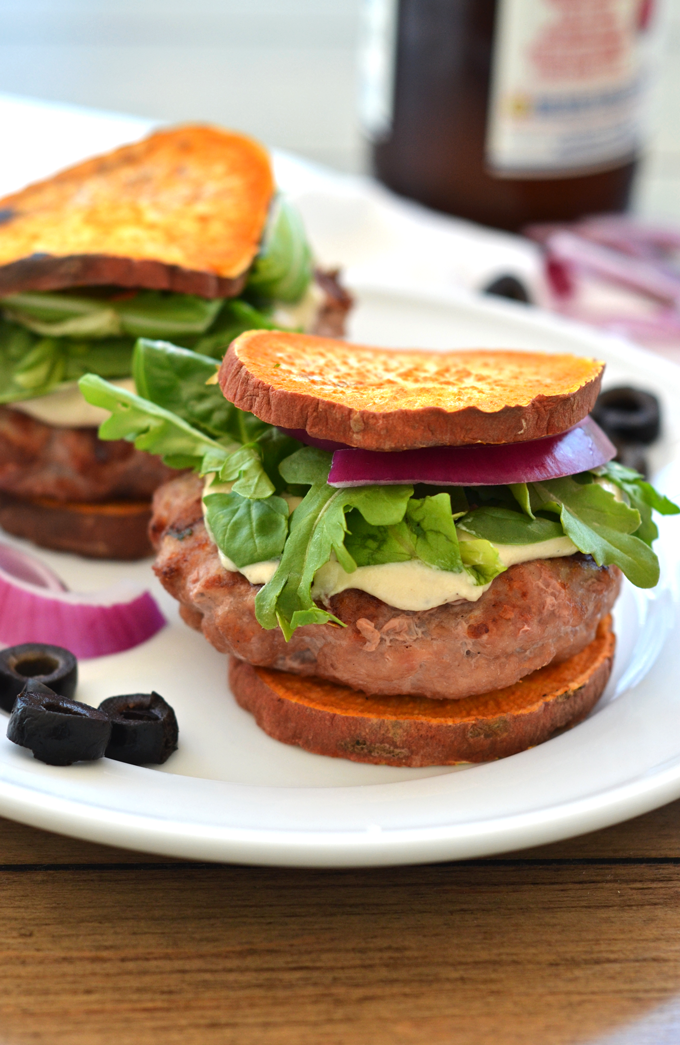 Just a teeny bit over 1 year ago, I posted a recipe for Greek Stuffed Chicken. People loved it and I thought it was about time I stuffed something else with Greek-ish ingredients! This time – a paleo & whole30 option! Adding a tahini sauce and putting it all in some sweet potato toast buns made this a complete package of DELISH! Last weekend I was so excited to get a few recipes done because I did them at my parents house! My mom and sister were stellar taste testers, hand models and dish washers and it was such a blast to cook with them all day.
You should have seen us hovering over the plate of these burgers.
HOVERING. And wolfing them down. They were so good you guys. Matt and I always have ground turkey on hand. In the fridge, in the freezer – ERRRYWHERE! So I am always thinking new ways to add flavor to this semi boring but healthy meat. To make this greek I stuffed it with chopped spinach, parsley, olives, roasted bell peppers and red onion. Check out these chopping skillzzzz…
I mixed all those up and my mama drizzled in some tahini!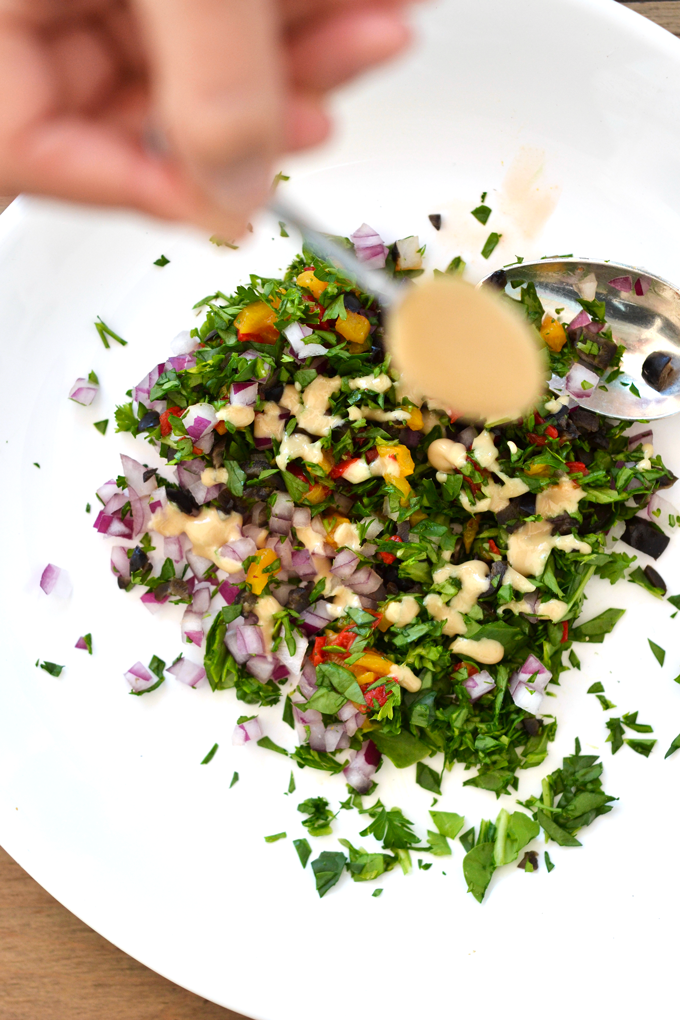 Then I divided the ground turkey into 8 even balls, flattened them out and put some stuffing between 2 pieces!
Grilled them for about 4 minutes on each side aaaaaand…
YUM! Pin it please?! 🙂
Print
Greek Stuffed Turkey Burgers
---
Burgers
1 pound ground turkey
salt and pepper
¼ cup chopped spinach
¼ cup chopped roasted red peppers
2 tablespoons tahini
¼ cup minced red onion
2 tablespoons chopped black olives
¼ cup chopped parsley
Tahini sauce:
2 tablespoons tahini
1 tablespoon apple cider vinegar
2–3 tablespoons water
Salt and pepper
---
Instructions
In a medium bowl combine turkey and a large pinch of salt and a few cracks of pepper. Mix together and divide into 8 even balls. Set aside.
In a small bowl combine spinach, peppers, red onion, parsley, olives and tahini.
Flatten each ball of turkey, scoop 1 heaped tablespoon of the mix onto 4 of the patties. Top each one with another patty and pinch the outside to create a larger patty. Grill on medium high for 4 minutes on each side until cooked through.
To make tahini sauce: combine 2 tablespoons tahini with apple cider vinegar and enough water to reach the consistency you like (i use about 2-3 tablespoons). Season with salt and pepper.
We are participant in the Amazon Services LLC Associates Program, an affiliate advertising program designed to provide a means for us to earn fees by linking to Amazon.com and affiliated sites.