Greek Stuffed Chicken
Hello healthy friends!!  How was your 4th of July?? Mine was so lovely and jam packed with fun, food and one too many drinks.  Those days can be so much fun but they also make me really excited to get back on the healthy train.  Matt and I eat in most nights and somehow rarely have the same meal twice.  We are always thinking up new ways to change up simple things like chicken breasts!  Today's recipe was inspired by a slow cooker recipe I saw on pinterest but as I was meal prepping for the week on Sunday I already had one thing in the crock pot.  I am actually glad I did because this recipe is so great made in the oven!  I first browned the chicken in a skillet to make it pretty and and give it some nice flavor, then stuffed the breasts and finished them in the oven.  Stuffing chicken is such an easy way to add tons of flavor to it and turn a boring dish into something new and fun!  Here is the ingredient line up for our filling >>> chopped fresh spinach, roasted red pepper, artichoke heart, feta, garlic powder, oregano & salt!
Chop everything up and toss in in a bowl.
I then sliced into my chicken breasts before cooking them at all.  I used a very sharp paring knife for this!  Then I threw them on a non stick skillet greased with some coconut oil spray and cooked them for about 30-45 seconds on each side, just until lightly browned.  See the entrance to the little pocket??
Then stuff it!
Bake for 20 minutes in a 350 degree oven and you are done!!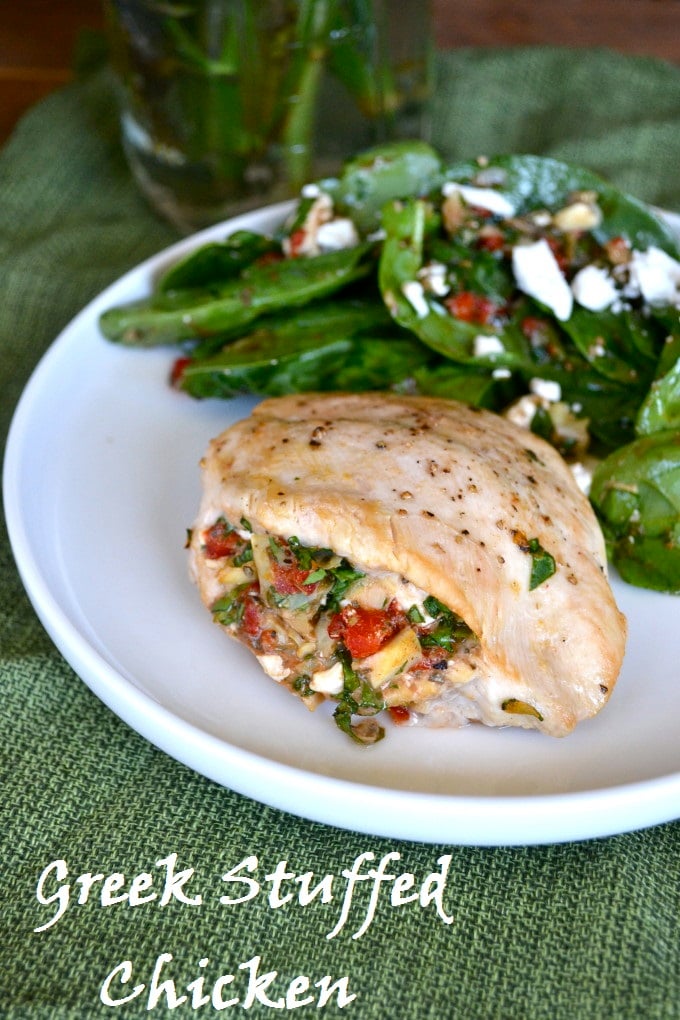 Filled with FLAVOR!!
Print
Greek Stuffed Chicken
---
2 chicken breasts
1 cup fresh, chopped spinach
2 artichoke hearts, chopped
1 roasted red pepper, chopped
2 tablespoons of crumbed feta cheese
1/2 tablespoon dried oregano
1/2 teaspoon garlic powder
salt & pepper
---
Instructions
Preheat oven to 350 degrees. Take chicken breasts and place in a large ziplock bag. Flatten chicken with a meat mallet just until they are even in thickness. Then take a paring knife and slice into the slide of the chicken horizontally to create a pocket. Do not slice all the way through! Salt and pepper both sides on the chicken.
Put a medium skillet over high heat and spray with some non-stick spray (I use coconut oil spray). Place chicken into the pan and cook for about 30-45 seconds on each side or until lightly browned. Remove from pan and set aside.
In small bowl combine spinach, artichoke hearts, roasted red pepper, feta, oregano & garlic powder. Stir until combined and then salt and pepper to taste.
Place chicken breasts on a cookie sheet either lined with foil or spray with cooking spray. Stuff each breast with half of the spinach mixture. [I ended up not needing all of the filling] Place in the oven and bake for 20 minutes.
Enjoy!
We are participant in the Amazon Services LLC Associates Program, an affiliate advertising program designed to provide a means for us to earn fees by linking to Amazon.com and affiliated sites.