Roasted Garlic Chicken Salad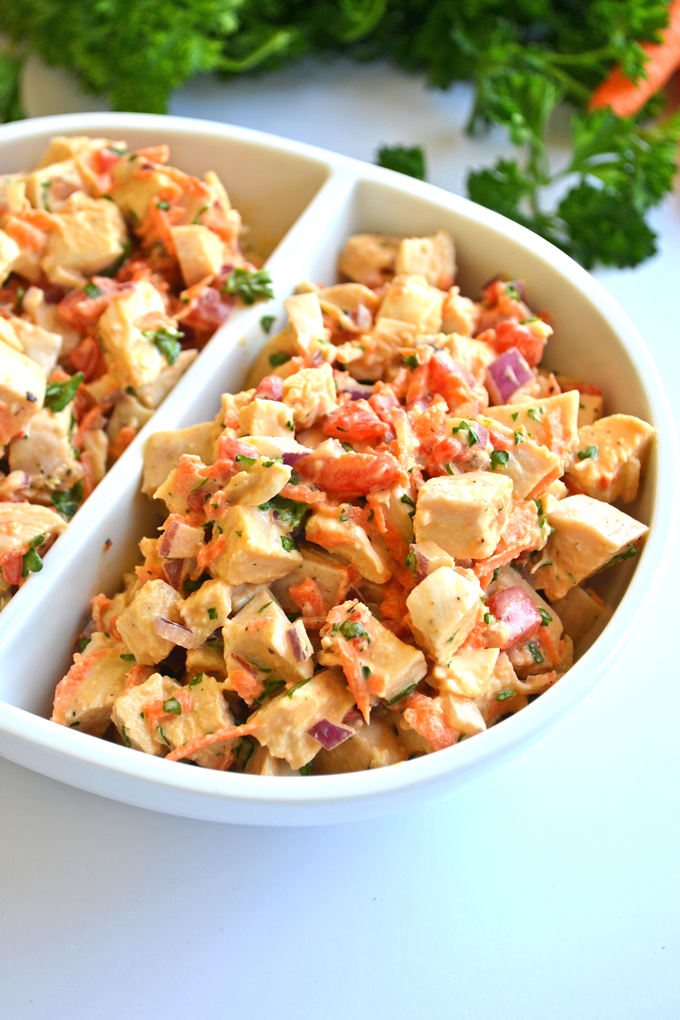 I am SO excited for this new year to start and to get this Whole30
challenge underway.  I am already trying to prepare for this "carb flu" everyone talks about as the last few days have been spent in the mountains with my hubby drinking wine and eating Triscuits.  I feel super prepared though as I have started making most of our dinners whole30 over the last couple weeks.  I made this chicken salad after I made this Roasted Garlic Mayo and OH MAN.  So full of flavor and just gets better everyday in the fridge. I brought this down to my parents house after I made it and my mom raved!  She, as well as my sisters & hopefully all of our hubbies will be taking on the challenge together!  I am overjoyed that they have jumped on this train with me and the support with be crucial for all of us.  I have made the first weeks meal plan for Matt and I and shared it with my fam.  If it all goes well, I will share them here once this thing is over!
Back to this chicken salad.  It is the perfect source of protein and healthy fats and I enjoyed it in little bell pepper cups!  I think I will also be eating it out of lettuce wraps with an apple on the side for the perfect lunch.  If you are doing whole 30 this month too, let me know! We can do this!
Here is the bulk of what we are working with.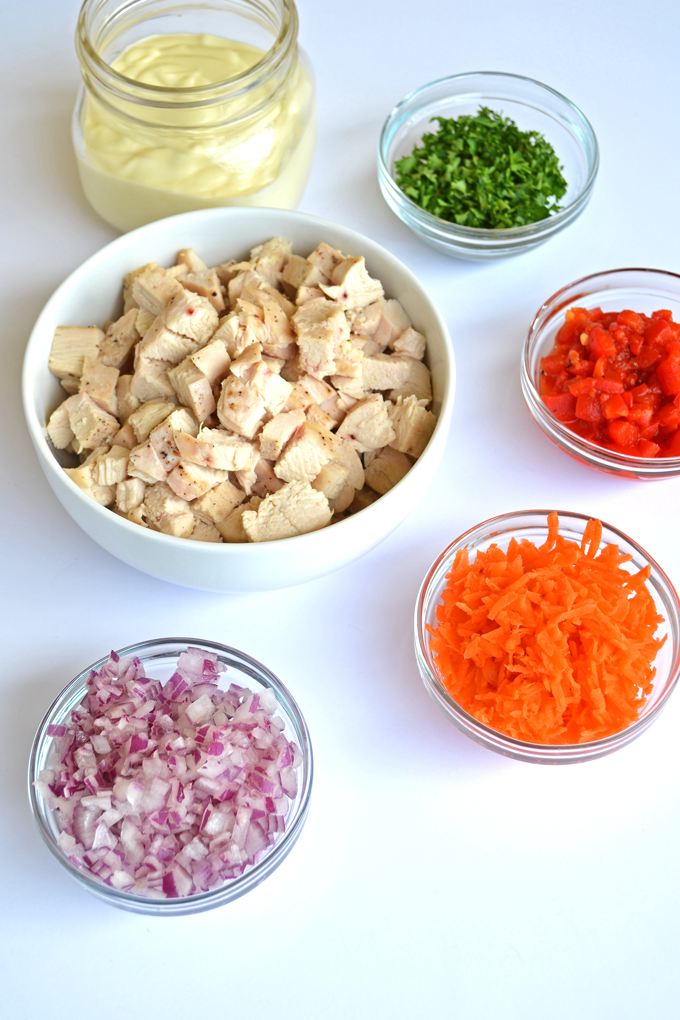 Perfectly flavored and delish!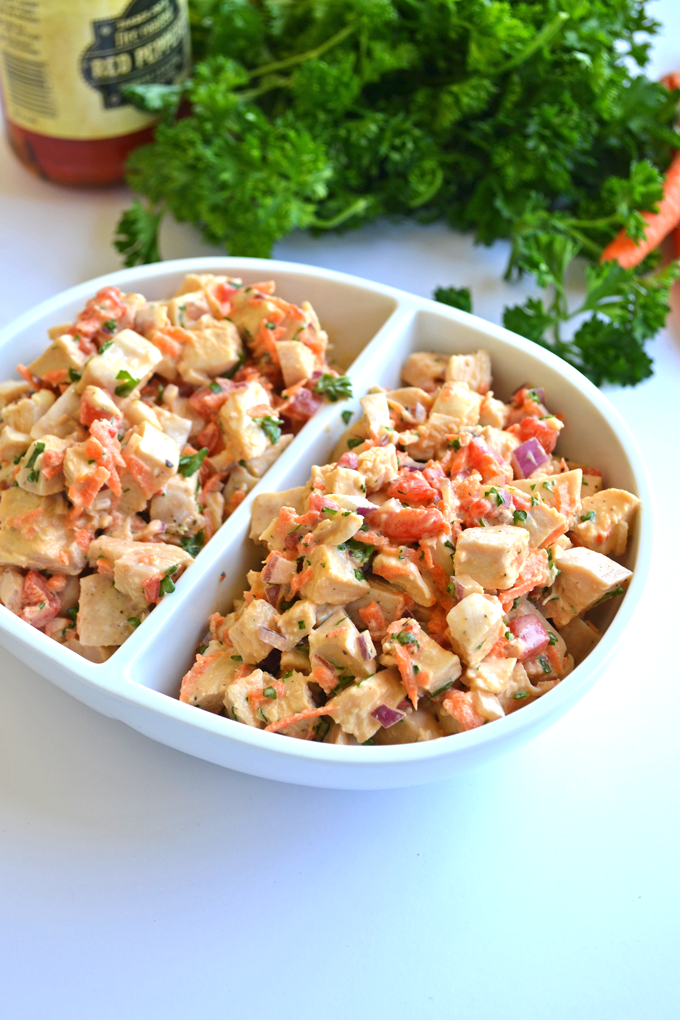 Bell pepper cups are totally a thing…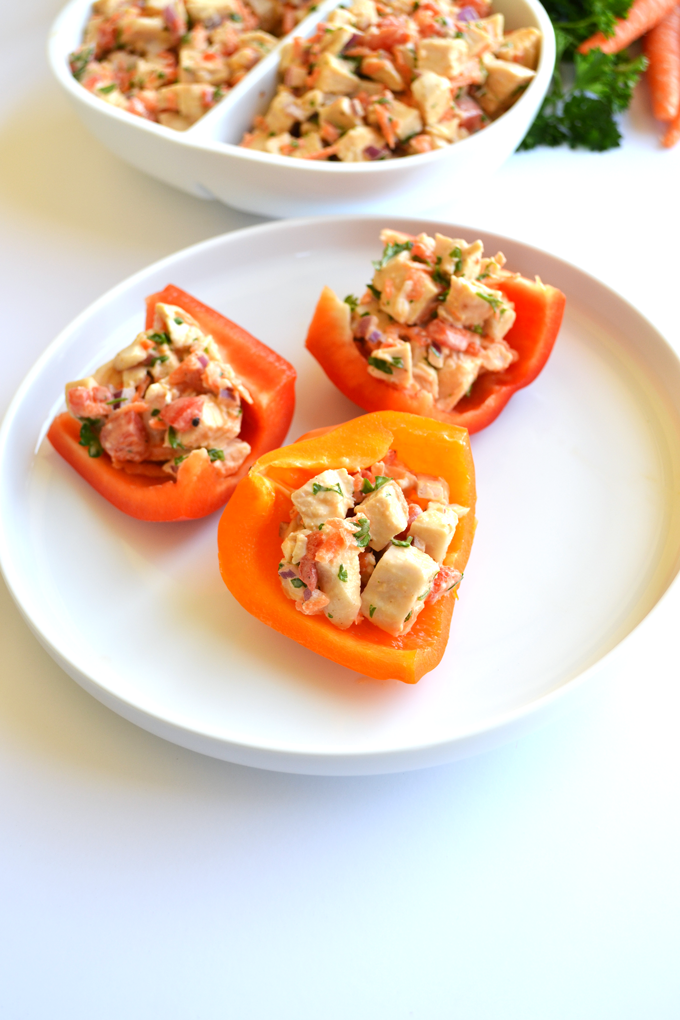 Pin it!

Print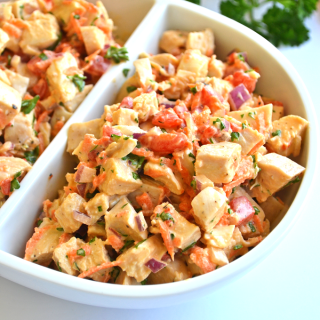 Roasted Garlic Chicken Salad
---
2 lb Chicken Breast cooked and cubed
1/2 Cup shredded Carrot
1/4 Cup diced Red Onion
1/2 Cup chopped Roasted Red Pepper
1/4 Cup mayonnaise- use my garlic mayonnaise recipe See Below
1 tsp parsley
1 tsp garlic powder
1 tsp paprika
salt & pepper to taste
Garlic Mayonnaise Recipe:
2 Cloves Garlic, roasted and chopped
1/4 cup Mayonnaise (I use Primal Kitchen)
1 tsp salt
---
Instructions
1. Mix Mayonnaise with all powder ingredients (garlic powder, paprika, black pepper, salt)
2. Chop up red pepper and red onion into a small dice
3. Cube chicken breast into 1/2 inch size cubes
4. Mix all ingredients together and top with sprinkled parsley, serve chilled
Notes
I love this chicken salad served in a lettuce wrap!
We are participant in the Amazon Services LLC Associates Program, an affiliate advertising program designed to provide a means for us to earn fees by linking to Amazon.com and affiliated sites.