Pumpkin Spice Magic Bars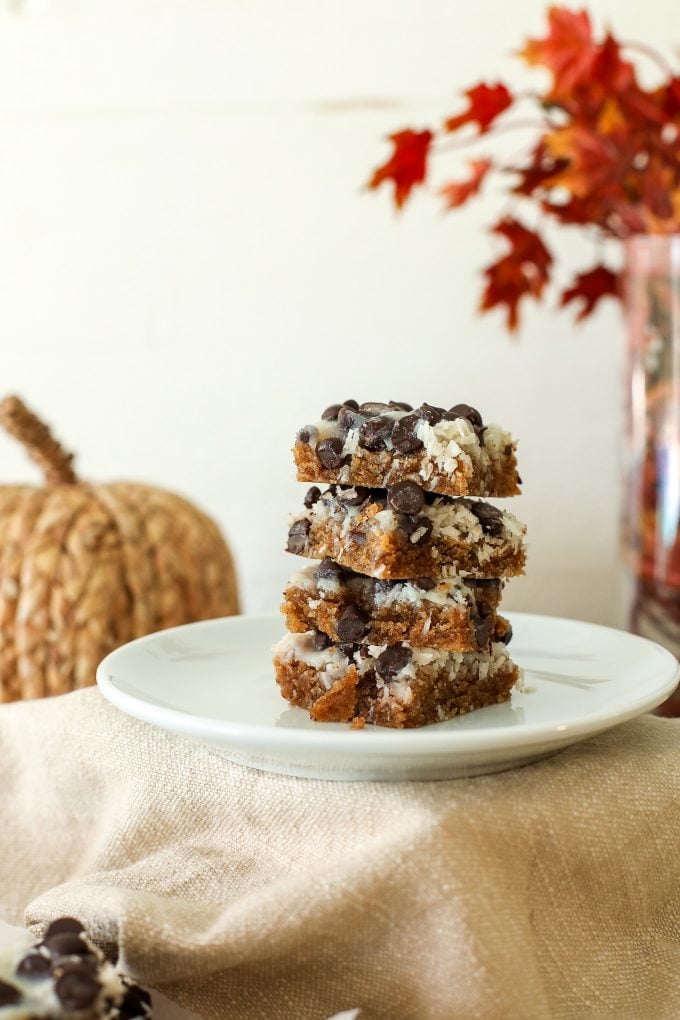 Its magic bar season BABY!!  This is one of my favorite recipes because it's just so easy to make but still feels impressive.  The crust has the perfect amount of pumpkin spice flavor and the topping is sweet and delicious. It just dipped below 80 here in southern California so I am really feeling like it is fall and all I want to do is bake.  I'm also going to blame it on being pregnant and needing carbs and sweets like it's my job.  But luckily my job is actually to make recipes so I really don't see a downside here!  This is when I am super glad I cook and bake mostly with wholesome ingredients so when the baking itch hits I know it's still going to result in something that nourishes me.  I made this recipe based on last years gingerbread magic bars so if you are in the mood for those flavors, you can make that too!
I attempted 3 times to make a nut free version of these with gluten free flour but it failed pretty miserably each time so we are sticking with almond flour for these!  If you test a nut free option I would love to know how it turned out in the comments below.  Yay team!
How delish do these look??
We have so many more yummy desserts for you to try:
Peanut Butter Bars with Chocolate Ganache Icing
Strawberry Covered Flourless Chocolate Tart
Churro Banana Bread Skillet Cake
Pin the image below to save this Pumpkin Spice Magic Bars recipe for later!
Print
Pumpkin Spice Magic Bars
---
Crust:
2 cups almond flour 
1 egg 
¼ cup melted coconut oil (at room temp)
1/3 cup coconut sugar
2 tbsp maple syrup
1 tsp vanilla extract
2 tsp pumpkin pie spice
1/2 teaspoon salt
Toppings:
½ cup sweetened condensed coconut milk
¾ cup chocolate chips
½ cup unsweetened shredded coconut
⅓ cup chopped pecans (optional)
---
Instructions
Preheat oven to 350 and line an 8×8 pan with parchment paper.   
Combine crust ingredients and press into the bottom of the pan.
Bake for 20 minutes.
Add chocolate chips, coconut and pecans.  Pour the coconut sweetened condensed milk evenly on top.
Place the bars back in the oven for 10 minutes.
We are participant in the Amazon Services LLC Associates Program, an affiliate advertising program designed to provide a means for us to earn fees by linking to Amazon.com and affiliated sites.