Peanut Butter Bars with Chocolate Ganache Icing
The most perfect dairy-free chocolate ganache to drench over these grain free bars, Peanut Butter Bars with Chocolate Ganache Icing will be the new go to dessert.
These Peanut Butter Bars with Chocolate Ganache Icing are out of this world!! They have super minimal ingredients, are dairy free, grain free and so easy to whip together.  I had a craving for peanut butter cookies the other day and decides bars would be even easier, then once they were cooked I knew it needed some chocolate on top.  The ganache is made from chocolate chips and coconut cream to make it the perfect consistency for these bars. The texture of these bars is the perfect combo of slightly moist and also a touch of cakiness, not to much of either just the correct amount. These brownies also hold up wonderfully, the worst thing in life is a crumble brownie.
The icing actually reminds me of the icing on those little debbie cosmic brownies… YUM.  I feel like it's always good to have a solid bar recipe that is EASY to make in your repertoire.  After school activity with kids, quick dessert to bring to a party, etc.  And because these are grain and dairy free it is likely most people can have them!  You can also use cashew butter if you want to keep them peanut free and add make them paleo.
Do these bars need to be refrigerated?
These bars hold up wonderfully in the fridge, freezer or the counter. This chocolate ganache holds up wonderfully and will last up to a few weeks in the fridge.
Need some ideas for topping on the ganache?
Sprinkles, coconut shavings, peanut butter chips, chopped nuts, pretzel crumbles, fresh strawberries, marshmallows or caramel drizzle.
We know you need more chocolatey goodness, here are a few more recipes to try:
Chocolate Peppermint Freezer Fudge
Chocolate Chip Cookie Dough Cashew Cheesecake Bars
Coconut Crusted Cacao Brownies
Grain Free Double Chocolate Muffins
Pin the image below to save this Peanut Butter Bars with Chocolate Ganache Icing recipe for later!
Print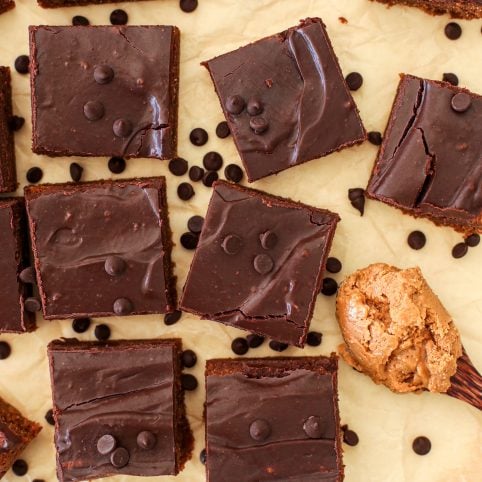 Peanut Butter Bars with Chocolate Ganache Icing
---
1 cup natural creamy peanut butter
1 cup coconut sugar
2 eggs
¼ cup almond flour
1 tsp baking soda
Pinch of salt
1 cup chocolate chips
½ cup canned coconut cream
---
Instructions
Preheat oven to 350 degrees and line an 8×8 pyrex dish with parchment paper.
In a medium bowl combine peanut butter, coconut sugar, eggs, almond flour, baking soda and salt and stir to combine.
Pour batter into prepared pan and bake for 30-35 minutes or until lightly browned on top.
Let the bars cool.
While the bars are cooling, pour the chocolate chips into a small bowl.  
Heat the coconut cream in the microwave for 45 seconds to warm, then pour it over the chocolate chips and let sit for 1 minute.
Stir the ganache then place it in the fridge for about 20 minutes to let set.
Once it has cooled and set slightly, pour it over the bars and spread evenly. 
Place the bars back in the fridge, or freezer, to let them set completely!
We are participant in the Amazon Services LLC Associates Program, an affiliate advertising program designed to provide a means for us to earn fees by linking to Amazon.com and affiliated sites.