Fiesta Salad with Salsa Vinaigrette
Dressing made out of salsa, say no more everyone is going to be asking for seconds of this Fiesta Salad with Salsa Vinaigrette.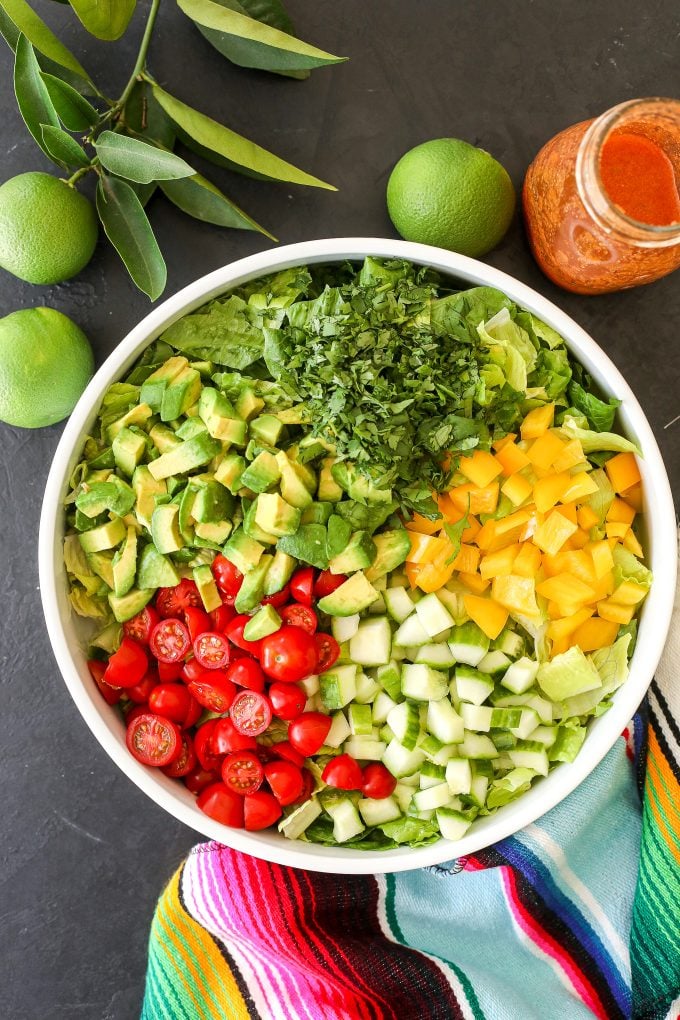 It's time for a quick and easy salad!  I am currently working on a post for you guys of 10 Meals to Take to a Friend in Need, and realized that I needed a quick and easy salad that you can make with tacos.  If you are like me, you love tacos but it's hard to call them a full meal unless you eat TOO MANY TACOS.  So I love to have one or two tacos and pair it with a salad (and most likely TOO MANY CHIPS).  This Fiesta Salad with Salsa Vinaigrette is simple and you can really make it your own with whatever you have on hand.  Start with the romaine and salsa vinaigrette, then you can add any veggies you like.  I went with cherry tomatoes, bell pepper, cucumber, avocado and cilantro to top this bad boy.
The idea of the salsa vinaigrette came because I wanted a simple dressing with flavor and minimal effort.  Adding a pre-made salsa adds tons of flavor and brings the oil and lime juice together beautifully. I always have a jar of salsa in my fridge as well as a bottle of Santa Cruz organic lime juice sooo I imagine myself making this vinaigrette weekly.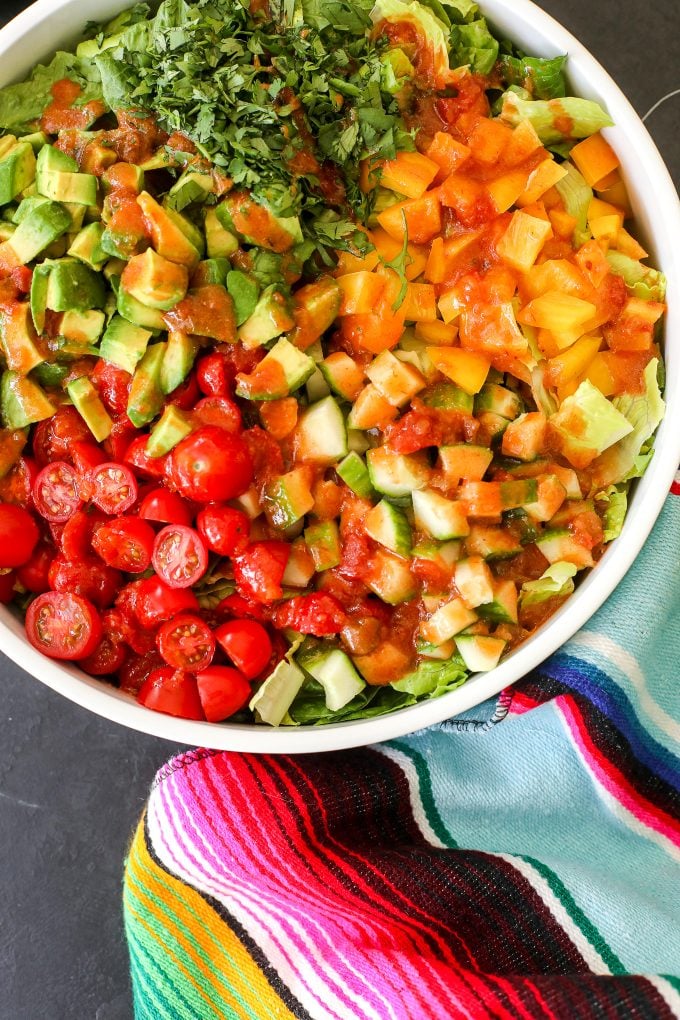 We are going to need something sweet and maybe something sour to go with this beautiful salad, correct?
Paleo Fruit Tart with Lemon Curd
Pin the image below to save this Fiesta Salad with Salsa Vinaigrette recipe for later!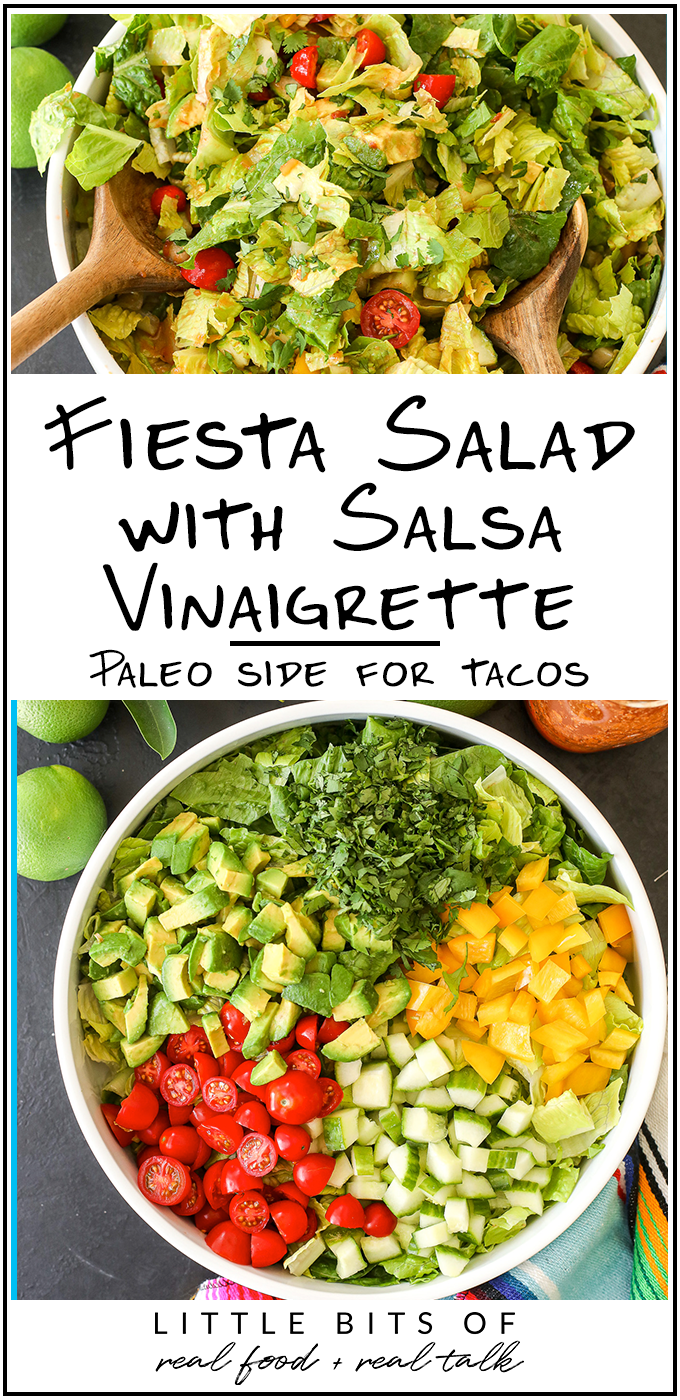 Print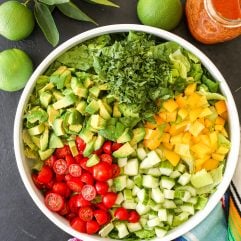 Fiesta Salad with Salsa Vinaigrette
---
10 cups chopped romaine lettuce (about 3 heads)
1 cup chopped cherry tomatoes
1 cup chopped cucumber
½ cup chopped bell pepper
¼ cup chopped cilantro
1 avocado, pitted, peeled and chopped
¼ cup salsa
¼ cup avocado oil
2 tbsp lime juice
½ tsp garlic powder
¼ tsp cumin
¼ tsp paprika
1 tsp salt
---
Instructions
In a large bowl combine romaine lettuce, cherry tomatoes, cucumber, bell pepper, cilantro and avocado.
In a jar combine salsa, avocado oil, lime juice, garlic powder, cumin, paprika and salt. Shake well to combine.
Pour vinaigrette dressing over the salad and toss to combine.
We are participant in the Amazon Services LLC Associates Program, an affiliate advertising program designed to provide a means for us to earn fees by linking to Amazon.com and affiliated sites.